Procedure for applying for and making a Rakuten Card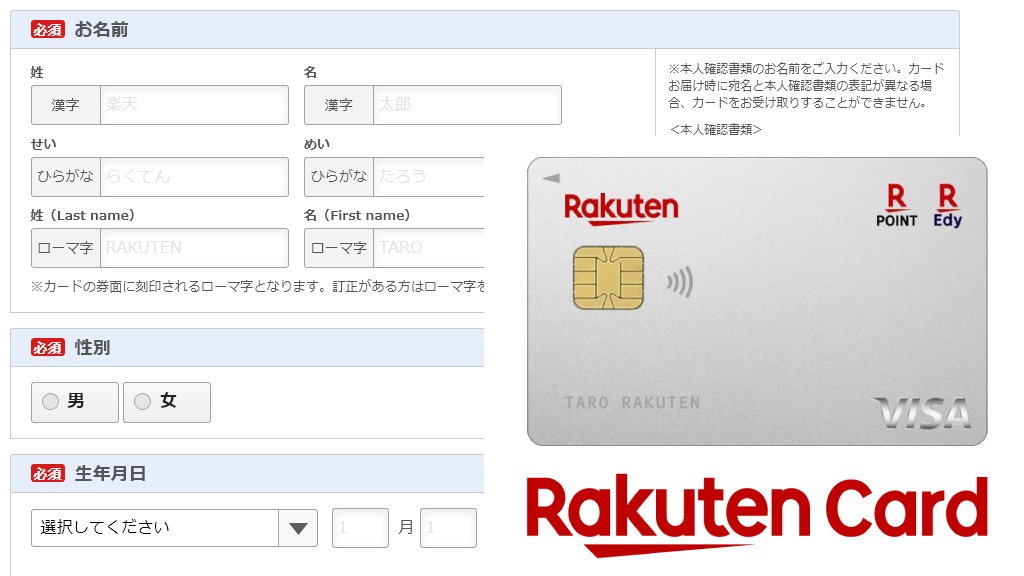 この投稿は 日本語 でもお読みいただけます
Credit cards issued overseas cannot be used for settlement in Japan. Rakuten Card is a card issued in Japan. If you are over the age of 18 and resident in Japan, you can apply for a card even if you are a foreign national or foreign student. It is said that the screening is relatively easy to pass too. It is easy to collect points that can be used with the Rakuten Group, and the card is very popular with people living in Japan.
On this occasion, therefore, I shall introduce how to apply for and make a Rakuten card. Please read this in conjunction with previous articles on this topic.
Articles related to the Rakuten Card
Procedure for applying for and making a Rakuten Card
Flow from applying for the Rakuten Card to receiving rewards on joining
Prepare information required in advance
Applying from a PC or smartphone
Once you pass the entry screening, your card shall be issued and sent to you
Receive the card
Receive entry rewards(new member rewards and rewards on usage).
Preparation for applying for the Rakuten card
Personal identification documents(Residence card, Special Permanent Resident Certificate)
Confirm the below.
Expiry date has not been exceeded
Current address is registered
Name described on the ID confirmation documents
Unless you apply as described on this document, you may fail the screening
Japanese bank account information
A Japanese bank account opened by the applicant is required to register for an account from which the withdrawal can take place. Prepare your "cash card or bankbook" to confirm the account number and branch number.
Contact
Requires an email address that can be immediately verified and a phone number where person in question can be contacted.
Applying for the Rakuten card
Use your computer or smartphone to apply at the URL below. If you want to increase your credit limit, and are a working adult, we recommend applying for the Rakuten Premium Card. If you are a student, we recommend applying for the Rakuten Card Academy.
Below, we shall describe how you should apply if you are not a Rakuten member, using the "Rakuten Card" screen. (By becoming a Rakuten Member before applying, it becomes possible to save the information you entered during this process.)
Enter basic information
Select the brand and card design you wish to use.
The design you can select changes according to the brand you choose.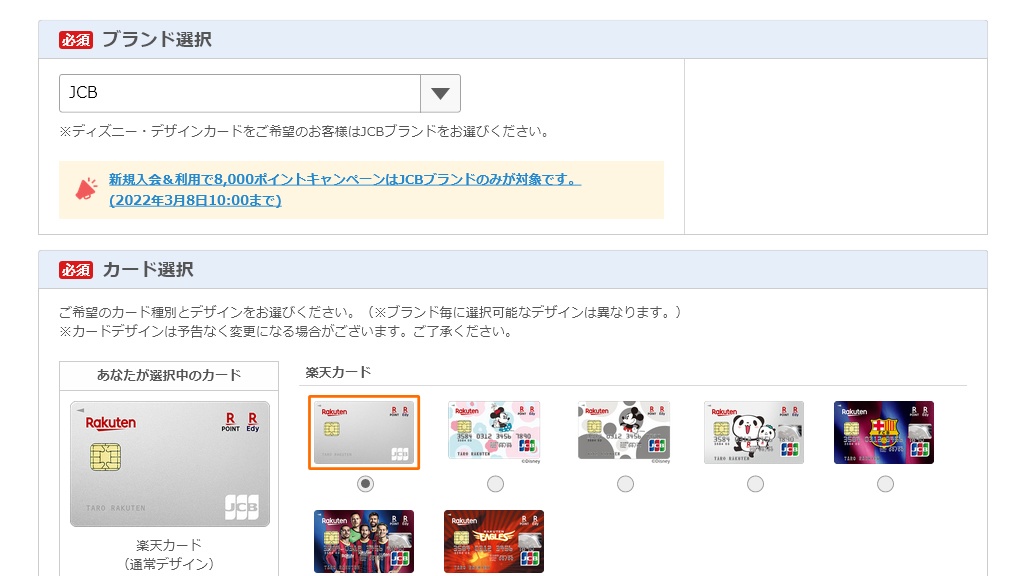 Enter your name.
Enter the same information in Kanji as is found on your identification document. You may omit any middle names you have only if the name is too long to type.
For hiragana, enter furigana in hiragana.
Romaji is the notation that will be printed on the face of the card. If this matches the information on your passport, you can relax knowing that the card will be usable overseas.

Enter your gender/date of birth/telephone number 1/email address.
The "mobile phone/smartphone" field in the e-mail address is the e-mail address issued by your mobile carrier. If you use a Google (@gmail.com) or Apple (@icloud.com) address, enter it in the email address field for the computer, even if you normally use that address on your cell phone or smartphone.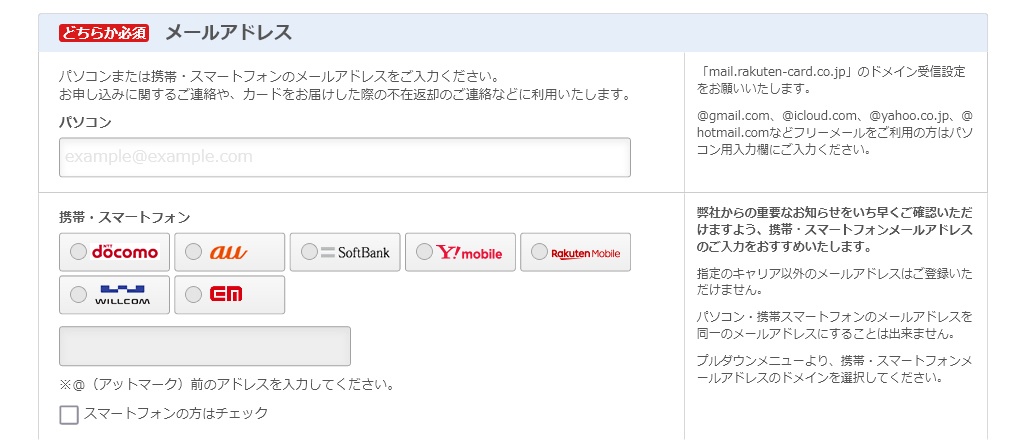 Answer the following items:
Select whether or not you would like to receive notification messages from Rakuten Card and Rakuten Points Card。
Address
Make sure that you enter your current address in Japanese characters. If the characters do not fit, you should omit the apartment name rather than the room number.
Family information
Select your family structure
Number of people in the household
Select the number of persons living in the same household, whether living separately or together. (The person concerned is counted as one person.)
Residential situation
Reply regarding your status in the house you currently live in, that is whether you own, rent, or live in a dormitory.
Years of residence
Payment of housing loan or rent
Select whether or not this applies not only to you or to the other people living in the same household as you as well.
Enter your place of work or school.
If you have any income from any type of employment, such as full-time, temporary, or part-time, select "Employed" and enter your annual income including tax. Select "Student" in case of an international student. (Several questions may be added for this item, depending on the selections you make.)

Enter the balance of your savings account.
Honestly enter the amount of savings in the Japanese bank account that you have opened.。

Answer in regard to the following items.
Billing address
Purpose of use for the card after membership
When used for regular shopping, you should choose "Use for regular shopping, etc."
Amount loaned from other companies
Enter the amount honestly.
Equipped with Edy function
Prepaid electronic money functions are available free of charge, so you should apply for any you are interested in. You can also set the auto-charge feature.
Notifications from Rakuten Edy
Enter the account from which to pay the amount used.
You can only register accounts with the name you use to apply for your card.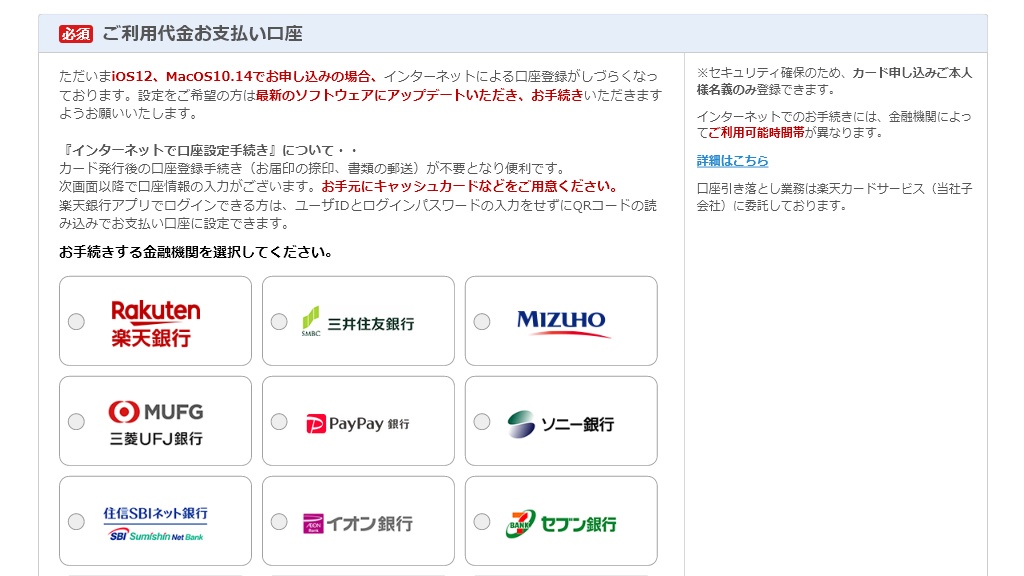 Set your pin code.
Enter a 4-digit number you will not easily forget. You cannot enter "0000" or "9999". Avoid using numbers that are easy to guess, such as date of birth or telephone number.

This completes the entry of basic information. Click the <Next> button and proceed to "Enter workplace information".
Entering workplace information
If you select "Worker" in basic information
Workplace name
Name of prefecture where workplace located
Workplace telephone number
Do not enter your number, but rather enter a fixed telephone number for the workplace.
Number of years worked
Job type
Occupation
Industry type
Confirmation of driver's license, etc.
If you select "Student" in basic information
School or college name
Confirmation of driver's license, etc.
Once you have entered the workplace information, click the "Next" button, and move to "Enter Rakuten member registration information".
Enter Rakuten member registration information
The email address you entered in basic information shall become your Rakuten member user ID.
Set your Rakuten member password!
Enter your desired string that is "6 characters or more" in "half-sized alphanumeric characters".
Once you have set whether to receive Rakuten member news or not, you will need to confirm whether the displayed "Rakuten member registration information" is correct or not. The automatically displayed information is the information entered as basic information. If there are any mistakes, click the <Return to Basic Information Input>button, and correct your basic information.
If there is no problem, click the <Next> button and move to "Enter Rakuten Member Registration Information".
Enter your payment account information.
Enter the account information for the financial institution selected in basic information.
Name of financial institution
Branch number
Account number
Once you have finished inputting, click the <Confirm entered content> button.
When the "Confirm Account Information" screen appears, check the information and, if everything is correct, click the "Apply to Financial Institution" button. You will be taken to the automatic account transfer application page on the financial institution's website. (Please note that if you close the Rakuten Card site during the financial institution site procedure, or if the procedure takes too long, you will have to start over from the beginning.)
Family Card
Once you complete the card application, you can also choose a family card. If you want to use this, enter the names of family members in the application instead of your own.
Membership screening and card issue
Once all the information has been entered, you will receive a "Notification of Application Receipt" e-mail.
You can check the status of your membership screening and card issuance at the following URL Enter the "Card Application Receipt ID, your date of birth, and the last 4 digits of your phone number" in the body of the e-mail, and click the <Check Issuance Status> button.
https://apply.card.rakuten.co.jp/status/input.xhtml
Receive your Rakuten card
If the membership screening is successful, the card will be issued and delivered in approximately one week.
The credit card will be delivered by mail requiring personal identification (specified matter transmission type) by Japan Post or by Sagawa Express with receiver confirmation support. Only the person who applied for the card can receive the card. When your card is delivered, be sure to check the "email just before delivery" that comes before it arrives.
When receiving, you must also present a photo identification document, so please have your Residence Card or Special Permanent Resident Certificate handy.
Receiving entry rewards (new entry rewards and card usage rewards)
When you receive your Rakuten Card, receive your reward points. You can use each point as 1 yen.
Entry rewards
You will receive these points when you apply for and join in Rakuten Card for the first time. These are normal points so there is no expiry date. Please note that to receive this service, you must register with Rakuten e-NAVI, the online service for Rakuten Card members only.
3,000 reward points for card usage
If you apply for Rakuten Card for the first time and meet the following two conditions after entry, you will automatically receive these points around the end of the following month. These are time-limited points so they have an expiration date. Be sure to use them before they expire!
Using the card for the first time
Use the card by the end of the month following the "date of application" for the card (not eligible for cash advances)
Account Transfer Settings
Complete the account transfer setup by the 25th of the second month following the "date of application" for the card.
Additionally, check the information on the website carefully, as brand campaigns may also be running.
Rakuten Card entry screening
To make the screening process as easy as possible, we have outlined the key points you need to know.
Apply with the name described on your personal identification
For "Purpose of use after entry," select only "Use for everyday purchases, etc.
Set cashing to 0 yen
Do not apply for automatic revolving payment service
If you fail the screening once, you can apply again after six months have passed
Longer stays, more stable income, and longer periods of service are useful when applying.
If you have problems
If you face problems when applying, such as difficulties with the Japanese language screen, the process does not work properly, or you are unable to receive your card because you are not home, contact the contact center. An English-speaking representative will call you back.
【Contact Center】
Tel. 0570-66-6910 / 092-474-6287 (9:30-17:30)
Press "0#" when you hear the voice guidance.
【FAQ in English】
https://support.rakuten-card.jp/category/show/531?site_domain=guest
Summary
Applying for a credit card can be hard work. If you are not fluent in Japanese, you may feel uneasy about the process. Rakuten Card, though, tends to be more accessible than other cards. There is also a contact center that provides assistance in English. If you need a card issued in Japan, you should definitely try applying.