"Photograph" to affix to the "RIREKISHO" – Documents required for job hunting 05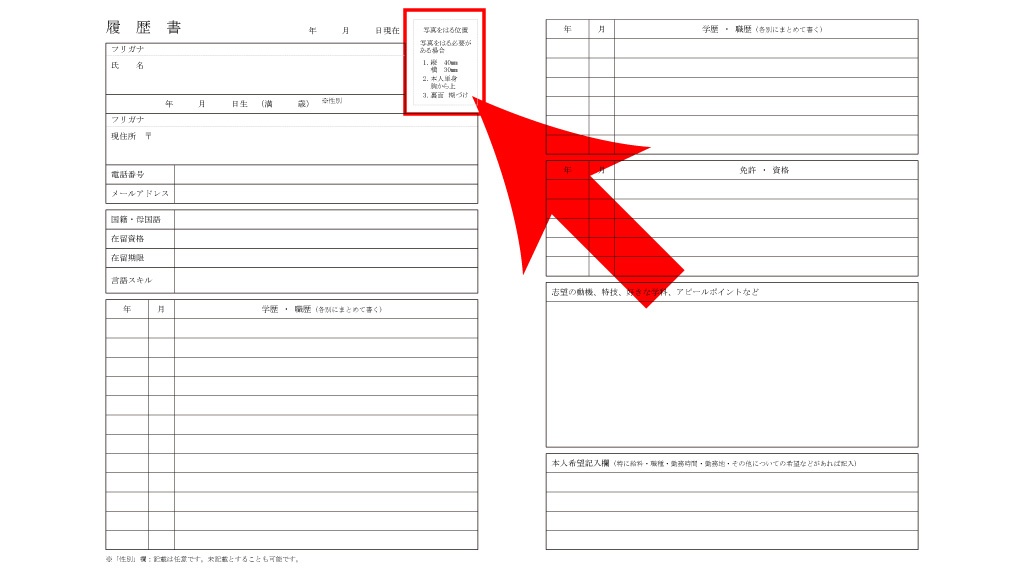 This post is also available in 日本語
When looking for a job in Japan, you will generally need to attach a photograph to your "RIREKISHO". Recently, the number of companies indicating "no photograph necessary" has increased, but generally, unless there is such an indication, you will need to attach a photograph. You may find the task arduous, but by paying attention to the way that you take the photograph and how you apply it to the form may enable you to leave a good impression with the recruiter. On this occasion, we will look the "photograph" to be affixed to the RIREKISHO .
How should you take the photograph?
For your RIREKISHO , it is necessary to use an image taken within the last 3 months, with no background and directly from the front.
Although recently there are apps that allow you to take such pictures from a smartphone as well, it is safer to have your photograph taken by a photo shop or to use an instant ID photo machine. As it may be possible to attach this to an email, we would recommend choosing a service from which you can receive data from the captured images as well.
For how to use the instant id photo machine, please refer to "How to take the ID photo to put in your resume".
Photograph size
Regardless of the size of the RIREKISHO to submit, the size of the photograph is "Width 3cm×Height 4cm". If you have it taken in a photo shop, you can receive photos that are cut to this size. If you are using an instant id photo machine, cut it carefully by yourself.
When submitting data, confirm the image size, file size, and file format with the company in advance. In case this is not specified, it is better to save a photo with a "Width 3 x Height 4" under 2MB, in JPG or PNG format.
How to affix the photograph
When affixing to the paper, make sure that it does not protrude from the designated position or become bent. Write your name and the date of the photograph on the back of the photo in case it comes off the RIREKISHO.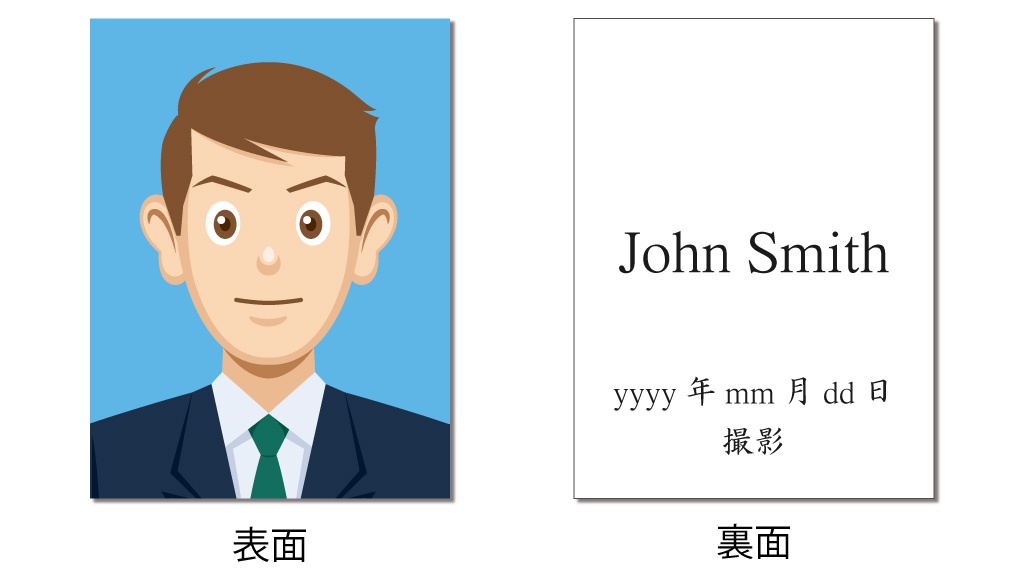 When submitting the data, attach the image to the specified location and save.
You can make a good impression by concentrating on the following: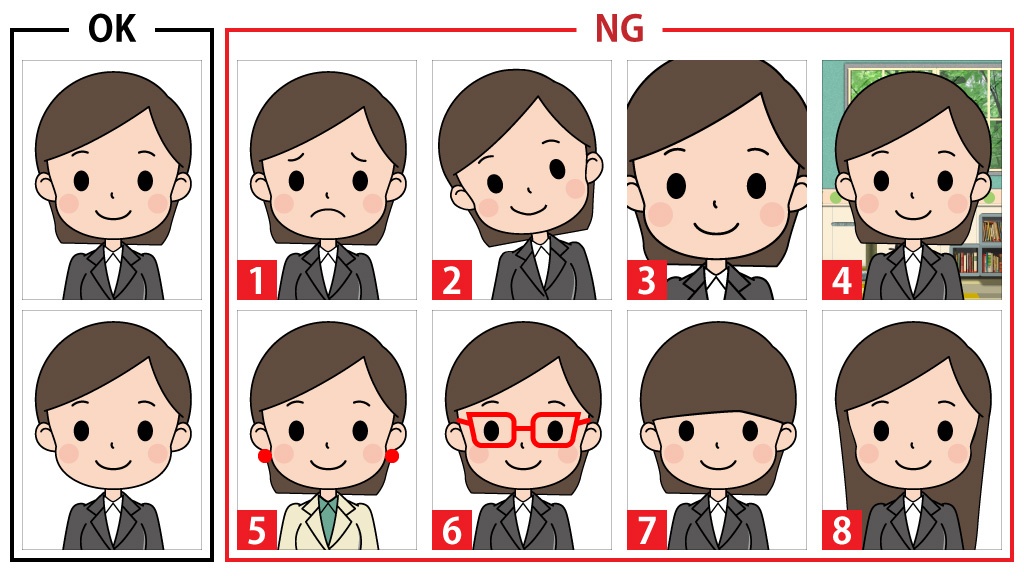 Keep your mouth closed so as not to show your teeth. Smile so that both sides of your mouth are raised. Avoid an expression that suggests you are in a bad mood etc.
Straighten your back and face directly in front of you with your shoulders aligned. You should tilt your chin down slightly to avoid looking up or looking down.
Take the photograph in a way that leaves some blank space.
The background should basically either white, light-blue, or gray. When photographing using an app, it is necessary to set it to have no background.
It is best to wear a black or navy suit with a plain, white shirt. Make sure that you check that your necktie and collar are neat. Remove any accessories. Use natural make-up that gives a clean impression.
If you normally wear spectacles, wear them when taking the photograph. Make sure the light is not reflected in the lens. We recommend avoiding colors or shape that make too strong an impression, or colored lenses.
Make sure your fringe does not cover your eyes or eyebrows, so that your expression is fully revealed.
If you just tucked your hair behind your ears so that the side hair does not get on your face, this gives you a bright impression. If you have long hair, you should tie it up at the back.
Summary
On this occasion, we introduced "how to take and affix photographs", that will be affixed to your RIREKISHO. Many foreign nationals may feel resistance toward attaching a photograph to your RIREKISHO. Although the number of companies not requiring photographs is increasing in Japan as well, it will still be necessary for you to take photographs in many cases. As following the rules is an important point in making a good impression, be sure to follow the guidelines as much as possible. Next, we shall explain about how to describe your academic and work history on your RIREKISHO.