How to Send Emails when Job-hunting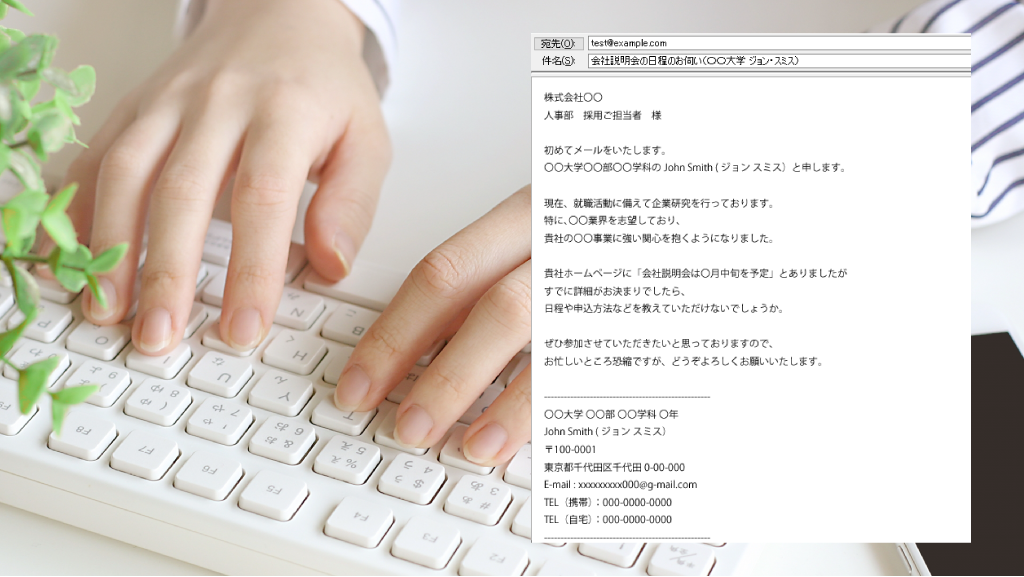 This post is also available in 日本語
As we showed you in our previous article, "[Manners in Job Search] Preparation for Sending an e-mail to Corporations", it is inevitable to use e-mails. Without adhering to the minimum manner, different between friends, the first impression will be not favorable. Therefore, we show you here some manners in sending e-mails.
Some basic manners when using an e-mail
Use telephone for urgent matters, not an e-mail.
Check your e-mail at least once on every day during searching for a job.
Relay as soon as practically possible to an e-mail from the recruiting personnel.
When you can't answer any of the questions at the moment, respond clearly when you'll be able to.
Avoid early morning or late evening hours to send an e-mail.
Don't use and emoticon and refrain from using marks like '!' or '?'.
Confirm beforehand when sending an attachment or an e-mail over 1MB volume.
Some basic manners when writing an e-mail
It is important to make the contents of e-mail simple and accurate, and to maintain the least of the manner. Before you send, you must review the contents, make certain that there is no wrong or omitted word , no misusage of kanji and honorific expression. It will be easier for the recipient to read by allowing a space between paragraphs.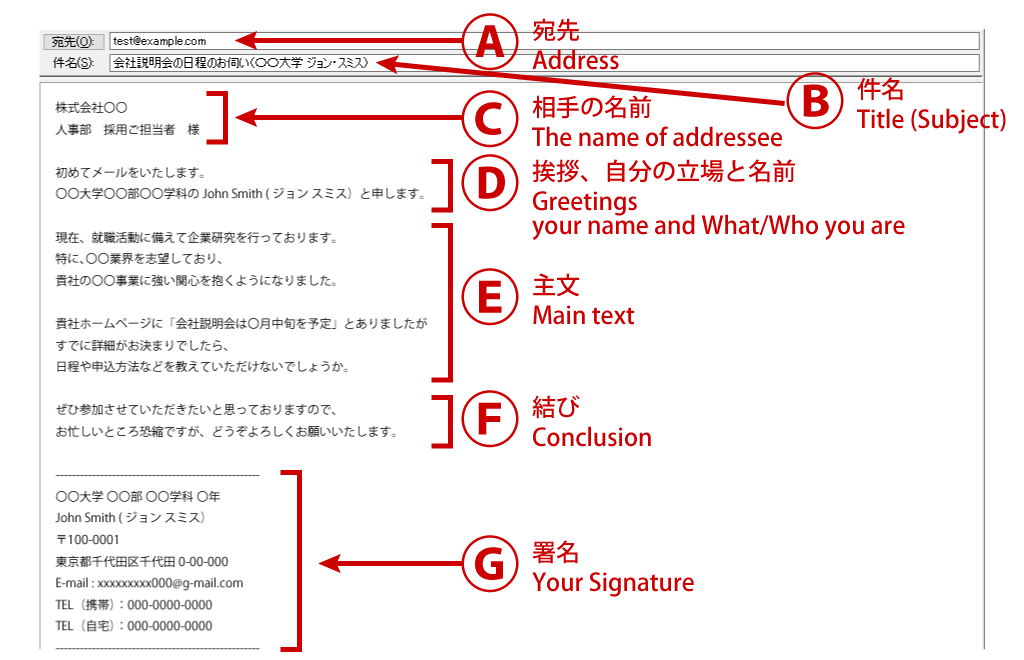 A. Address
Accurate e-mail address must be input. You must be careful when typing in marks such as '- (hyphen)', '_(under bar)', 'o' and '0(zero)', and '.(period)', which are easy to mistype.
B. Title (Subject)
The recruiting personnel of a company receive high volume of e-mails from applicants during the recruiting season. It is advisable to write a straightforward title which will be easy for the recipient to figure out the contents. When you are responding, you must not change the title but return with "Re: (received title)."
C. The name of addressee
You must start an e-mail with the person's name, the department, and the company name.
When you are not certain of the Department or the name of the recruiting personnel. You have to address to "Saiyo go-tantousya sama (Dear Recruiting person)" in addition to the company name. You may employ this also in case you are unsure of the Kanji of the department name or the individual.

You must not abbreviate the company name but fully spell out such as "Kabusikigaisya (Corporation or Company Limited)."

D. Greetings, your name and What/Who you are
Before you go into the main subject, you have to start with short greetings. There are variety of passages to use depending upon the situation.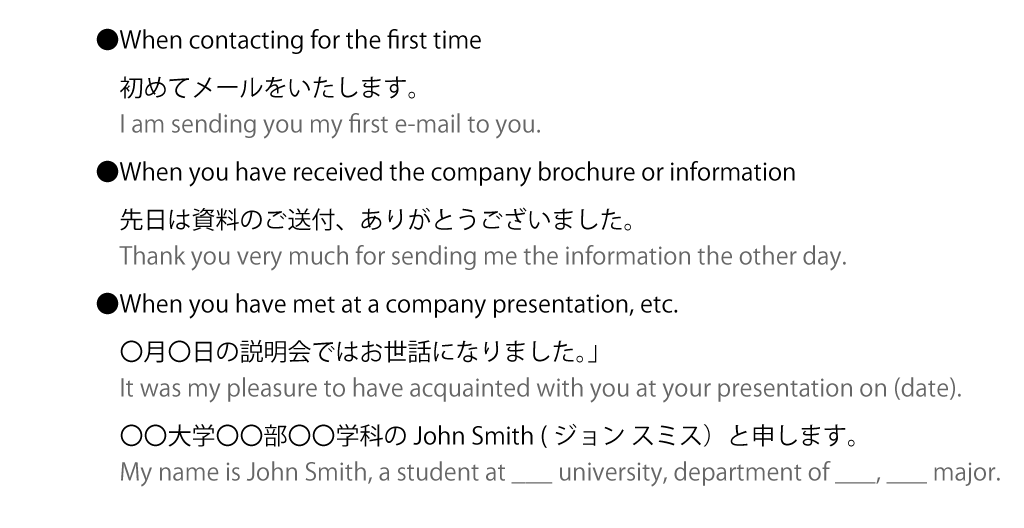 E. Main text
Write the main theme of the e-mail in concise manner. If you are contacting the company for the first time, we recommend that you introduce yourself including in what industry you are interested and why you are applying. If there is an attachment, you must mention so.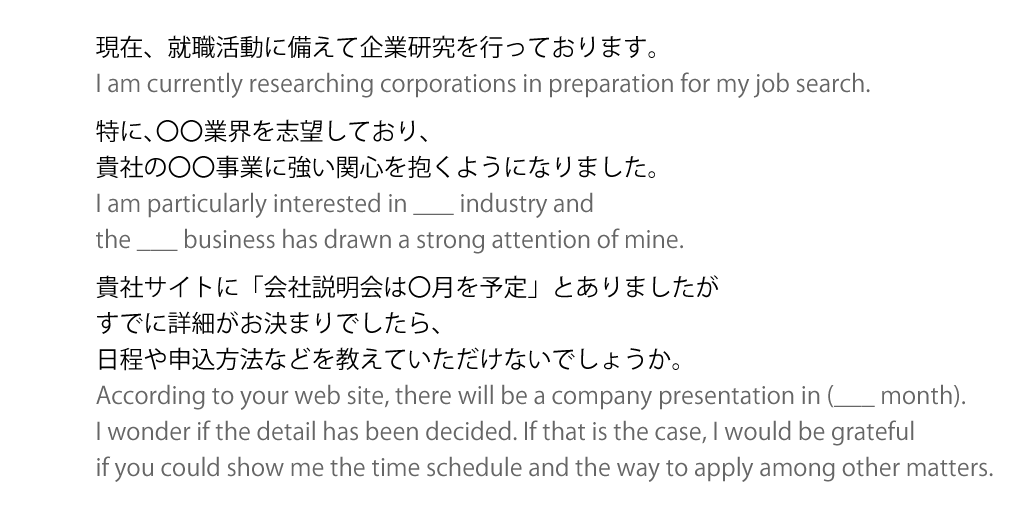 F. Conclusion
You need to describe your eagerness to work at the company and your appreciation for the counterpart's time and trouble, too.

G. Your Signature
It will be convenient to use pre-arranged signature which will automatically added at the end. Please refer to our previous article, "[Manners in Job Search] Preparation for Sending e-mail to Corporations" for necessary information to be included to your signature.