[For Foreign Nationals] Examples of Questions Frequently Asked at Interviews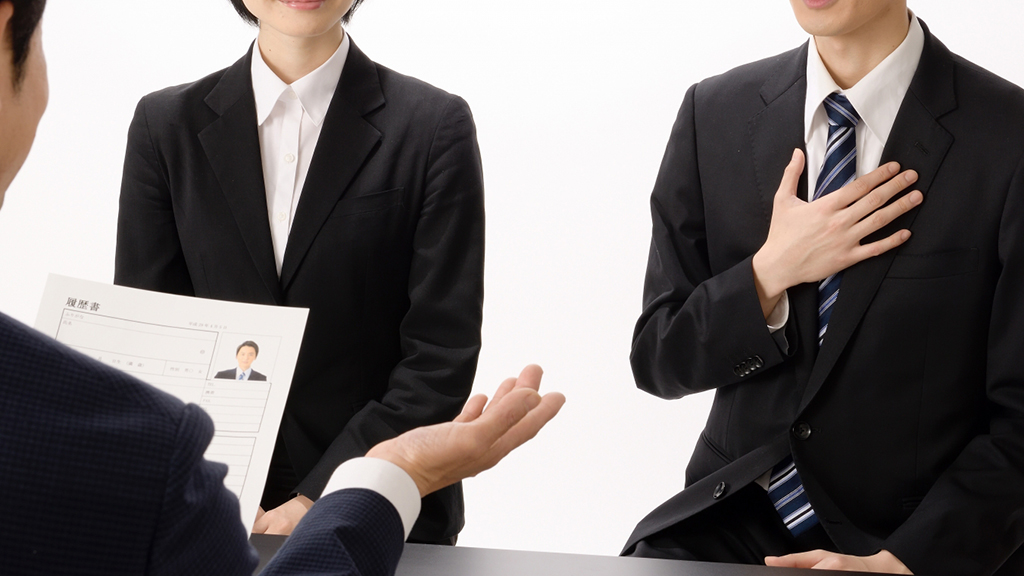 This post is also available in 日本語
In Japan, the corporate and work cultures have evolved in a unique manner. The first time you work in Japan, you may be confused by the unique Japanese customs, such as the working style and career development path. Of course, Japanese corporate culture is also changing rapidly with the age. Where the workplace is composed mainly of foreign nationals, such a workplace tends to adopt the corporate culture of that country. However, when looking for employment, it is first wise to gain an understanding of the unique Japanese corporate culture.
On this occasion, we shall look at some questions that are frequently asked in hiring interviews.
Interview flow
It is said that Japanese interviews tend to be long. The reason for this is that they not only check your experience and skills but also look at communication skills and human qualities. Some questions may be of a private nature or test energy in adversity.
Generally, the conversation progresses according to the following flow. They are also testing your Japanese language ability, but there is no need to become flustered. Answer slowly, politely, in an easy-to-understand way, and clearly after listening to the question right until the end.
Self introduction
Experience/skills/reason for changing job
Motivation for application
Self-promotion
Reverse questions
Please introduce yourself
In general, the first thing that you will be asked to do is introduce yourself. You should summarize information including your name, nationality, birthplace, academic history, and employment history in about one minute. This is not self-promotion, so please introduce yourself briefly.
[Example]
本日はお時間をいただき、ありがとうございます。
ジョン・スミスと申します。台湾の台北出身です。大学ではデータサイエンスを学びました。小さい頃から日本のテレビ番組を見て育ち、ずっと日本で暮らしたいと考えていましたので、大学卒業後に日本語学校で日本語を学び、〇〇株式会社に入社しました。制作オペレーターとして3年ほど営業サポート業務を行いました。データの収集・解析も業務の一部でしたが、よりデータ活用に特化した仕事に就きたいと思っています。本日は、よろしくお願いします。
(Meaning)
Thank you for taking the time to meet with me today.
My name is John Smith. I was born in Taipei, Taiwan. I studied data science at university. From a young age, I have grown up watching Japanese TV programs, and have always wanted to live in Japan. So, after graduating from university, I studied Japanese in a Japanese language school and entered OO Corporation. I worked as a production operator and provided sales support services for approximately three years. Data collection and analysis were part of my duties, but I would like to work in a job where I can utilize data in a more specialized way. I look forward to getting to know you today.
Why did you come to Japan?
Why did you decide to work in Japan?
In addition to your self-introduction, this is a question that is often asked. "Because I like Japan" or "Because I want to study Japanese" are not good answers.
Why did you choose Japan rather than other countries? Try to recall your motivation and reasons and what you have learned and experienced so far, keeping it brief and to the point.
Tell us about your experience, skills, and reason for changing jobs.
If you have worked before, your answer should focus on "What goals you have, in what way do you think and act, and what results you have achieved? How do you think you can apply this experience to the job you are applying for?" If you have not worked before, you can discuss what you learned during your student days, the experience you have gained from any part-time jobs you have done, and how you can utilize this experience in the job you want.
Avoid lying if you are asked the reason for changing jobs. Having said that, it is not a good idea to complain or whine about human relationships or any other problems that might also arise in your new workplace. They may think you "may resign straight away". One option is to "not mention" anything that equates to mere complaints or whining. If possible, you should focus on positive reasons for changing jobs.
Tell us your motivation for applying.
When applying for a job, you should not make your choice based solely on employment conditions. In addition to information about the job, you should carefully research the company's business activities on its official website. It is important to analyze your own experience and skills and consider whether it is a good fit for the business, work, and employment content of the company you are applying for, before sending in your application.
If you have researched the information of the company properly, the reason should come to mind naturally when you are asked why you applied. Briefly and succinctly answer based on why this company, why not another company, why this job, why not another job, and why this matches your ambitions.
Please tell us about yourself
Here, you should explain the benefits of hiring you, and mention your experience and skills. With this item, you can also naturally appeal to them if you have thoroughly researched the business, job description, and duties of the company you are applying for and considered how they match your experience and skills. When appealing to the experience gained in your previous employment, state this on the basis of figures if possible.
What has been your most difficult experience since coming to Japan?
This is a commonly asked question to judge how you solve problems when they occur. Rather than just relating how hard an experience was, you should relate how you overcame it.
Reverse questioning (Do you have any questions for us/me?)
Here, the applicant asks the company questions.
There is no problem with you confirming the conditions of employment. However, if all that you do is confirm the employment conditions, you may give the impression that "you are a person who chooses a job based only on the employment conditions=you are a person who will quit right away if they find better conditions elsewhere." You should add any other questions you have, such as about the atmosphere of the workplace, or "what expectations does the hiring person have of me?"
Summary
Once the date and time of the interview are decided, you should envisage the questions in advance, and practice answering out loud. If you have Japanese friends, you could ask them to practice with you.
Once the interview is complete, you should thank the interviewer before leaving, by saying "Thank you very much for today."
Additionally, in interviews with Japanese companies, communication ability and human skills are highly valued. Take care with your clothing and etiquette. Unless indicated to the contrary, you should wear a black or navy suit, with a white, plain shirt. Grooming, including your hairstyle, etc. are also important.
In the case of a face-to-face interview, arrive 30 minutes before, and go to reception 10 minutes before the interview is due to start. In the case of an online interview, confirm that the equipment is operating correctly by 30 minutes before the due start time, and aim to log in 5 minutes before it starts.