Guide for using taxis! How to board and alight.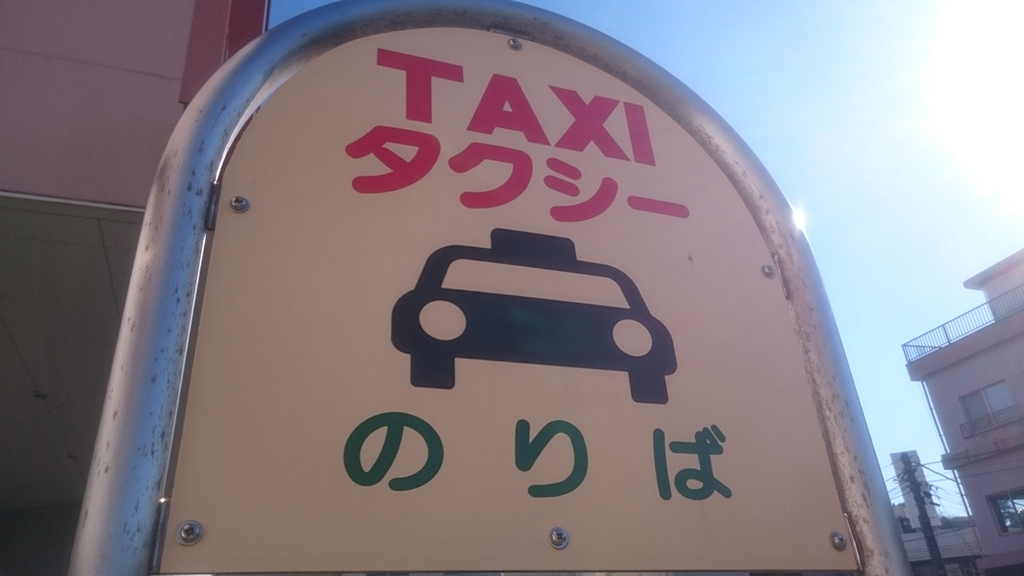 This post is also available in 日本語
When you move around in Japan, you use mainly bus, train or car but taxi is available to go to places where the public transportation is not convenient or when you are in a hurry. We show you how to use taxi in Japan.
How to take a taxi
Use the taxi stand at stations and other places
You will find taxi stands at stations, airports and sightseeing facilities.
Hail a taxi on the street
You can stop a cruising taxi by waving your hand from the curb. You need to avoid stopping a taxi at a dangerous spot such as intersections and crosswalks.
When the taxi shows a sign on the front passenger side 'kuusha', for hire, or 'warimashi', extra charge, it is available. When other sign is on, you cannot use the taxi.
The other indication to show the availability is to look at the roof of the car where a lantern shaped illumination with the taxi company name. When that is on, it means it's available. This is handy at night.
Call for a taxi
You can get a taxi by calling nearby taxi company or using a taxi dispatching application, Although, you need to be aware that the service area and the means of payment varies among applications. In each case, they may charge a pick-up fee.
Book a taxi
You can also reserve a taxi when you know your schedule in advance by calling a taxi company or through internet. You may want to reserve well in advance because a taxi may not be available when you call. This also may incur a pick-up charge.
Getting on a taxi
The Japanese taxi is equipped with an automatic opening/closing for the rear left-side passenger. Please stand aside not to be an obstruct when the driver operates the door. You may not open the door yourself neither close after you seat. You can open and close the door only when you take the front passenger seat. When you are with large luggage, let the driver know when he opens the door. He'll open the trunk room. You fasten the seat belt and tell driver your destination.
Taxi fare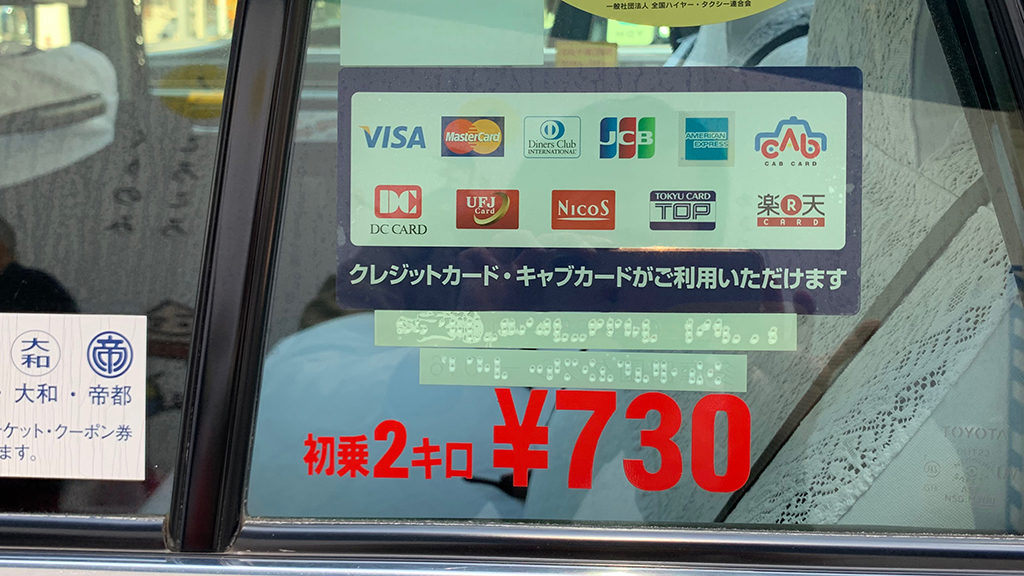 You'll find a sticker on the door which tells you the minimum fare for the first certain distance. This is the base fare you are charged regardless of the distance and is different among taxi companies and regions. You may want to check this. When the travel distance exceeds the base, additional charges are added thereafter. When you ride a taxi between 22:00 (23:00 in some area) ~ 5:00a.m., you need to know that there will be an extra charge. (Called a midnight/early morning charge)
Most of taxis show on the door which means of payment is accepted. You need to check if you can use credit card or e-money before boarding.
Some other charges
Highway toll: Added to the taxi fare
Pick-up charge: May be charged when calling for or making a reservation
Waiting charge: A charge to ask the driver to wait for you
Paying the fare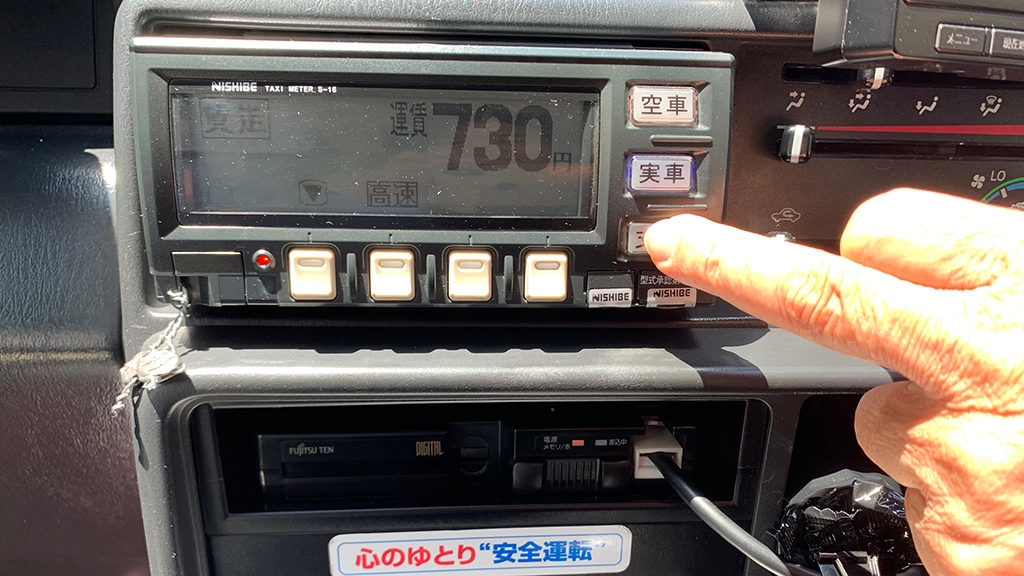 You pay the fare shown on the fare meter upon reaching your destination, adding other charges on top, if any. Don't forget to receive change and the receipt when you pay in cash.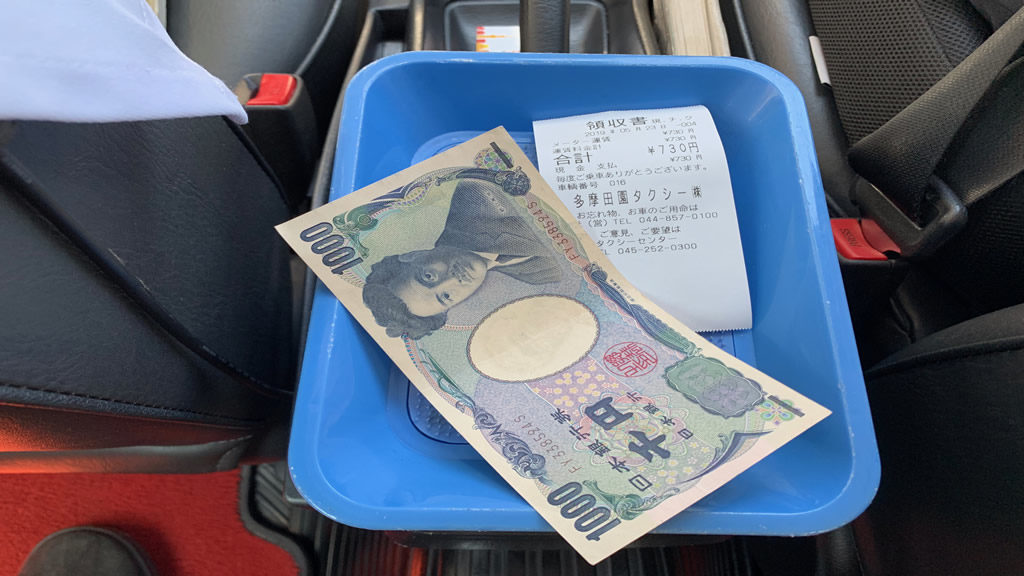 When you use your credit card, make sure you receive your copy. This may be useful for your accounting purpose, and if you left something in the taxi, you can trace it.
Getting off the taxi
When the payment is done, make certain you aren't leaving anything behind. The rear passenger door opens automatically. Don't try to open or close it yourself. You need to open and close only when you ride in the front passenger seat.
It will be appreciated if you thank the driver.