Japan's toilet is the best in the world?! Latest Toilet Situation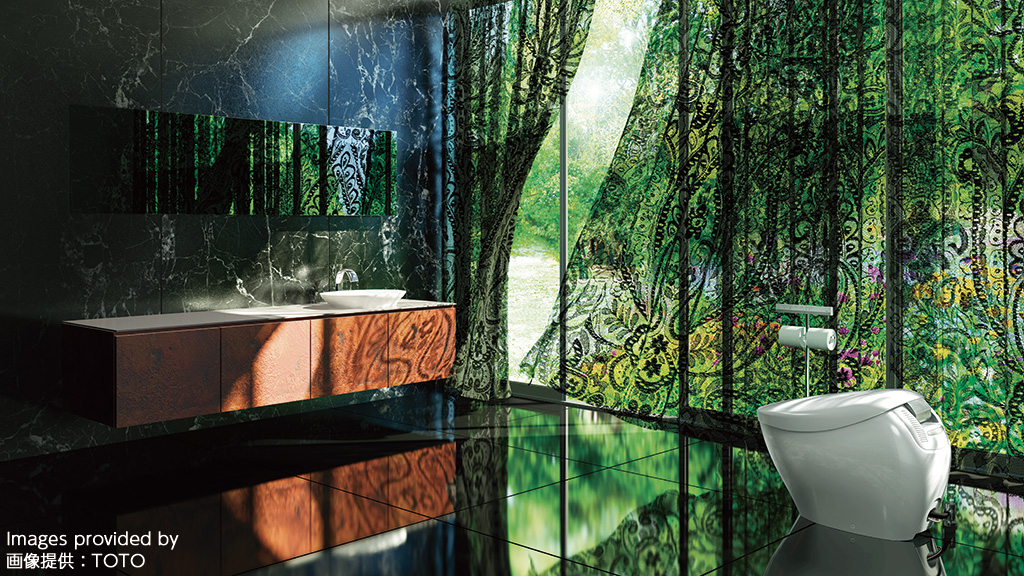 This post is also available in 日本語
In Japan, the prevalence of warm water washing toilet seat is 80.2%*1. In the case of "WASHLET*2", the product most representative of warm water washing toilet seat, a total of more than 50 million units were shipped last year. This year marks the 40th anniversary of its release. On this occasion as well, we talked with Hirofumi Matsutake of the TOTO Ltd. PR department about trends in TOTO toilets and about hi-tech toilets. See the previous article "The 'Essence of Omotenashi' in Japan can be found in its toilets".
*1 March 2020 Government Consumer Behavior Survey
*2 "WASHLET" is a registered trademark of TOTO.
Trends in TOTO toilets
The trend is for smart toilet. TOTO smart toilet pursue three aims of "Biclean technology" (word made by combining "Bikkuri(surprising)" and "Clean"), namely ease-of-use, ease of cleaning, and hygiene.
https://jp.toto.com/campaign/biclean/index.htm
Technology 1: Automatic sterilization every time you use it
If you do not use the toilet for 8 hours after previously using it, it uses "EWATER+(clean sterilizing water)" to clean the toilet bowl. It breaks down the dirt you cannot see and prevents the occurrence of black stains and ring stains.
Additionally, it cleans the nozzle with its self-cleaning function before and after you use WASHLET. As you move away from the toilet bowl, it uses "EWATER+" to clean the outside and inside of the nozzle. Even when you are not using it, it periodically uses "EWATER+" to clean the outside and inside of the nozzle.
About "EWATER+"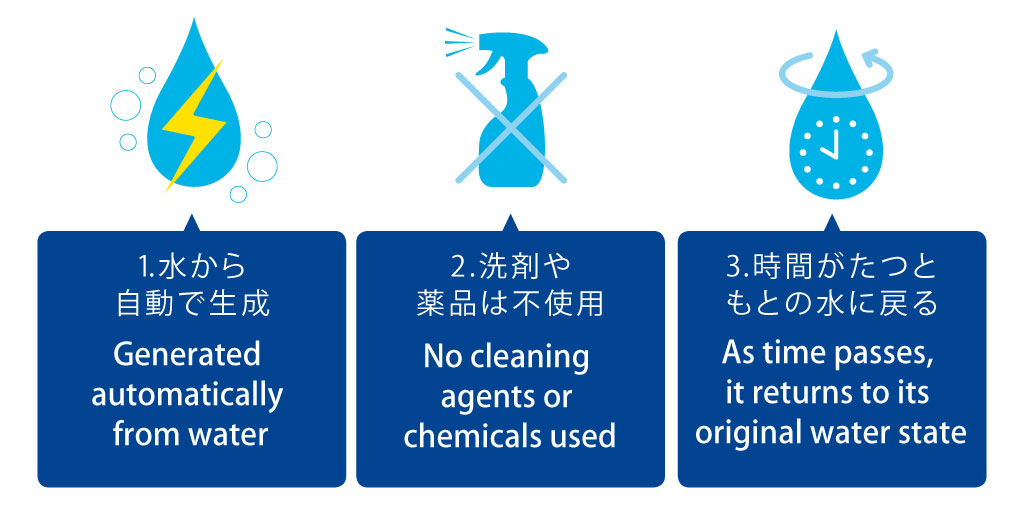 This is original TOTO technology. It makes water with sterilization elements (sterilization/decomposing/bleaching) from water without using cleaning agents or chemicals. As it returns to the original water with the passing of time, this technology is kind to the environment.
Technology 2: Washes dirt clean away
CEFIONTECT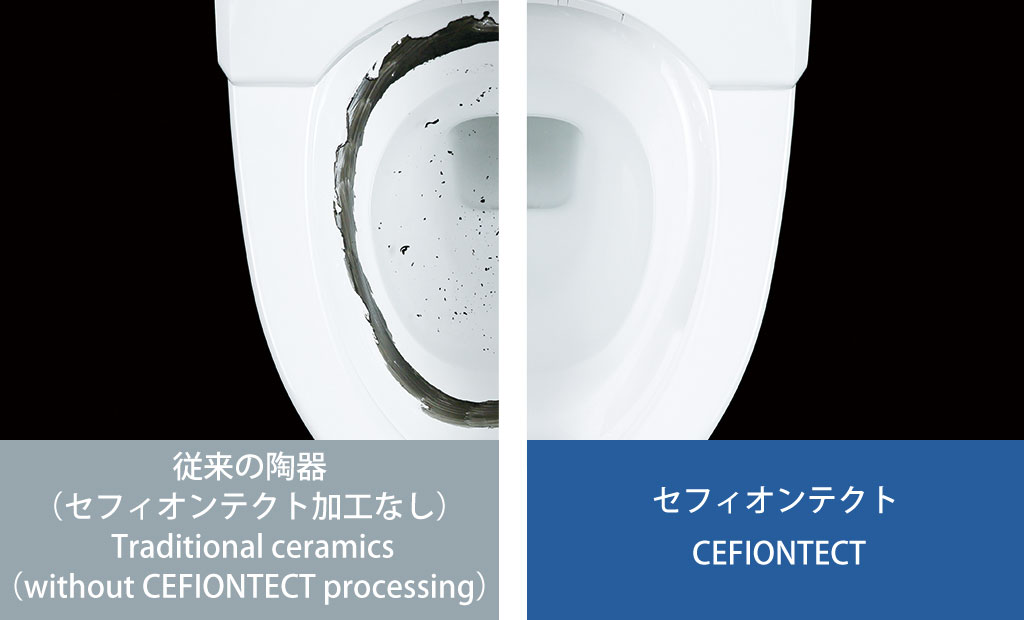 This is a TOTO original structure where, rather than coating the toilet bowl, a special glass film is made on top of the enamel and it is fired at approximately 1200℃. This eliminates unevenness on the porcelain surface, and it becomes smooth at the nano level. As bacteria cannot infiltrate, dirt does not attach easily, and can be simply removed.
Additionally, dirt in the toilet includes oils. For this reason, it needs to be hydrophilic rather than hydrophobic. As CEFIONTECT is highly hydrophilic, dirt comes off easily.
PREMIST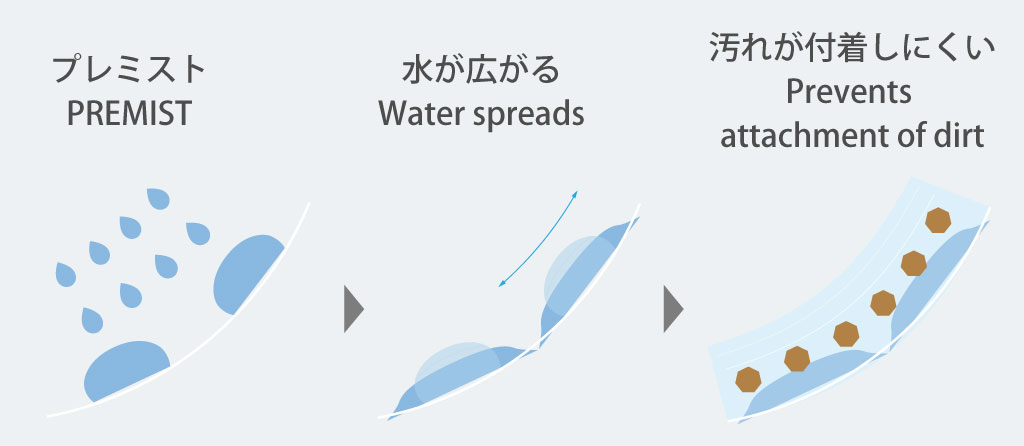 Before use, it automatically sprays mist onto the surface of the toilet bowl, making a water film to which dirt does not easily attach.
TORNADO FLUSH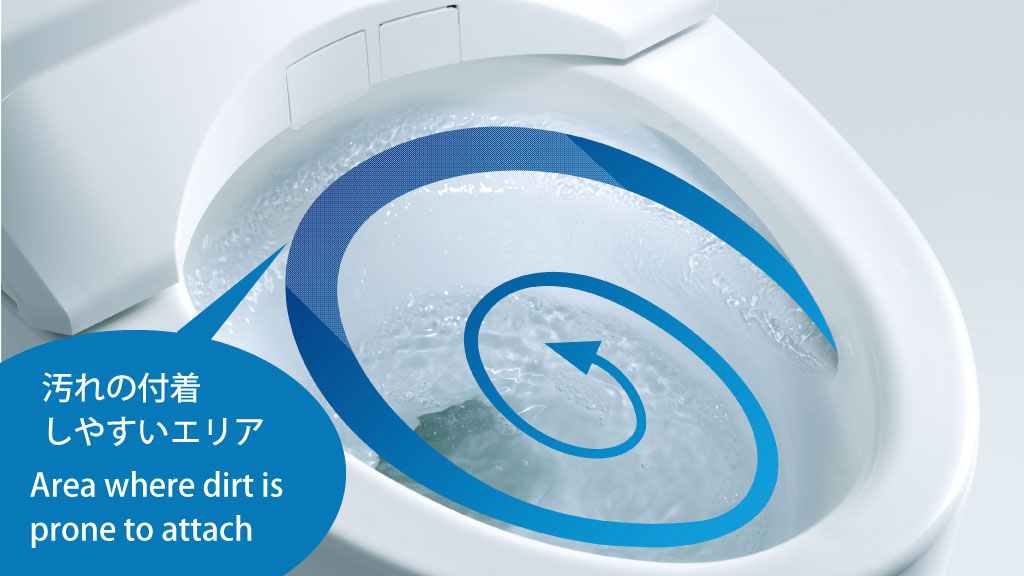 This is TOTO patented technology. The water flow is like a whirlpool, and it thoroughly cleans areas that can easily become dirty with limited amounts of water.
Technology 3: Cleaning becomes easily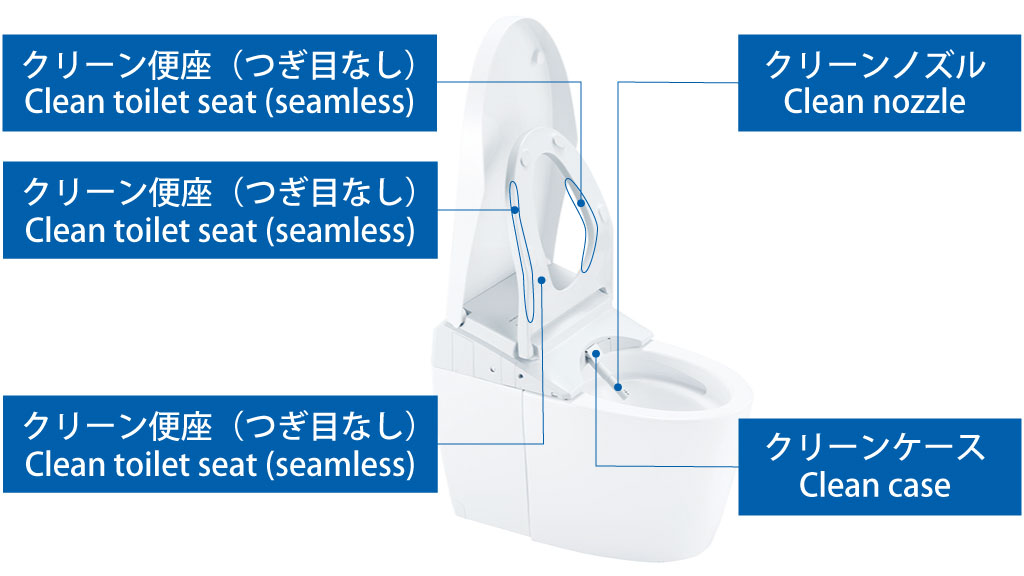 As there are no joins on the inside or outside of the toilet bowl, with the unevenness smoothed off, it is very easy to clean. Additionally, as the toilet seat and nozzle etc. made of resin use hydrophobic clean resin, you can clean it merely by wiping it.
The "Too Beautiful" Hi-Tech "NEOREST" Toilet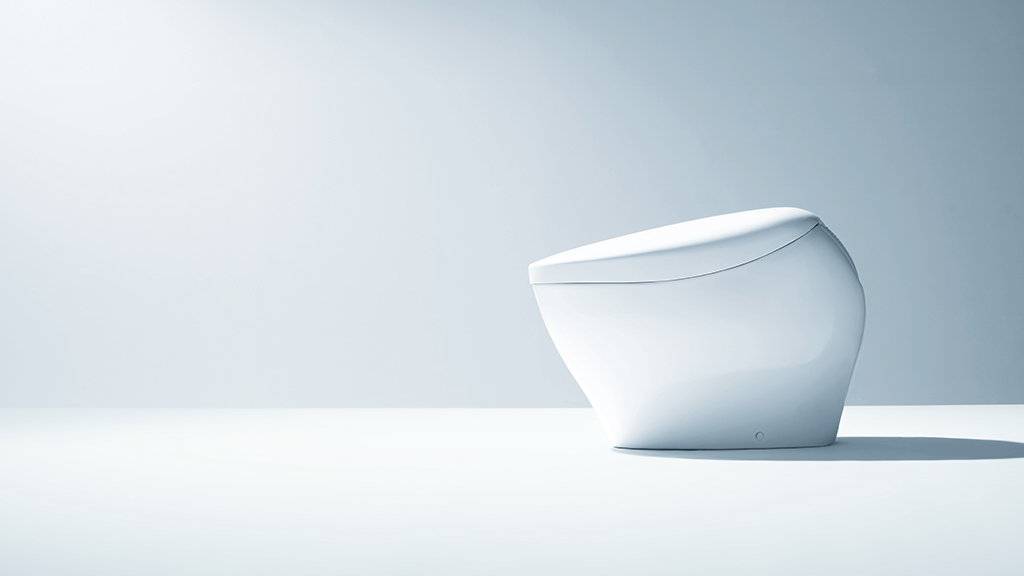 NEOREST is a smart toilet in the shape of WASHLET. It has not only picked up the "GOOD DESIGN" award in Japan, but has also won the prestigious "iF Design Award" and "Red Dot Design Award" internationally. The first generation "NEOREST EX", released in 1993, was certified as "the architectural equipment technology heritage".
Fusion of Design and Functionality
In particular, "NEOREST NX", based around the image of a white porcelain vase, has a beautiful design seen from any angle within the 360 degrees spectrum. The toilet lid is made of resin, but due to the multi-layered coating, there is a sense of unity with the ceramic toilet bowl.
WASHLET functionality is also contained inside the ceramic toilet. When firing ceramics, there is 13% shrinkage, so embedding WASHLET inside it is extremely difficult technology. This can be said to be design made possible by the "pottery" production technology and analysis technology accumulated for over 100 years.
Water saving is, of course, also considered, and it clears the world's cleaning water quantity regulations. With the Tornado flush function, the position of the cleaning water outlet has been changed to an inconspicuous area, and consideration has been given so that water flows with greater force over the areas that are more likely to become dirty.
https://jp.toto.com/products/toilet/neorest_nx/index.htm
The keyword is "Beauty"
We feel that the keyword for TOTO toilets apparent from these interviews is "beauty". From a functional perspective, they are continuing to evolve so that it can be used cleanly and you can wash your posterior cleanly. From a design standpoint, the toilet is simple and beautiful, and the space in which the toilet is installed becomes spacious and beautiful.
These are all supported by the ceramic production technology, cutting-edge technology, and beauty of the spirit of "Omotenashi", considering "one defect as being 100% to the customer" that has been accumulated by TOTO.
We interviewed