10 Hot Spring Inns that offer guest rooms with Rotenburo (Open-Air Baths) in the Kanto Area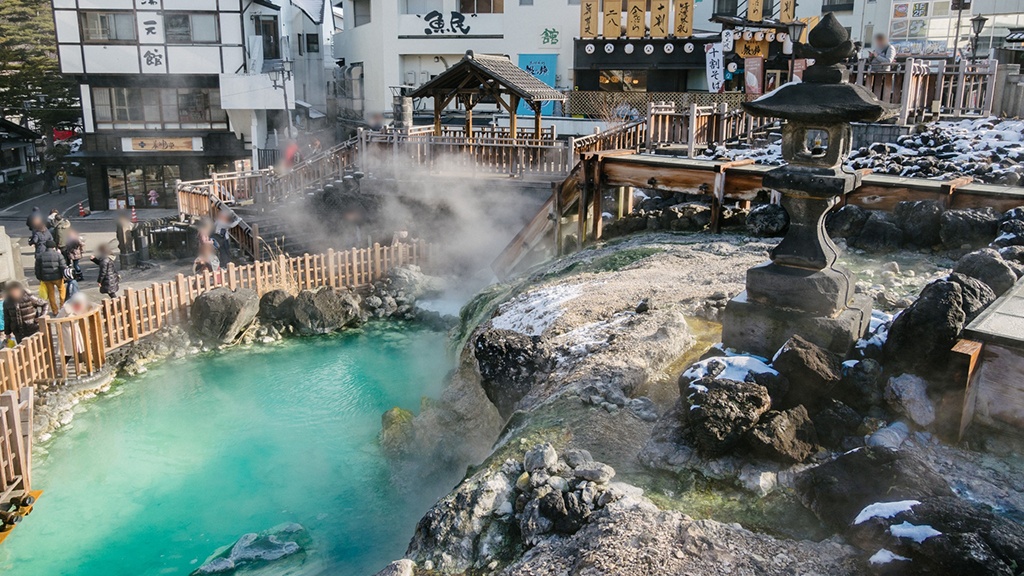 This post is also available in 日本語
Cold winters are a great time to visit a hot spring. On this occasion, we shall introduce some hot spring inns that are among the five most popular hot spring resorts in Kanto. We have chosen inns that offer guest rooms with "Rotenburo" (open-air baths) or private bath. Enjoy traveling to hot spring inns in Japan!
[Gunma] Kusatsu Onsen
Kusatsu is one of the most popular hot spring resorts throughout Japan. The hot spring resort town spreads out around the Yubatake (yubatake: facilities for collecting hot spring ingredients and adjusting the temperature), giving it the feel of a typical Japanese hot spring resort. It is convenient to take the highway bus "Joshu-Yumeguri-go" that leaves from Tokyo and Shinjuku Stations to get to Kusatsu Onsen.
https://www.kusatsu-onsen.ne.jp/
Toki-no-niwa

Located 15 minutes away from Yubatake on foot, this is a pure Japanese-style inn with Rotenburo in each room. The whole building has tatami flooring, and so you have the freedom to walk around barefoot. It has excellent "Kaiseki cuisine" (full course Japanese meals) that use seasonal ingredients, and this is a hot spring inn that allows you to fully enjoy Kusatsu.
https://a.r10.to/huwS8W
Kei

Three minutes on foot from Yubatake, this is a new inn, which opened for business in August, 2019. In addition to the guest rooms with Rotenburo attached, there are three private baths, enabling you to relax and enjoy the hot springs of Kusatsu. The refined guest rooms are large and create an extraordinary atmosphere.
https://a.r10.to/hwXwhW
[Tochigi] Shiobara Onsen
Shiobara onsen is dotted with several hot spring sites along the valley. The autumn leaves and winter snowscapes are especially beautiful, allowing you to enjoy the magnificent nature of the four seasons. It is somewhat inconvenient to get to by train, but there is a direct high-speed bus leaving from Shinjuku station.
http://www.siobara.or.jp/en/
Shikimitei Fujiya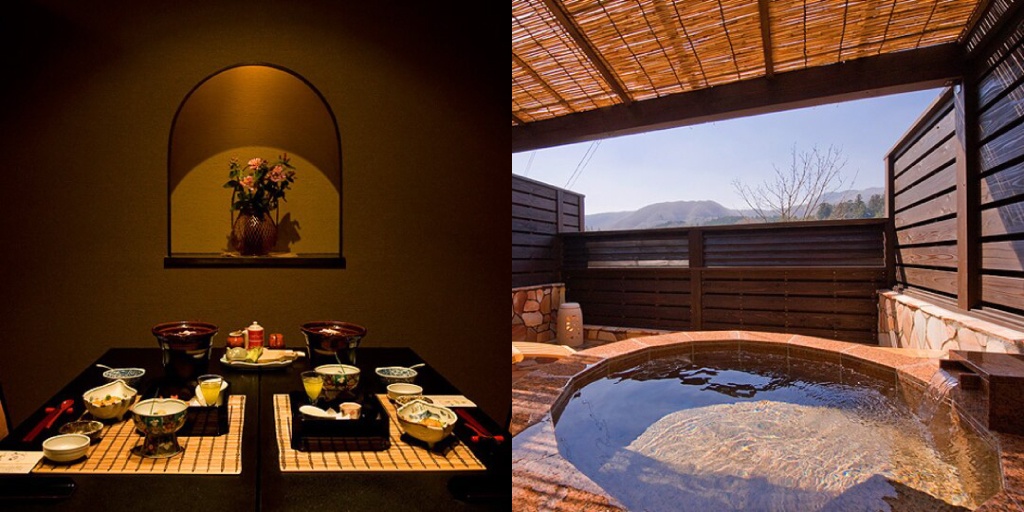 This inn has guest rooms with Rotenburo, as well as Rotenburo that can be reserved for private use free of charge. Relax and enjoy the beautiful nature and hot springs of Shiobara. It has also been covered in the media as a inn with beautiful food, so you are sure to enjoy the food.
https://a.r10.to/haD32H
Hanare-no-yado Kanon

This is a inn in which all rooms are "Hanare" (small detached houses like cottages). The guest rooms, of course, all come with Rotenburo, and this inn, with its quiet private spaces, will create wonderful memories. You can also enjoy creative dishes made with fresh ingredients.
https://a.r10.to/hDwN73
[Tochigi] Kinugawa Onsen
Kinugawa onsen is also located in a valley area of beautiful nature. Located only 30 minutes by car from Nikko, which is a World Heritage Site, it is also a good place to stay for Nikko sightseeing. You can get there without changing trains by using the "Tobu Tokyu Spacia" train from Asakusa Station.
https://www.visitnikko.jp/en/discover/hot-springs/
Wakatake-no-sho Bettei Sasane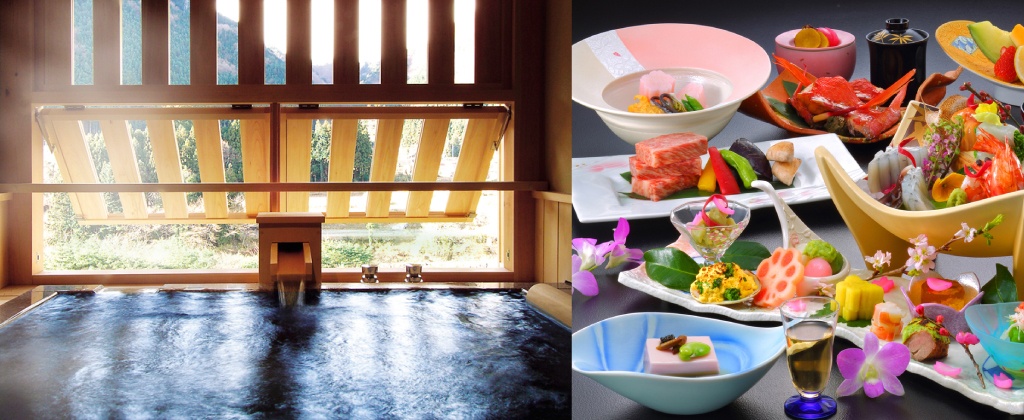 Located along the Kinugawa River, this is an inn where you can enjoy the hot springs while listening to the flow of the river. Each of the refined guest rooms have a half Rotenburo attached. The beautiful kaiseki cuisine using seasonal ingredients will also add to the enjoyment of your trip.
https://a.r10.to/hDrnU2
Seijaku-to-Magokoro-no-yado Nanaeyae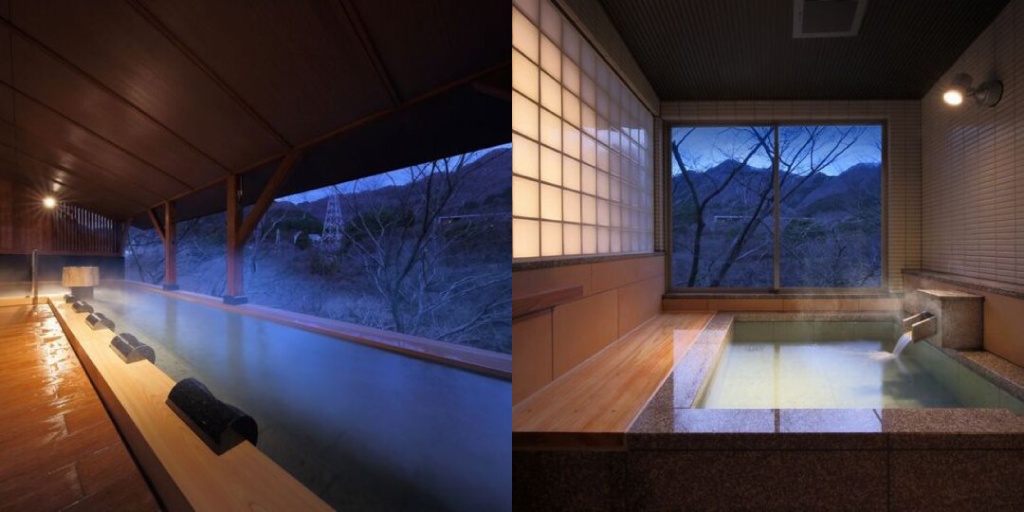 This inn boasts a Rotenburo with a panoramic view of the valley and the scenery of Satoyama. There are plans that allow you to use a private bath, in addition to the guest rooms that have a Rotenburo. You can enjoy using natural local ingredients, such as Nikko yuba and char.
https://a.r10.to/h61PYK
[Kanagawa] Hakone Yumoto Onsen
You can find the Hakone-Yumoto Onsen at the entrance to the Hakone Onsen Resort. This is a popular tourist spot with many souvenir shops and inns. One attraction of it is the easy access. You can get there from Shinjuku on the "Odakyu Romance Car" in 85 minutes without changing trains.
http://www.hakoneyumoto.com/
Hotel Kajikaso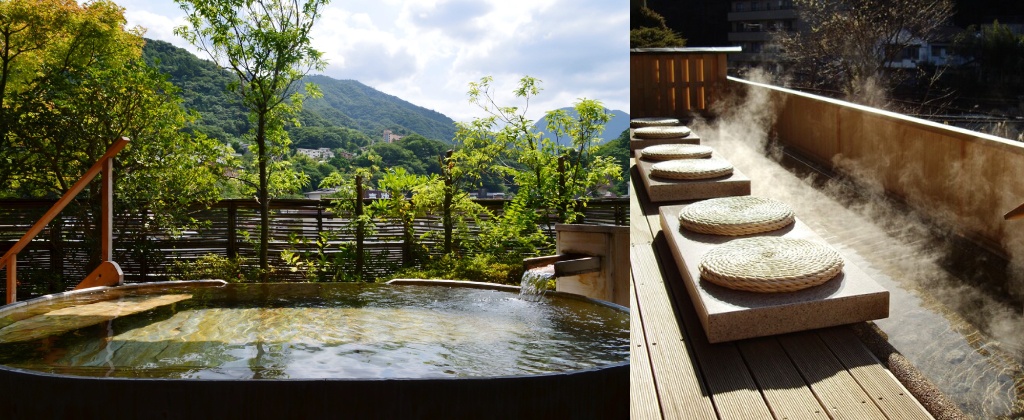 This inn is conveniently located just five minutes on foot from Hakone-Yumoto Station. It boasts ownership of nine different sources of water. You can access a variety of hot springs and baths, including Rotenburo, large baths and footbaths. You can enjoy fresh seafood taken from the ocean nearby.
https://a.r10.to/hDyJfP
Kamon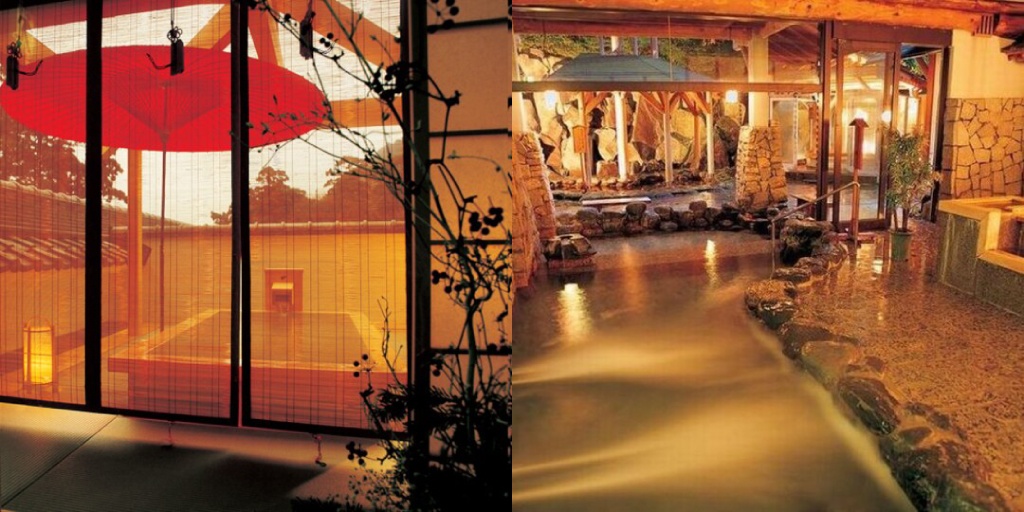 The inn is approximately 15 minutes on foot from the center of the town. You can enjoy a large bath area, containing 10 types of baths and the non-everyday feel of travel. Some guest rooms have a Rotenburo with a unique red umbrella. As there is also a day trip plan with bath and meals included, we recommend stopping by when you are taking a trip by car.
https://a.r10.to/ha33z7
[Gunma] Ikaho Onsen
Ikaho onsen is famous for its stone steps. On both sides of the stone steps, you can find inns and stores, making it a true hot spring town.
It is convenient to get to Ikaho hot springs, by taking a high-speed bus, the "JOSHU Meguri-Go" from Tokyo station or Shinjuku station without transfer.
https://www.ikaho-kankou.com/en/
Oyado-Tamaki

This inn is located 2 minutes walk from the street of stone steps, and is recommended for people who wish to enjoy the hustle and bustle of the hot spring town. In the pure Japanese interior, even the corridors are lined with tatami mats. You can rest your feet that are tired out from walking. In the guest rooms withRotenburo attached, you can monopolize the view of Ikaho.
https://a.r10.to/huAoqO
Kanou ya

This is a inn in the mountains, reached by the private cable car. In addition to enjoying the scenery of the mountains from the Rotenburo in the guest rooms, you can also enjoy the starry night sky from the private Rotenburo. For meals, you can enjoy the Kaiseki cuisine that uses the bounties of the ocean and mountains.
https://a.r10.to/hDQU4P