Recommended Soy Sauce Specially Made for "Tamagokake-gohan"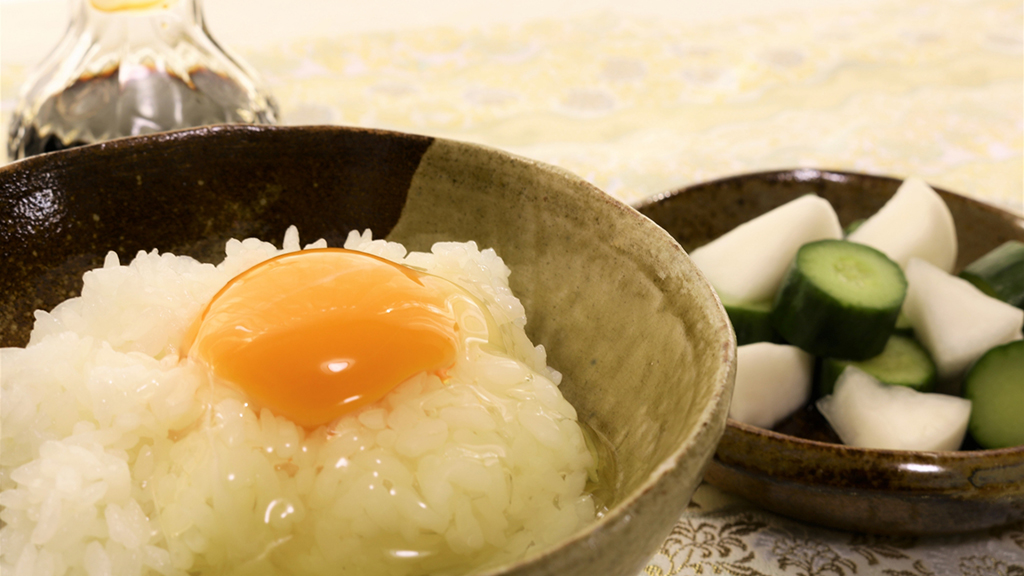 This post is also available in 日本語
From ancient times, in Japan, we have had the food called "Tamagokake-gohan", in which a raw egg is poured over rice and you add soy sauce. Recently, special soy sauce for enjoying more delicious "Tamagokake-gohan", and different ways of arranging the dish have been introduced on SNS, and it has gained attention once again. On this occasion, I would like to introduce you to "Tamagokake-gohan", which continues to be loved by Japanese people.
What is Tamagokake-gohan?
"Tamagokake-gohan" is a dish eaten by mixing a raw chicken's egg with rice. Recently, it has been fondly referred to as "TKG". As it involves eating the egg raw, without heating, and using white rice, which is the staple food of Japan, it can also be said to be a distinctive part of Japanese food culture. Some foreigners may be somewhat averse to eating raw eggs. However, in Japan, according to "hygiene management requirements" determined by the Ministry of Health, Labor, and Welfare, raw eggs may be eaten safely as safety measures for preventing the attachment of viruses, such as cleaning in disinfectant, are taken.
"Tamagokake-gohan" can be made very simply as long as you have rice, eggs and soy sauce, so it is convenient for breakfast if you are in a rush. Recently, there have been eateries specializing in "Tamagokake-gohan". Each store has their own distinctive features, such as the production area of the rice and/or eggs, or the type of topping, such as soy sauce. You might like to try it one time, to get some insight into the world of "Tamagokake-gohan".
How to make it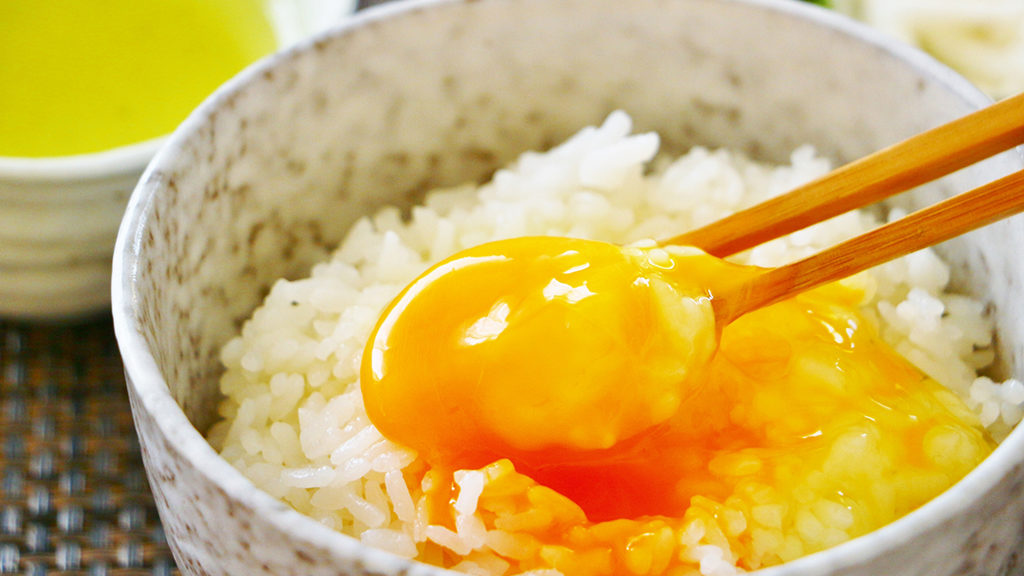 Serve warm rice into a rice bowl. If you leave a slight hollow in the rice, it is harder for the egg to slip away.
Crack the egg over the rice and add just a little soy sauce, and stir in. Make sure not to add too much.
Soy sauce specifically for "Tamagokake-gohan"
This is called "Tamagokake-gohan"-specific soy sauce, and even though it makes "Tamagokake-gohan" taste nice, it can also be used with other dishes too. If there is some left over, you can use it with other dishes, such in soups, boiled food, "udon" noodles, and fried food etc.
[Yoshida Furusatomura] Otamahan
This was for the forerunner in "Tamagokake-gohan"-specific soy sauce. There are two types of product – Kanto style and Kansai style. The Kanto style has less "Mirin" and is slightly spicy. Kansai style has more "Mirin" and is comparatively sweeter. It is fun to try them all to find your favorite flavor.
https://2630mura.jp/SHOP/99898/list.html
[Teraoka Yukijozo] Teraokake-no-Tamago-ni-Kakeru-Oshoyu
This is soy sauce blended with "Katsuobushi" (bonito flakes) and "Kombu" (kelp), and the slightly sweet soy sauce has a hint of oyster extract and "Hon-mirin". The UMAMI of seafood and egg yolk are a perfect match.
https://www.teraokake.jp/item/4964366800369/
[Higeta Shoyu] Tamago-gohan-ni-dozo
This is a product that uses soy sauce and "Mirin" to accentuate the UMAMI of "Katsuobushi" and "Kombu". Its color is somewhat light compared to other soy sauce, but it draws on the color of the eggy yolk, to make very attractive-looking "Tamagokake-gohan".
http://www.higeta.co.jp/c_products/tsuyutare/tsuyutare_29.html
[Yamauchi Honten] Makurazakisan Hongatsuo Tamagokake-Shoyu
This was a product born from the aim to be a "Gendai-no-meiko". "Gendai-no-meiko" means one who has worked for a long time at one job, and is a title awarded to a technician recognized by the Ministry of Labour, Health, and Welfare as having technology of the highest standard.
http://www.e-umeya.com/products/all_shouyu/sashimi-tamagokake-shouyu/itemdetail/3509
Arrangements
Arrangement with eggs
If you are not keen on raw eggs, why not try it with "Hanjuku tamago (half-cooked eggs), fried eggs, or "Onsen tamago" (eggs boiled in hot springs)? If you are able to eat raw eggs, it is also very popular to use egg yolk pickled in soy sauce (only the yolk of the egg is pickled in soy sauce and "Mirin"), or egg white whipped.
Soy sauce arrangement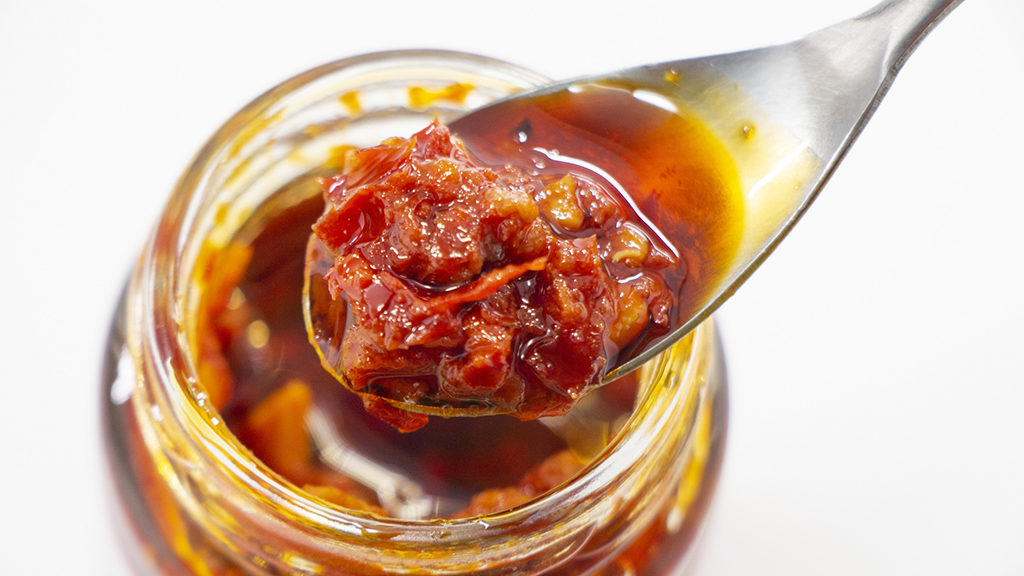 In addition to "Tamagokake-gohan"-specific soy sauce, a wide variety of soy sauce types and "Dashi-shoyu" can be used. Instead of soy sauce, you can add salt or sesame oil, and we also recommend adding "Taberu Ra-yu" (edible chili oil). You can also use "Ponzu" soy sauce or Yakiniku sauce, or butter or olive oil along with soy sauce.
Arrangements with different toppings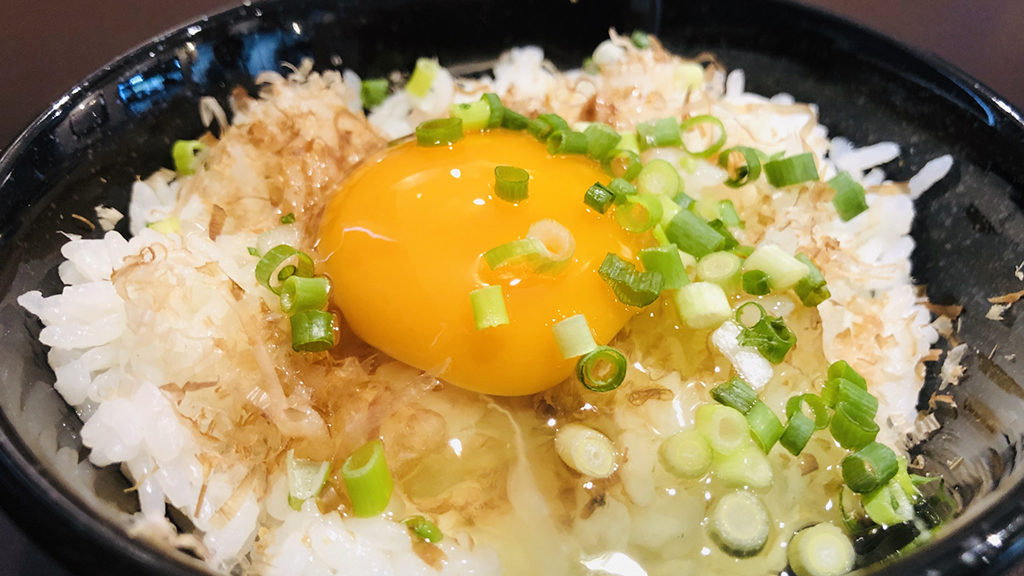 You can use condiments, such as chopped leek, bonito flakes, sesame, flavored nori (seaweed paper), aojiso, or shredded "myoga". It also matches salty food, in which eggs can be mixed in easily with "shirasu", tarako (cod roe), and mentaiko (spicy pollack roe).