So Many Vending Machines to obtain almost ANYTHIG
This post is also available in 日本語
Vending machines in Japan are so unique attracting keen interest from the world!
It is believed that Japan is the front runner in numbers of vending machines in the world. Wherever you go, be it a station, a department store, or a hospital, you'll find them. A vending machine often projects as a machine to buy beverages, but in Japan it doesn't stop there. You'll be astonished to learn what you can buy through vending machines, such thing as liquor, tabaco, veggies and fruits, warm fried potatoes, ramen among other foods. We introduce you here to the new world of Vending Machine, with some unexpected items you'll encounter.
What do you find in vending machines in Japan?
Want liquor and cigarettes?
When you want a cigarette break or a few drinks, these are always available from vending machines in Japan.
In some countries, cigarette machines are placed only in buildings, but in Japan you see them outdoors, too. It's said that liquor bending machine is unique to Japan. Just looking at these machines is a fun by itself, since you'll find so many different brands.
However, the statutory age for them is 20 and over in Japan. In recent years, more vending machines require to present driver's license or an IC card (named Taspo) to prevent minors from accessing liquor and cigarettes, which may look a little too severe, but it's a necessary mean.
Vending machine for numerous varieties of foods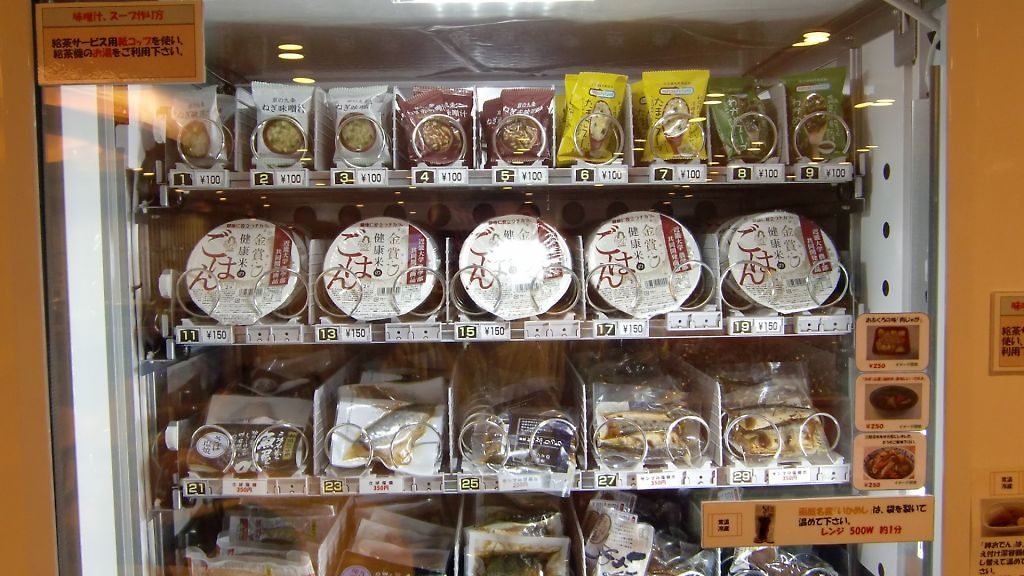 A little bit hungry?
Vending machines are there to get you not only drinks but some sweets, too. Beginning with refreshing chewing gums and candies, you will find substantial lineups of likes of chocolate and potato chips. These are readily available without going to shops.
Isn't it delightful to have a convenient access to the world renowned Japanese sweets for their deliciousness? Also, you can try vending machines stocked with local specialties which will be good Japanese souvenir.
Want fresh veggies and fruits?
We tend to buy veggies and fruits at a supermarket or a grocery store but in Japan these are available also from vending machines. Most of them look like a coin locker. You put money in the slot, select what you want, and take your purchase out. There are many veggie and fruit machines in the outskirts of big cities where you can buy these fresh from the field grown by farmers.
Recently, we often find fruit vending machines even in cities. Once a vending machine was the talk of the town which had been set up to sell Dole bananas at the Shibuya Station in Tokyo. This attempt, the banana vending machine which was originally placed to buy bananas at hand, drew a lot of attention because it has made it easier to get banana for breakfast or a snack quickly.
Thus, vending machines are popularly used by many to buy veggies and fruits with an easy access.
Full-line menu makes you full!
Vending Machines in Japan also come very handy when you feel hungry. The list of foods don't stop at light finger foods such as fried potato and hotdogs to go along with drinks. Items include noodles like udon and ramen for a quick lunch.
The machine makes them hot by itself to be consumed at once, without any trouble to bring them home and cook. It's very convenient when you are outside enjoying sightseeing, walking and watching sport events.
Selling canned oden which is a typical Japanese dish by vending machine is a famous fact. What made this canned oden famous is that in 1990's it became a hidden hot item because it's edible on the street and the idea to put oden in a can was very peculiar.
The canned oden will give you daikon (radish) and stingy beef meat well soaked with Japanese broth. Why not having your first try when you see it somewhere.
Finding you left something at home? Don't worry!
Get an umbrella from a vending machine in an unexpected rain!
You don't need to panic when rain starts suddenly when you are outside. There are vending machines selling umbrellas mostly at stations which become very convenient when you want one on your way home. Hence you don't get wet.
Toothbrush, underwear, etc. as over-night amenity?
You can buy all the travelling goods from vending machines, too. Vending machine will provide you with all these necessities such as toothbrush, underwear, and towel which you might forget to take with you. Even in case of a sudden trip, vending machines are there to help you. You can keep yourself fresh and clean as bath time goods such as shampoo, shaving razer are available, as well.
Pleasantly convenient Japanese vending machines.
What is your take from this? There are all other thing available from vending machines not mentioned above. You can buy food, life necessities and what not from vending machines at any time. What a heavenly idea it is! Please try this yourself while in Japan: Vending Machines, fun-filled and ever convenient!