[02/2020 Tokyo] The A to Z of getting a job in Japan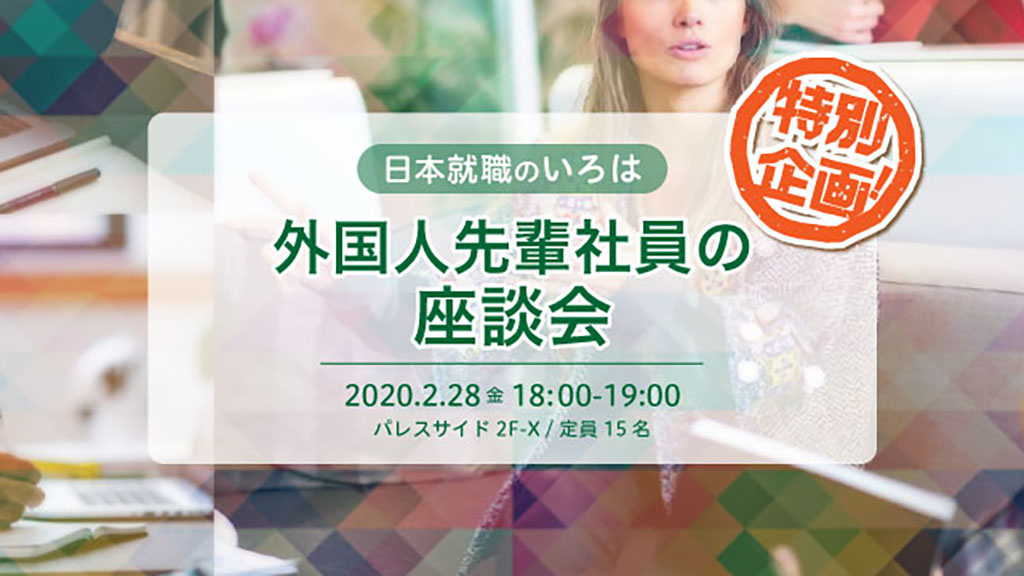 This post is also available in 日本語
"The global agent placement (Global Agent)" of Mynavi offers free supporting service of the job search in Japan to foreign students and Japanese students who have studied overseas who have desire to work in Japan.
At this time, in addition to the "Mynavi Job Seminar for Foreign Students" we introduced previously, two other events are scheduled: "The A to Z of getting a job in Japan" and "The A to Z of getting a job in Japan [A symposium with foreigners working in Japan]". Both events are for foreign students who wish to work in Japan, who are currently studying in Japan and have the Japanese language skill enough to carry a day to day conversation.
"The A to Z of getting a job in Japan" is a seminar to learn the particular way of the job searching in Japan and the corporate sense of values, as well as the means to find jobs for foreign students in Japan. This one-hour seminar is held on a monthly basis, but a special symposium is scheduled in February. The attendees of the seminar and the symposium are limited to 10~20 people which makes it easier to ask questions. You can participate in casual attire but don't forget to bring writing utensils. There is no prerequisite preparation.
Who should benefit from these events
Who has concern about the Japanese way of job searching in Japan which is different from that of one's home country.
Who doesn't know how to collect information.
Who wants to learn seriously with a small group.
Check the Facebook
You can check the Facebook to make certain of the event information (dates, the capacity, contents, etc.) and also reserve a seat. As there may be changes of dates and contents, you want to confer to the official site, too, from time to time.
Facebook: https://www.facebook.com/CareerinJapan.mynavi/
Official site: https://ag.global.mynavi.jp/
The A to Z of getting a job in Japan
You learn at the seminar the know-hows relating to the job searching method 'peculiar' to Japan including how to prepare the entry sheet (ES) and how to handle Q & A at interviews. Themes vary at each seminar which include the way to promote yourself, how to write CV correctly, etc., where you can challenge the real job searching activities.
The currently scheduled seminars are for the preparation for interviews. Please note that there is a seminar only for ASEAN students.
Date and Time
February 18,2020 (Tue) 18:00~19:00 (Only for ASEAN students)
March 4,2020 (Web) 18:00~19:00
Capacity
8 people each
(May be increased)
Contents
Interview preparation

Job searching activity for a foreign student
Points to be cautious of when searching jobs in Japan
Appropriate attire
Workshop for a practical personal interview
The A to Z of getting a job in Japan [A symposium with foreigners working in Japan]
This event will give you a valuable opportunity to listen directly from the foreigners already working in Japan. This should be very timely for job seekers who are to graduate in March 2021. Since the number of attendees are limited, please apply sooner.
Date and Time
February 28,2020 (Fri) 18:00~19:00
Capacity
15 people
(No increase after the capacity is filled)
Contents
A symposium attended by foreign workers of Mynavi

What job searching activities they had done
The way to analyze yourself and research corporations
Merits for Japanese companies to hire foreign students
Q & A
The venue
Venue
Mynavi Room at Palaceside Building
Check access here
Address
Palaceside Building 2F, Hitotsubashi 1-1-1, Chiyoda-ku, Tokyo
Access

Tokyo Metro Tozai Line
direct from 'Takebashi' station (1b exit)
Toktable table-borderedyo Metro Hanzomon Line, Toei Subway Sinjuku Line and Mita Line,
5 minuteswalk from 'Jinbocho' station (A8 exit)