[Tokyo 12/07] Industry Research Fair for Foreign Students TOKYO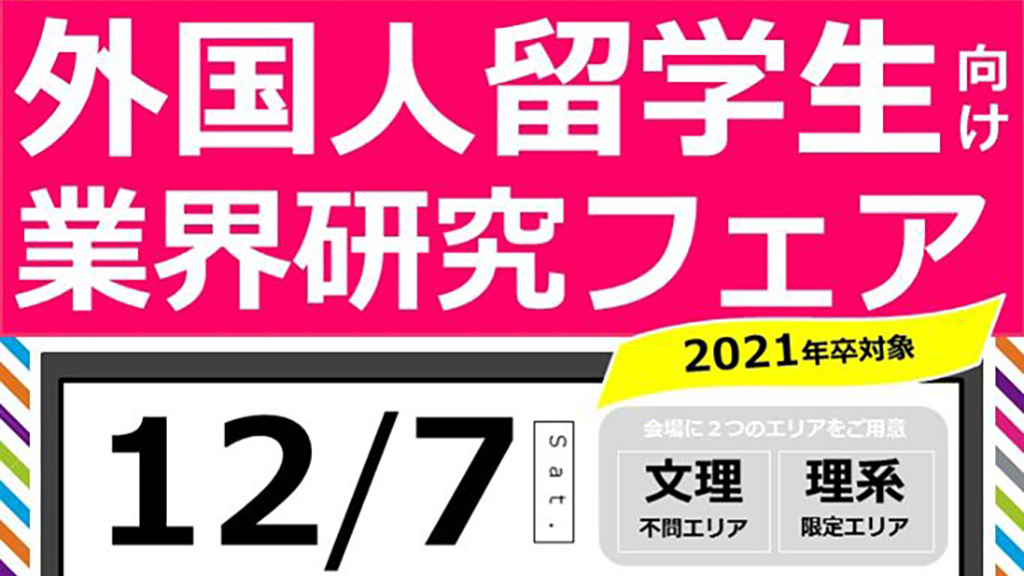 This post is also available in 日本語
The first step when job hunting is to look for the industry in which you want to work. You should first investigate the industries and job types available in Japan on a broad scale and grasp the relevant information. Then, if you find industries types in which you are interested, research them more thoroughly and deepen your understanding of them.
The period in which job hunting activities start tends to be earlier than in other countries. Job hunting activities have already started for those graduating in 2021 (third year university students). If you haven't started researching industries yet, you should start soon.
Reference:
Flow of job hunting activities
2019 graduated international students have hard time to get hired in Japan
Methods of industry research
Use the following kind of methods to research industries.
Industry research fair for foreign students TOKYO
"Global leader", operated by Vein Global Inc., is holding an industry research fair, with no entrance fee, aimed at foreign students. Inside the venue, there is an area provided exclusively for science students and an area for both science and humanities students, and you can listen directly to representatives from companies with a track record of hiring foreign students and to foreign employees.
The event is held in Tokyo, but for those participating from other regions, provided that certain conditions are satisfied, some transportation costs (5,000 yen) shall be paid in the form of a Quo card or gift voucher. Participation benefits are also prepared. (For details of participation benefits and conditions for payment, confirm the "Official site").
You should consider participating if you are a foreign student involved in jobhunting activities in Japan, who "would like to work for a Japanese company" or "would like to know what industries and jobs would suit" you.
Companies planning to exhibit at the current time
Area exclusively for science students
Honda (Honda Motor Co. Ltd)/ Hitachi Co. Ltd./ Nippon Telegraph and Telephone (NTT Laboratory)/ Seiko Epson/ UD Tracks (Volvo Group)/ Fujitsu Fsas Inc./ Stanley Electric Co. Ltd/ Trad/Toyota Central R&D Labs
Area for both science and humanities students
S.T. CORPORATION/ Shimizu Corporation/ ASICS/ Mizuho Financial Group/ Honda (Honda Motor Co. Ltd.)/ NIPPON STEEL TRADING/ Kanematsu Corporation/ Kuriyama/ AIA/ Lawson/ Nippon Parking Development/ Zensho Holdings/ LOPIA
Event name
Industry Research Fair for Foreign Students TOKYO
Date/time
February 7, 2019 (Saturday)
Science students only area: Held from 12:00 to 16:00 (open from 11:30)
Science and humanities students area: Held 13:00 to 17:00 (open from12:30)
Target audience
Foreign students graduating or due to graduate university or graduate school from April 2020 to March 2021
Venue
TKP Tamachi Conference Center
Click here for access
Address
5-29-14 Shiba, Minato-Ku, Tokyo 108-0014
Fair content
[Corporate Booth] Each participating company holds their own individual company briefing. There is an explanation on the business content and screening guide.
Prior reservation method

Click [the Book Fair] button in the link.
Register as a member if you have not done already.
A booking complete email shall arrive at your registered email address.
*Please note that this may arrive in your junk mail folder.Print out the visitor card and carry with you.
The visitor card can be used instead of a business card.
You will need one card when entering the fair and one cad when entering each company booth, so please prepare these in advance.
The visitor card can be downloaded from the booking complete email or My Page schedule screen.