Ouchi Co-op Complete Manual 2020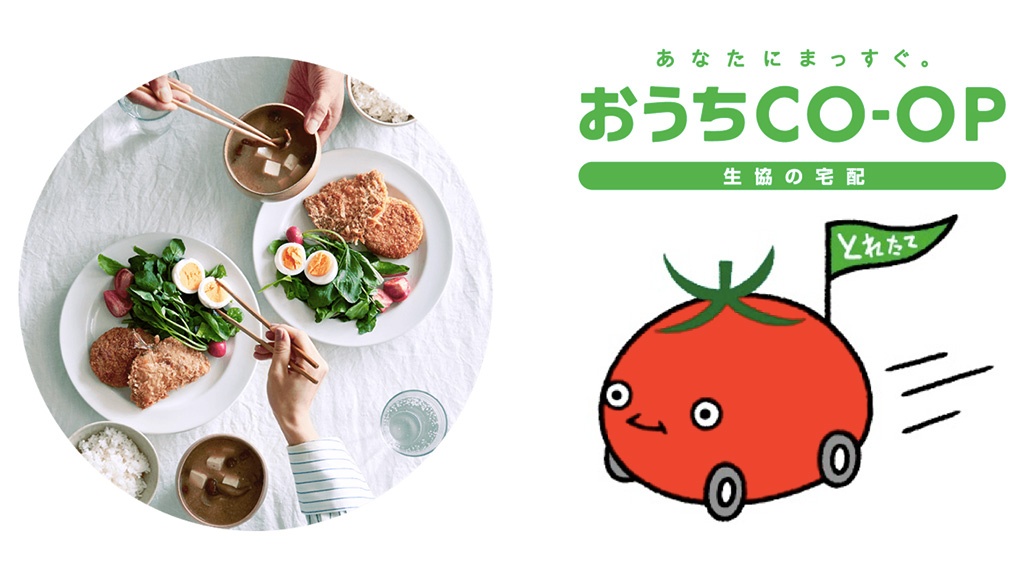 This post is also available in 日本語
There are grocery delivery services in Japan as well. Among these, "Seikyo (Co-op)" delivery services are popular among families with pregnant women and young children. Seikyo is the short form of "Seikatsu Kyoudou Kumiai (Consumers' Cooperative Association)", and is also called coop. The Co-op you can use varies depending on where you live. In some areas, you can pick a Co-op that offers services best suited for you from multiple Co-ops. So, on this occasion, we are introducing "Ouchi Co-op" (Ouchi means home in Japanese) which is very popular, although their service is limited to the Kanagawa, Shizuoka and Yamanashi prefecture areas.
What is Ouchi Co-op?
This is a delivery service for groceries and daily necessities. They deliver ordered items once a week on a particular day of the week, and you can receive the delivery even when you are not at home. Their service is available in three prefectures -Kanagawa, Shizuoka, and Yamanashi. More than 470,000 households are using the service. There are about 2,800 items on the main catalog, which are delivered every week and there are other catalogs available too.
Who would benefit from this service the most?
Pregnant and elderly people
The ordered goods, including heavy items, are delivered to your door.
Families with young children
A wide range of food for babies and infants is available. There are offers available too.
Working couples
A wide range of food that can be cooked quickly and effortlessly
What kind of products are available?
Not only can you buy groceries and daily necessities that can be purchased in an ordinary supermarket, but there are a wide variety of other items, including original goods. You can also order high quality food as well as bulk foods for businesses.
Selected high quality groceries
There is a wide selection of safe and secure food such as vegetables harvested on the previous day, meat and eggs (our own brand), farm fresh groceries that you can trace producers, and products suitable for people with allergies.
An affordable price for everyday life
There is a tendency for prices of food used on a daily basis be priced lower.
"Meal kit" that is convenient in time-saving
There is a wide variety of foods that are easy to prepare such as products that are effortless to cook, that are ready to heat up, bake, or boil. Particularly, Meal Kits, which involve cutting the ingredients for the number of people and are ready to serve just by adding seasonings, is popular.
Foods for babies and toddlers
Our selection is mainly made up of frozen food. Baby foods are pureed, and toddler foods are cut to an easy to eat size for small children, so you can skip the preparation process. The fact that the target age is made clear is another advantage, too.
Household goods and daily essentials
The advantage is that you can find a wide selection of seasonal products such as sunscreen lotion, as well as daily essentials such as toilet paper rolls and detergent. You can also buy clothing and underwear, and you can return them if you have not worn them. Additionally, you can pick from a selection of catalogues for baby goods, pet products, furniture and general goods according to your needs.
How to use
To use this service, you need to apply to Ouchi Co-op.
How to apply
You can complete an application for this system on the web. Register member information, contribution procedures, and payment account registration online.
Contribution fee: Deposit 500 yen when you join Co-op for operation funds. This will be refunded should you leave Co-op.
How to order
Order through "Weekly Catalogue" or "Order site". If you would like to order through the catalogue, hand in the filled-in order sheet for the next week to the delivery staff member when your order is delivered. When you order through the order site, the deadline of the order is extended for 2 days.
How to receive
You will receive a delivery once a week on the particular day of the week. The ordered items will be delivered to your door on the next delivery date of next week. The items are divided into appropriate boxes according to different storage temperatures, e.g. room temperature, fresh vegetables and fruits, chilled foods and frozen foods. Boxes for fresh vegetables and fruits, and chilled foods contain ice packs, and some dry ice for boxes of frozen foods, so the risk of food spoilage is low. Return the packing materials and ice packs on the next delivery day.
If you prefer, the delivered items can be left in front of your door without ringing the doorbell. This service is recommended in cases such as if you have young children having a nap around the delivery time. If you are not at home at the delivery time, the delivered goods will be putted the cover and sealed with a sticker, and left in front of your door.
How to make payment
Only direct debit is available. Money will be withdrawn from your account once a week, on the Fridays of the week following the delivery. The amount and date of the withdrawal can also be checked with the invoice which comes with the ordered items.
How to withdraw from Co-op
Please contact Ouchi Co-op Service Centre or inform the delivery staff member and take the withdrawal procedure on the paper. Your contribution fee will be refunded.
When you withdraw from Ouchi Co-op, you automatically withdraw from Co-op mutual aid too. Moreover, you will not be able to shop at physical Co-op stores. When you just want to stop delivery, it is recommended that you suspend the membership rather than withdraw from Co-op.
Costs other than the price for the delivered items
Regardless of whether you make an order or not, the weekly regular charge of the home delivery fee will occur. However, there are various discount options for households with children, elderly or handicapped people, or when you order with multiple people.
https://www.ouchi.coop/service/commission/
Basic grocery delivery service fee
Usage price per time (exclusive of tax)
Grocery delivery service fee (exclusive of tax)
From 14,000 yen
Free of charge
1,500-13,999 yen
100 yen
Up to 1,499 yen
Including when there is no order
150 yen
Childrearing support discount service
Mama-wari
[Households where there is a pregnant women whom a mother and child health handbook has been issued, or where the youngest child is below the age of three]
Grocery delivery service fee: Free of charge
[Households where the youngest child is between the ages of 3 and 7]
Usage price per time (exclusive of tax)
Grocery delivery service fee (exclusive of tax)
From 5,000 yen
Free of charge
1,500 – 4,999 yen
50 yen
Up to 1,499 yen
Including when there is no order
150 yen
First, decide which campaign to use.
Several campaigns have been prepared which you can use by requesting materials or on your first usage. As you cannot use two promotions at once, choose the one that best suits you.
Limited period! 3000 points present
When you join Ouchi Corp for the first time, and apply online before November 23rd, you can receive a gift of 3,000 points. When you shop with Ouchi Corp, you can use this for goods worth 3,000 yen.,
Trial set – Time-saving and quality –
You can try 5 goods equivalent to 2,000 yen for 1,000 yen (inclusive of tax). You will receive the pamphlets before the goods are delivered.