Palsystem Complete Manual 2020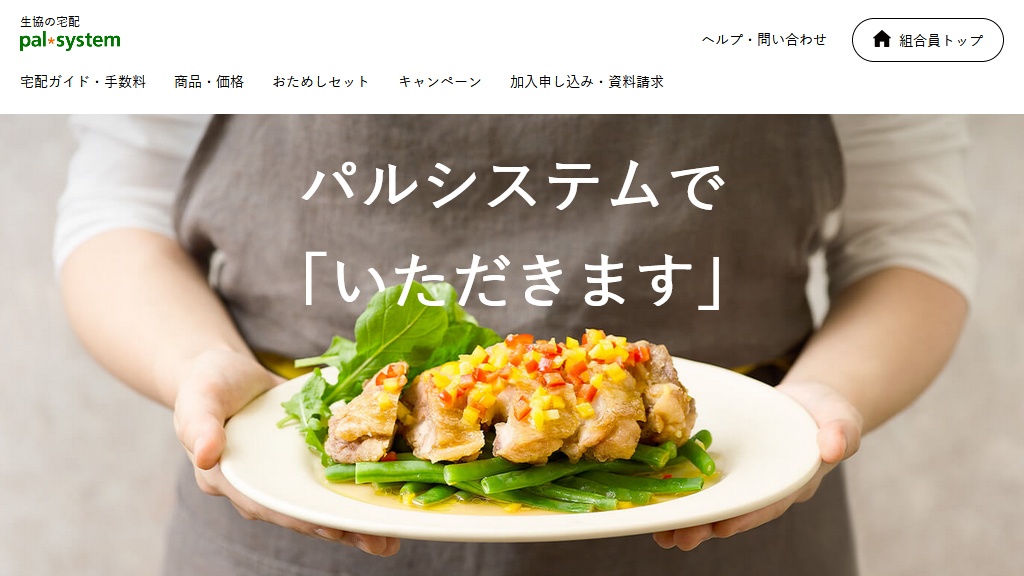 This post is also available in 日本語
Previously, we introduced the co-op grocery delivery service for Kanagawa, Shizuoka, and Yamanashi prefectures. On this occasion, therefore, I would like to introduce the "Palsystem", which has a very large number of users, mainly in the metropolitan area. Please read this in conjunction with "Ouchi Co-op Complete Manual 2020".
What is Palsystem?
This is a delivery service for groceries and daily necessities. They deliver ordered items once a week on a particular day of the week, and you can receive the delivery even when you are not at home. Their service is available in Tokyo, Kanagawa, Chiba, Saitama, Ibaraki, Gunma, Fukushima, Yamanashi, Shizuoka, and Niigata. There are about 700 food items and 200 items of daily necessities items on the main catalog, which are delivered every week.
Who would benefit from this service the most?
Pregnant and elderly people
The ordered goods, including heavy items, are delivered to your door.
Families with young children
A wide range of food for babies and infants is available. There are offers available too.
Working couples
A wide range of food that can be cooked quickly and effortlessly
People concerned about their health
What kind of products are available?
Not only can you buy groceries and daily necessities that can be purchased in an ordinary supermarket, but there are a wide variety of other items, including original goods. They also deal with a wide range of services such as mutual aid (insurance) and power.
Selected high quality groceries
There is a lineup of safe products with "reliable quality" at reliable prices that meet tough standards, in terms of product elements and ingredients.
Strong range of "cooking set" meal kits
There are a large number of products that can be prepared in a short period of time, with ready-cut ingredients, condiments and recipes attached. Some products can be completed in as little as 5 minutes, and some products include ingredients and recipes for 3 days. This not only saves effort but also lets you learn time-saving recipes.
Original baby food ingredients
Ingredients are used that give you peace of mind. The vegetables are strained before freezing. Ingredients, such as fish are pre-treated and cut into small chunks, and then frozen. There is also a set of ingredients with a guidebook supervised by the dietitian for beginners making baby food.
How to use
To use this service, you need to apply to Palsystem.
How to apply
You can complete an application for this system on the web. Register member information, contribution procedures, and credit card/bank account information for payment.
Contribution fee: Fee deposited when you join Co-op for operation funds (this is 2,000 yen in Sano City/Ashikaga City in Tochigi Prefecture, as well as in Gunma Prefecture and Fukushima Prefecture. It is 1,000 yen in other regions.) This will be refunded should you leave Co-op.
How to order
Order through "Weekly Catalogue", "Order site" or "Order App". If you would like to order through the catalogue, hand in the filled-in order sheet for the next week to the delivery staff member when your order is delivered. When you order through the order site, the deadline of the order is extended by approximately one day.
How to receive
You will receive a delivery once a week on the particular day of the week. The ordered items will be delivered to your door on the next delivery date of next week. The items are divided into appropriate boxes according to different storage temperatures, e.g. room temperature, fresh vegetables and fruits, chilled foods and frozen foods. Boxes for fresh vegetables and fruits, and chilled foods contain ice packs, and some dry ice for boxes of frozen foods, so the risk of food spoilage is low. Return the packing materials and ice packs on the next delivery day.
If you prefer, the delivered items can be left in front of your door without ringing the doorbell. This service is recommended in cases such as if you have young children having a nap around the delivery time. If you are not at home at the delivery time, the delivered goods will be putted the cover and sealed with a sticker, and left in front of your door.
How to make payment
Credit card or bank transfer is available. The amount for one month is paid together once a month. You can confirm the amount ad date with the statement provided with the products ordered.
How to withdraw from Co-op
Please contact Co-op using the WEB form or inquiry contact, or inform your delivery staff member, and carry out paper-based withdrawal procedures. The contribution payment shall be returned.
When you withdraw from Palsystem, you automatically withdraw from Co-op mutual aid too. Moreover, you will not be able to shop at physical Co-op stores. When you just want to stop delivery, it is recommended that you suspend the membership rather than withdraw from Co-op.
Costs other than the price for the delivered items
There is a flat-rate "Palsystem fee" that you pay weekly regardless of whether you use it or not. However, there are various discount options for households with children, elderly or handicapped people, or when you order with multiple people.
https://www.pal-system.co.jp/service/weekly-delivery/delivery/fee/
Basic grocery delivery service fee
The service fees for Palsystem may have discounts depending on the order amount per time. The basic fees/discount settings differ depending on the delivery area. The table below shows the handling charges (inclusive of tax) per time and discount settings.
Delivery area
Handling charges
Order amount: handling charges after discount
Tokyo
198 yen
5,000-11,999 yen: 165 yen
From 12,000 yen *1: Free of charge
*1For members of 5 years or more, from 8,000 yen
Kanagawa
220 yen
5,000-14,999 yen: Half price
15,000 yen or above: Free of charge
Chiba
198 yen
From 6,000 yen: Half price
Saitama
198 yen
From 12,000 yen: Half price
Ibaraki
204 yen
9,000 yen – 11,999 yen: Half price
From 12,000 yen: Free of charge
Tochigi/other than Sano City and Ashikaga City
204 yen
9,000 yen -11,999 yen: Half price
From 12,000 yen: Free of charge
Tochigi/Sano City and Ashikaga City
210 yen
From 12,000 yen: Free of charge
Gunma
210 yen
From 12,000: Free of charge
Fukushima
198 yen
–
Yamanashi
198 yen
5,000 – 9,999 yen: 110 yen
From 10,000 yen: Free of charge
Shizuoka
220 yen
8,000 and above: Free of charge
Niigata
204 yen
–
Childrearing support discount service
Tokyo
Applications from issue of mother and child health handbook to first birthday
26 weeks from application (approximately 6 months): Free of charge
Until end of March before entrance to elementary school
Order amounts from 3,000 yen per time (inclusive of tax): Free of charge
Kanagawa
Applications after issue of mother and child health handbook
From acceptance of application to planning of catalogs distributed in the last week of the 1-year-old birth month: Free of charge
Month following first birthday until end of March before entering elementary school
Order amounts from 5,000 yen per time (inclusive of tax): Free of charge
Chiba
Applications from issue of mother and child health handbook to joining elementary school
Application to order at end of March before entering elementary school
Order amounts from 3,000 yen per time (inclusive of tax): Free of charge
Saitama
From issue of mother and child health handbook until first birthday
Before delivery: Application to 8 months (34 weeks): Free of charge
After delivery: Application to 6 months (26 weeks): Free of charge
Pre-school (prior to entering elementary school)
Until end of March before entering elementary school
Order amounts from 3,000 yen per time (inclusive of tax): Free of charge
Ibaraki
Application within period from issue of mother and child health handbook until end of six months after delivery
One year from planning of catalogs distributed in the acceptance of application: Free of charge
Tochigi/other than Sano City and Ashikaga City
Application within period from issue of mother and child health handbook until end of six months after delivery
One year from planning of catalogs distributed in the acceptance of application: Free of charge
Tochigi/Sano City and Ashikaga City
Application from issue of mother and child health handbook until first birthday
For six consecutive months: free of charge
Pre-school (prior to entering elementary school)
Until the planning of catalogs distributed at the end of march before entering elementary school
Order amount from 1 yen (inclusive of tax) per time: 110 yen (amount for the product delivery fee is free of charge)
Order amounts from 5,000 yen per time (inclusive of tax): Free of charge
Gunma
Application within period from issue of mother and child health handbook until end of one year after delivery
For six consecutive months: free of charge
Pre-school (prior to entering elementary school)
Until the planning of catalogs distributed at the end of march before entering elementary school
Order amount from 1 yen (inclusive of tax) per time: 110 yen (amount for the product delivery fee is free of charge)
Order amounts from 5,000 yen per time (inclusive of tax): Free of charge
Fukushima
From issue of mother and child health handbook to planning of catalogs distributed in the last week of the 3-year-old birth month: Half price
Order amounts from 5,500 yen per time (inclusive of tax): Free of charge
Yamanashi
From issue of mother and child health handbook until first birthday: Free of charge
From the end of the above-described special offer to the end of March before entering elementary school
Order amounts from 5,000 yen per time (inclusive of tax): Free of charge
Shizuoka
From issue of mother and child health handbook until first birthday: Free of charge
Niigata
From issue of mother and child health handbook until second birthday
26 weeks from application (approximately 6 months): Free of charge
Until end of March before entering elementary school
Order amounts from 3,000 yen per time (inclusive of tax): Free of charge
Trial sets
Palsystem currently has three WEB-exclusive trial sets. Please use these to check quality before applying. (Currently, due to distribution reasons, you cannot apply from Tokyo, Kanagawa, Chiba, or Saitama.)
Classic satisfaction trial set
Original products equivalent to 2,000 yen→ 500 yen (inclusive of tax) – delivery fee free of charge
Organic vegetable trial set (refrigerated)
Seasonal 8-piece organic vegetable set→500 yen (inclusive of tax) – delivery fee free of charge
Baby and mother trial set (frozen)
2,000 yen equivalent of baby food and adult food→500 yen (inclusive of tax) – delivery fee free of charge