[Asakusa, Tokyo] Experience Kiriko in "Sokichi"! Flow, Fees, etc.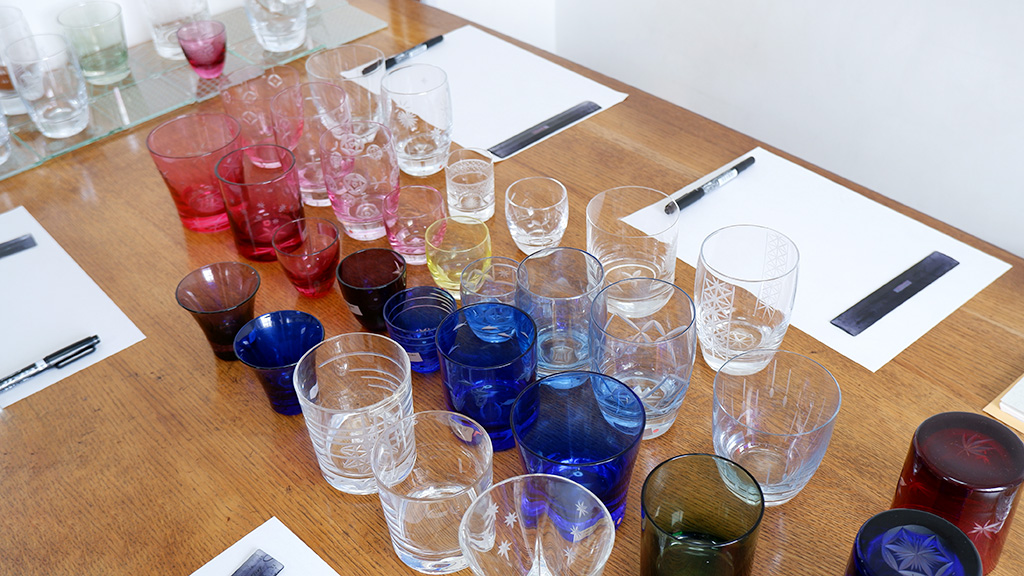 This post is also available in 日本語
In Japan, cut glass is called "Kiriko". The two famous types are "Edo Kiriko", in which the cuts are deep, clear and flamboyant, and "Satsuma Kiriko", in which the glass is thick with beautiful gradations. "Edo Kiriko" has been designated as a traditional craft of the Tokyo Metropolitan District.
As "Edo Kiriko" is a registered trademark of the Edo Kiriko Cooperative, it cannot be simply made and sold by individuals. However, if it is just within the scope of your own enjoyment, you can experience making it using these techniques. Therefore, on this occasion, I would like to introduce you to the Tokyo Asakusa "Sokichi" Kiriko Experience Classroom. The service is available in English, Chinese and Japanese.
What is Edo Kiriko?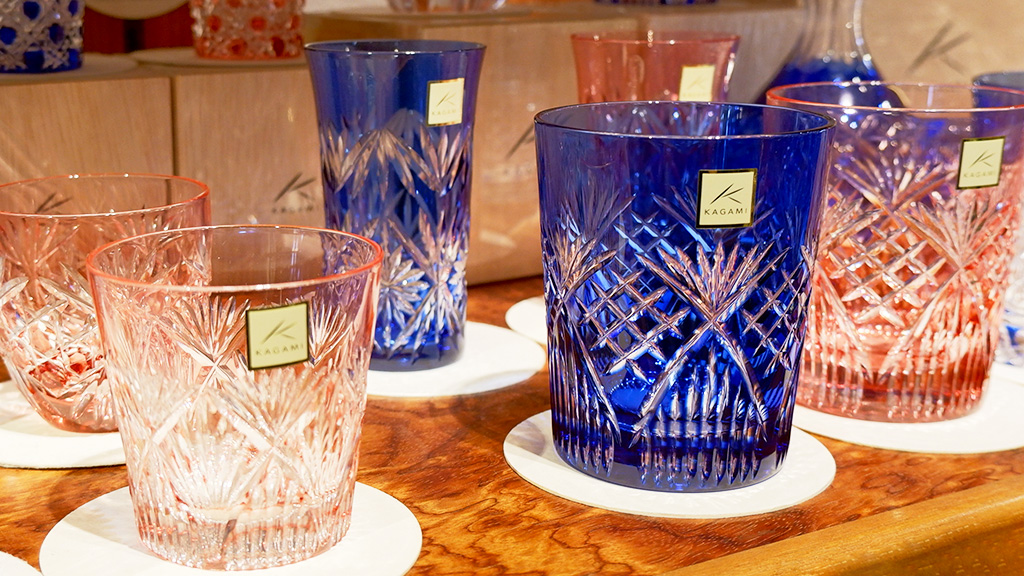 Edo Kiriko is a traditional Tokyo craft that has continued since the Edo era. It is said to have started in 1834 when a man called Kyube Kagaya used "Kongosya" (an emery) to engrave on a glass surface. In the Meiji era, instruction was given by an Englishman, and the technique that has been passed on to the present day was established.
Characterized by deep, clear cuts on transparent glass or flashed glass, it has a flamboyant sense of beauty. It is popular as a gift to mark a turning point in life or for a celebration.
Monyo (Pattern: artificially created pattern)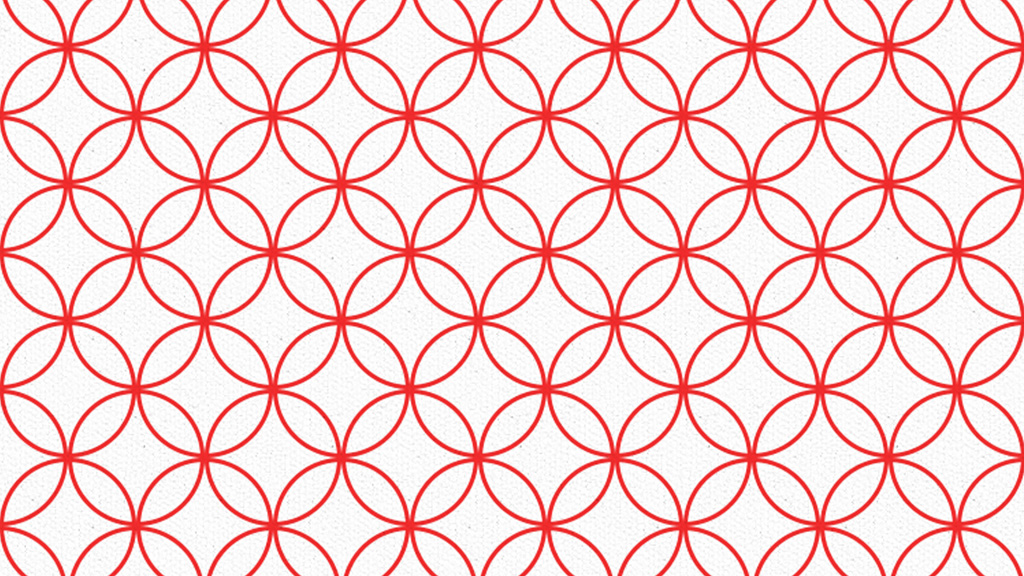 There are actually many different Edo Kiriko patterns. There are not only traditional patterns, of course, but also "new designs in which traditional patterns are reconstructed" have been published by contemporary creators.
A large number of traditional patterns can be seen designing and combining "plants" such as hemp leaves and chrysanthemums or "lifestyle tools" such as basket meshes and lattices.
The names of traditional patterns are also meaningful as well. For example, a pattern in which one quarter each of the same size circle, overlapping top and bottom, and left and right, is called "Shippo (seven treasures)". In Japanese, the word for circle can be read as "en", and as they include the same pronunciation, this makes you image "en" (ties) and "enman" (harmony). For this reason, this pattern in which circles continue forever is an auspicious pattern in which ties and harmony continue. "Shippo" means the seven treasures of Buddhism. It is thought that this name was given because circles or peace continuing has value, as in the case of the seven treasures.
Flow of the "Kiriko" experience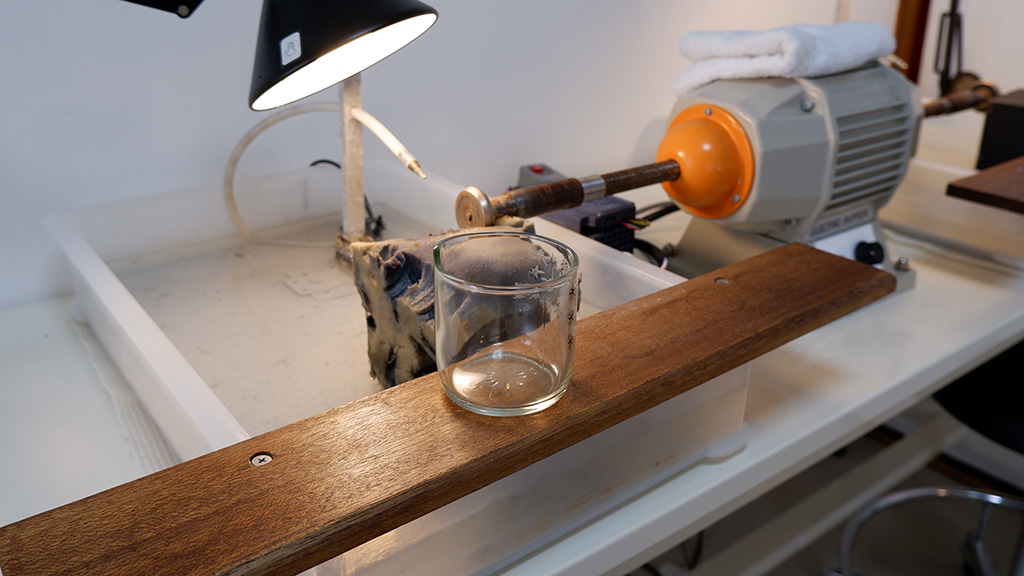 Choose the glass
Choose from six types of transparent glass.
You can also choose flashed glass if you pay an extra fee.
Practice cutting
Carve the basic shape in line with the draft for the practice glass.
You use a blade for Kiriko that is safe even if you touch it with your finger.
Decide on the cut design
You can choose from several dozen types of patterns, from simple to complex patterns.
These are all designed for beginners, so choose one that fits your own level.
Cut
Complete
Details of the Kiriko experience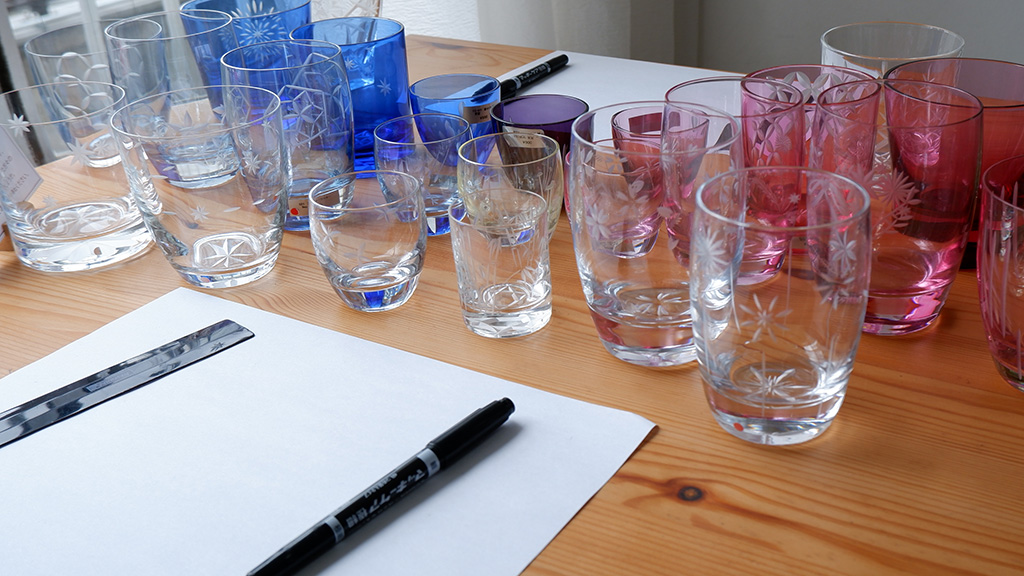 Event time (90 mins each time)
Weekdays: 10:15 13:00 15:00
Weekends: 8:30 10:15 13:00 15:00 16:45
Times other than the above are also negotiable
Charge
Adults: 3,300 yen (inclusive of tax)
18-years old or below: 2,750 yen (inclusive of tax)
This is increased by 500 yen for the 16:45 event
This is increased by 1,000 yen for events from 18:00
Extra charge for those who wish to use flashed glass (900-2,522 yen)
Supported foreign languages
We support both English and Chinese.
If you would like English or Chinese support, please let us know in advance.
Measures against COVID-19
Currently, in addition to the normal measures to prevent the spread of the novel coronavirus, we are currently not sharing tables between different parties.
Points to note
The Kiriko experience is a delicate operation. If you have long hair, which may obstruct the work, bring a hair band with you to tie up your hair. Do not forget to bring your spectacles etc. if you have poor eyesight.
Store details
"Sokichi"