[Tokyo Asakusa] Discount Available! Kimono Experience Report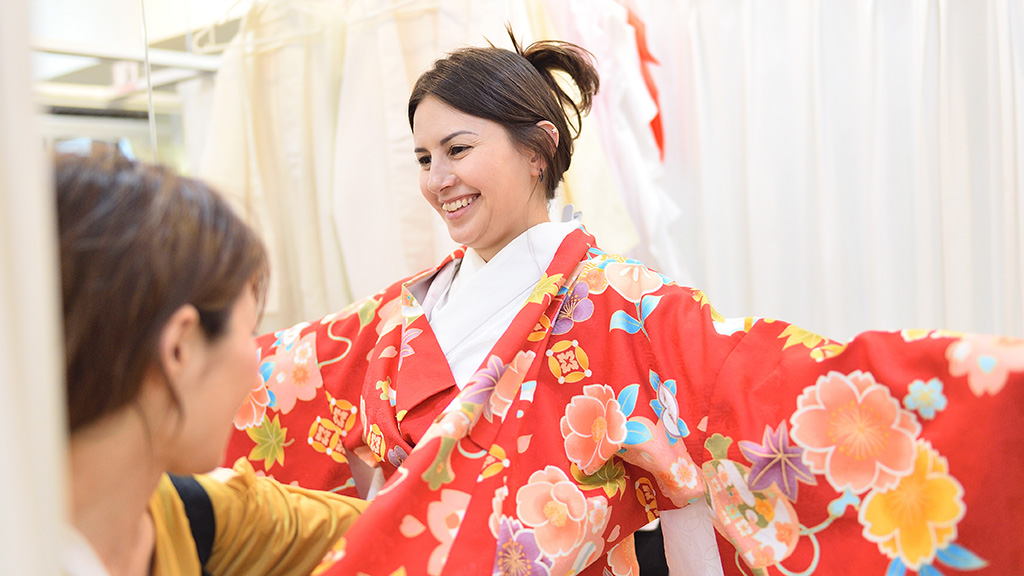 This post is also available in 日本語
Stores offering rental services are convenient if you would like to try wearing a kimono. They not only loan out kimonos, but also include a service "Kitsuke" in which you can experience wearing a kimono properly and have your hair arranged. On this occasion, I would like to introduce you to the service of "Yae" in Asakusa, who provide a wide range of support for foreign nationals.
Flow of the kimono wearing experience
Reception
Yae can be found in a seven-storied building close to Sensoji Temple. Once you reach the building, first go to the 6F reception. The sheet you fill in at reception is available in the three languages of Japanese, English, and Chinese. If you come with somebody who is not participating in the experience, they can wait in the waiting room on the 4F.
Choosing the kimono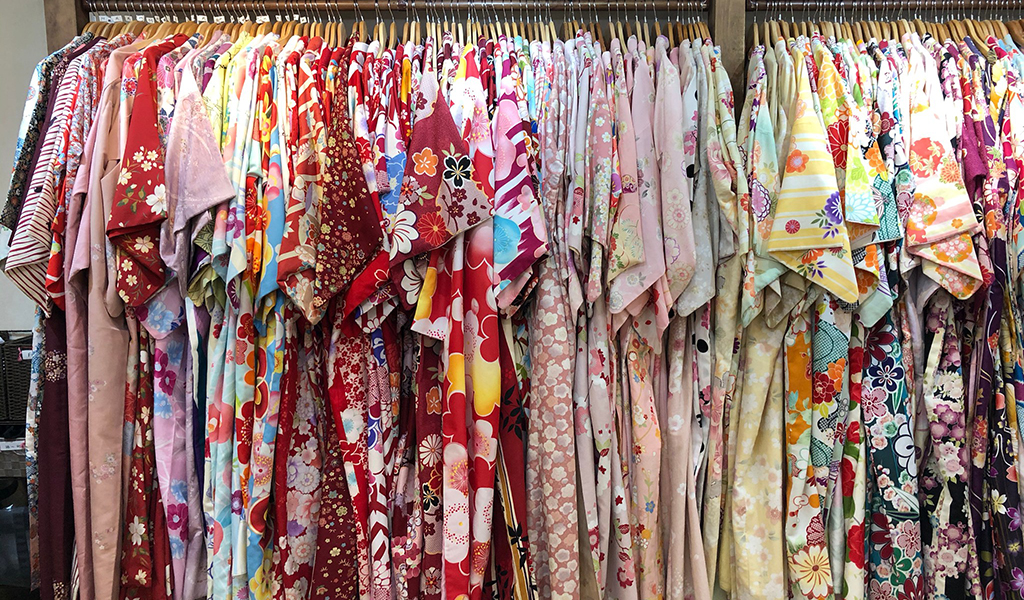 Once you have gone through reception, you take off your shoes, step up on to the tatami, and choose a kimono. There is a wide selection of designs, colors, and sizes, so various tastes and physiques are supported. They are not only for women, and as there are also kimonos for men and kids (both boys and girls) as well, it is possible to have the kimono wearing experience as a family. They will also loan you a bag and a fur or shawl, which are indispensable in winter, without additional charge (Japanese umbrellas and masks can also be loaned out for an additional charge).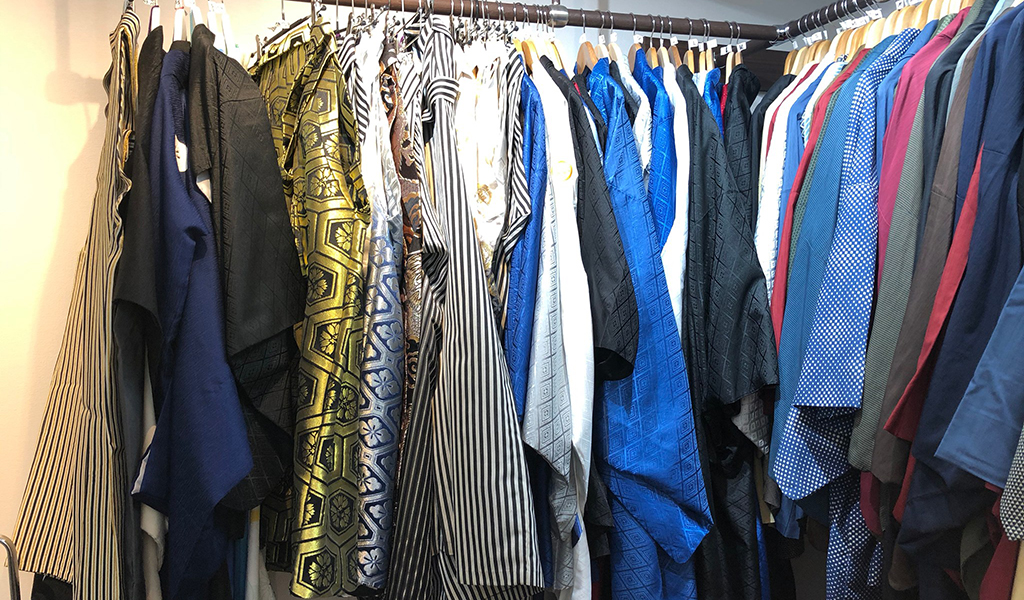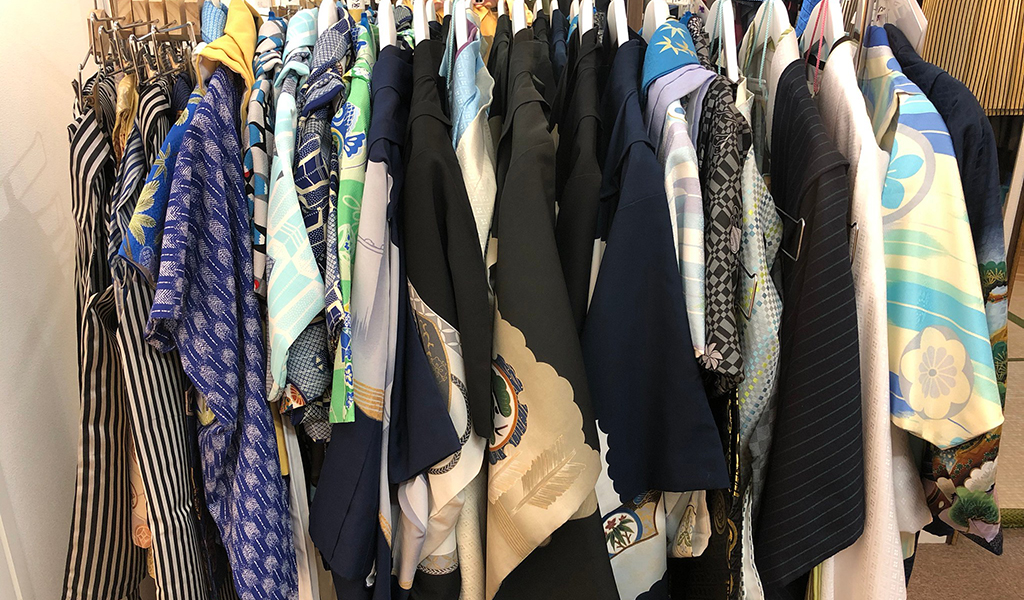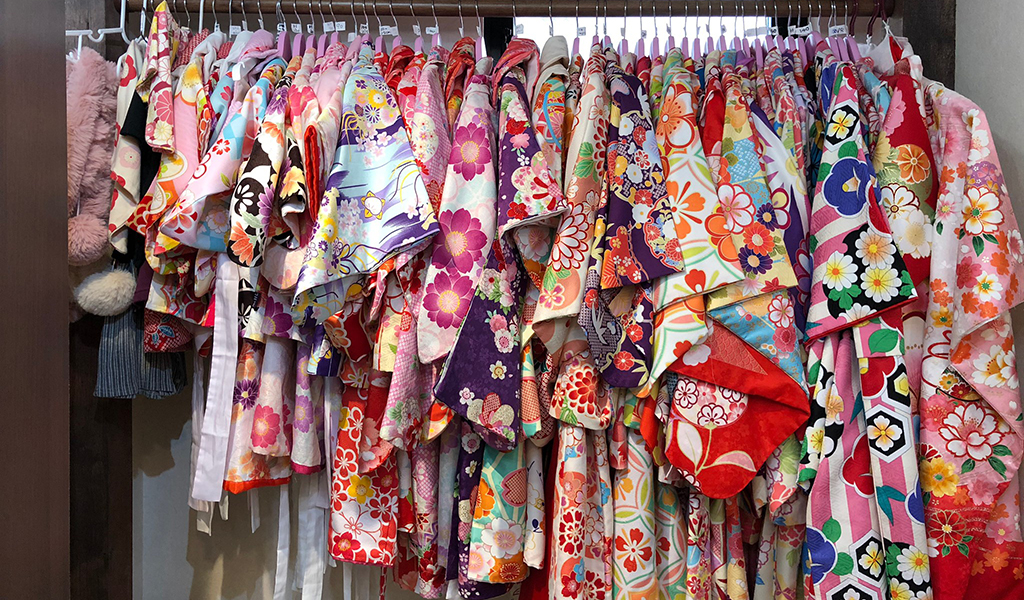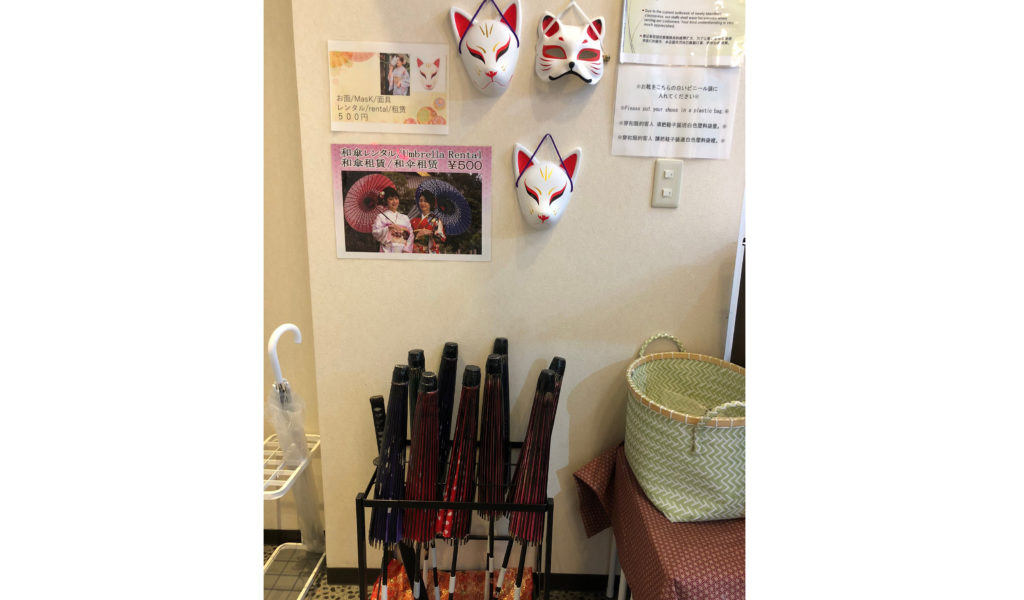 Kimono wearing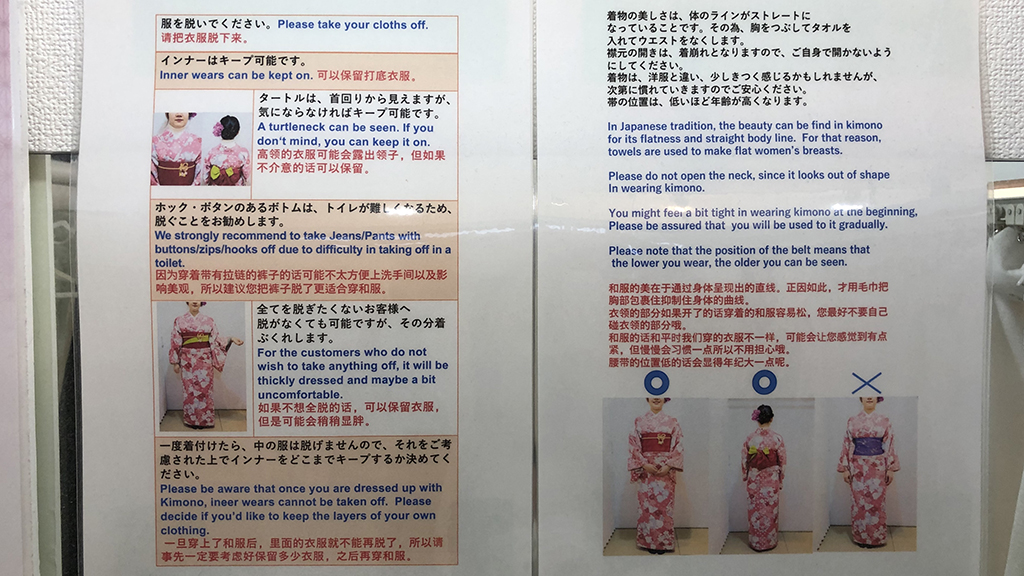 Once you have chosen the kimono you would like, go to the 2F to put it on. In order for the process to go smoothly, it is important that you do not move during the wearing experience.
Figure adjustment
The official method of wearing a kimono starts from your underwear after removing your western clothes. Following that, women adjust their figure using a towel. It is considered to be important for the beauty of a kimono that "your body line is straight". For this reason, a towel is wrapped around you to remove gaps caused by your bust or hips. Whether you engage in this process or not will greatly affect the impression after you put on the kimono.
Wearing a "Naga-juban"
This is the undershirt for kimono. Pull the collar back to allow the nape of the neck to be seen.
Tighten the waist cord
Unlike western clothes, kimono do not have buttons. For this reason, it is important to tighten the cord well so that your kimono don't come undone. You may at first be hesitant to tighten it so much if you are unaccustomed to it, but please be assured that you will gradually get used to this.
Wearing the kimono
Finally, it is time to put on the kimono. When the instructor is dressing you, if you stretch out your arms slightly toward the back, you can move to the next process smoothly without the kimono losing shape.
Tighten the waist cord
Tighten the waist cord again. As this process is very important, you should be prepared to put up with this even if it feels a little tight.
Use a "Date-jime", and adjust the length of the "O-hashori"
As female kimonos are long, fold the waist section and press using a "Date-shime" (underwear like a wide belt). This folded section is called "O-hashori". The official style is for the "O-hashori" to be visible beneath the "Obi" band, so there is no need to hide it inside the "Obi".
Attach the "Obi ita", and wrap the "Obi" around
Insert the "Obi-ita" (small plate to prevent the "Obi" from becoming creased). As this is wound tightly, open your legs to approximately shoulder-width so you do not stagger.
Create flowers on the "Obi" using decorative cords
To make the "kimono" look even more beautiful, you can make flowers using fine cords. This showcases the technique of the instructor.
Hair Arrangement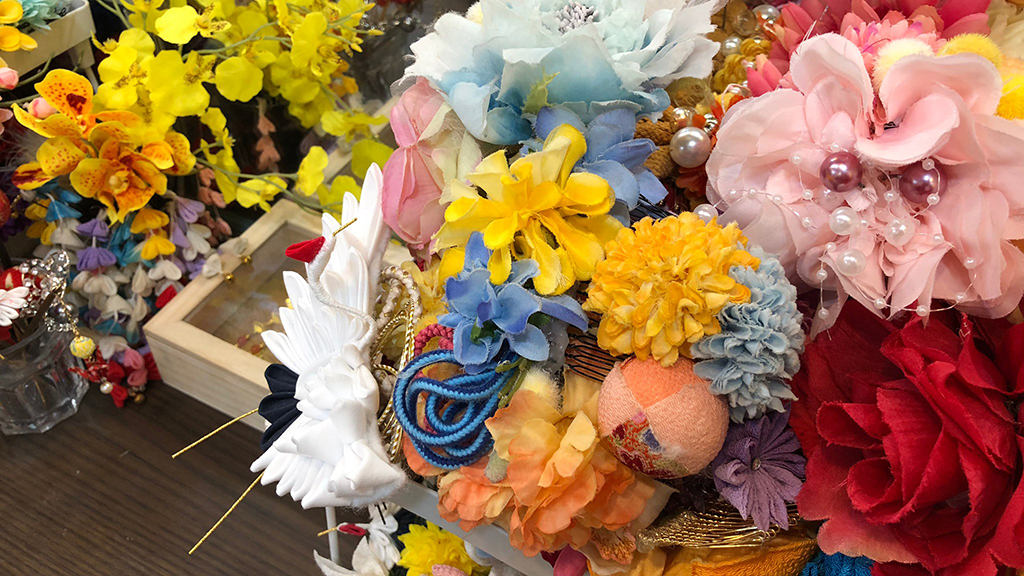 Choose your favorite hair style. They will also curl your hair using curling irons for no additional charge. Finish by choosing hair decorations or "Kanzashi" ornamental hair pins. Hair decorations are mainly home-made items made by the staff. There are also hair decorations of a type that fasten a Hijab, worn by Muslim women.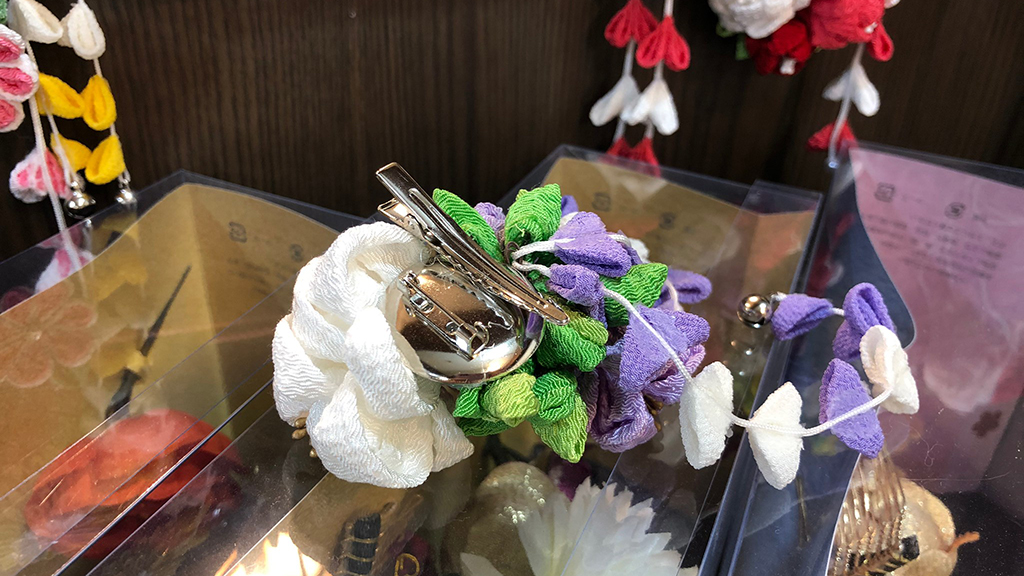 Choose the "Zori"
"Zori" are also provided in a wide range of sizes. Choose ones that match the size of your feet.
Go sightseeing around Asakusa after your Kimono Wearing Experience
After completing your Kimono Wearing experience, you can go sightseeing around Asakusa. In Yae, having pictures taken by a photographer is included in the plan so, you can have pictures taken of you wearing your kimono against the backdrop of the Asakusa scenery. You can also add the optional service of transportation using a rickshaw.
Support for foreign nationals
Yae has staff that can speak Japanese, English, and Chinese (Mandarin, Cantonese). They support payments not only by credit card, but also using electronic money, such as Alipay or WeChat Pay.
Store details
Get 500yen discount at a shop you find in this article!
Please mention "Saw on the Living in JAPAN" when making reservation.
Asakusa Kimono Rental "Yae"
Address: 6F, Quatre Chic, 1-16-2 Asakusa, Taito-Ku, Tokyo
Tel: 03-6886-4256
Business hours: 9:30~17:30
Closed: Irregular schedule
URL: https://yae-japan.com/en/