The Shikoku Pilgrimage. Order, Attire, and Things to Bring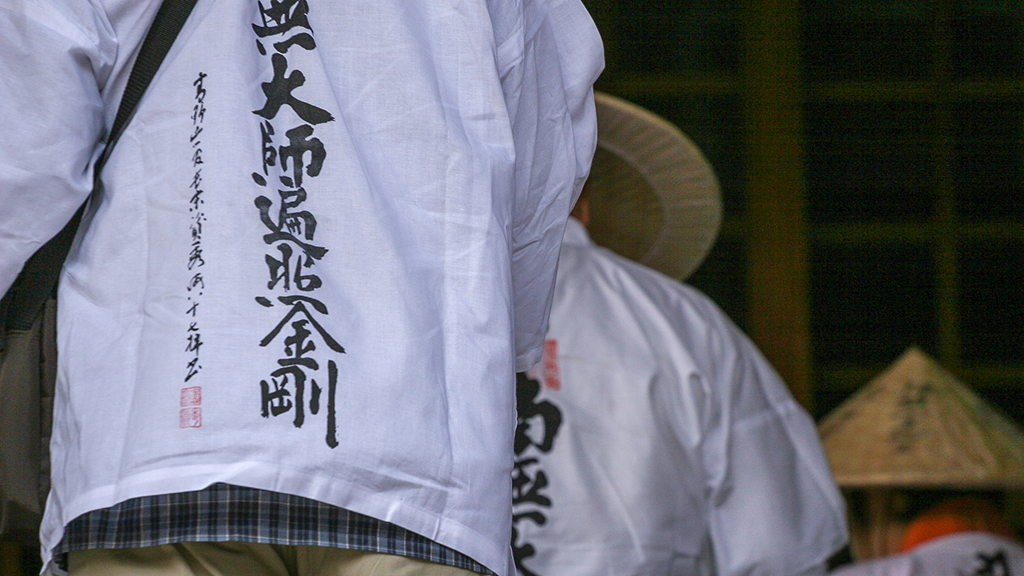 This post is also available in 日本語
It is very popular worldwide to follow the historical pilgrimage trails on foot. In Japan, the pilgrimage tour to circulate 88 Fudasho (temples) in Shikoku, commonly called "Shikoku Henro," attracts many foreigners' interest. We introduce this time the "Shikoku Henro."
What is Shikoku Henro?
The origin of Shikoku Henro is said be traced back to the pilgrimage of sacred places by studying Buddhist monks who followed those footsteps of "Kobo Daishi Kukai (a Buddhist priest in Heian Era) from his birth, training and becoming enlightened, about 1,200 years ago. Different from the pilgrimage of Christian or Islamic which pilgrims come back to the starting point taking the same route, the Shikoku Henro is a 1,400 km long pilgrim circular trail with 88 Fudasho in Shikoku. This is said to be the "trip of your heart" to look into yourself.
In Shikoku, these pilgrims are all called "Ohenrosan" regardless of their nationality or religious beliefs and denomination and local people has a custom of welcoming them warmly. Once in a while, they provide pilgrims with food and drinks which is act is called "Osettai" (hospitality). This act is to plead with pilgrims to 'Pray on behalf of us.'
You can look at the acts of Shikoku Henro via web site of the Agency for Cultural Affairs with an English narration.
http://www.seichijunrei-shikokuhenro.jp/movie
The means of Shikoku pilgrimage
The order of pilgrimage: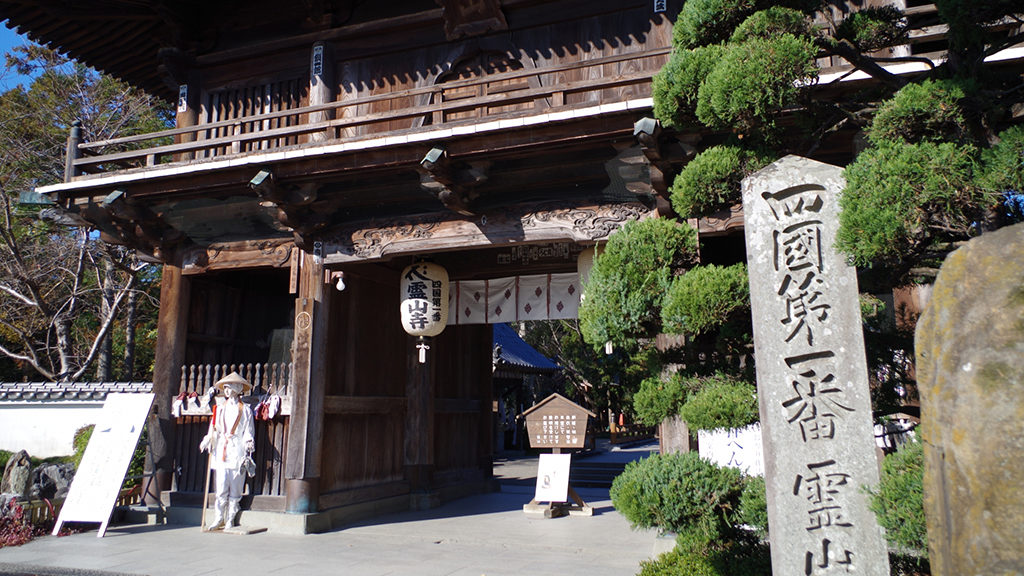 All 88 Fudashos are numbered, #1~#23 are in Tokushima Prefecture, #24~#39 in Kochi Prefecture, #40~#65 in Ehime Prefecture and #65~#88 in Kagawa Prefecture.
The basic rule is to follow the numbers starting from #1 Fudasho "Ryouzenji Temple", which is called 'Jyunuchi' (in orders). If you start from the last number #88 "Ookuboji Temple", it is called 'Gyakuuchi' (in reverse orders).
However, it is not necessary to always follow the numbers. Neither it's necessary to complete the whole trail at one time. It is said to be appropriate to visit Fudasho beginning from different places, in random order or in plural occasions. You can pilgrim on foot, by bicycle, bikes, car and bus, depending on your health condition and schedule. Also, you can go on a tour.
The Attire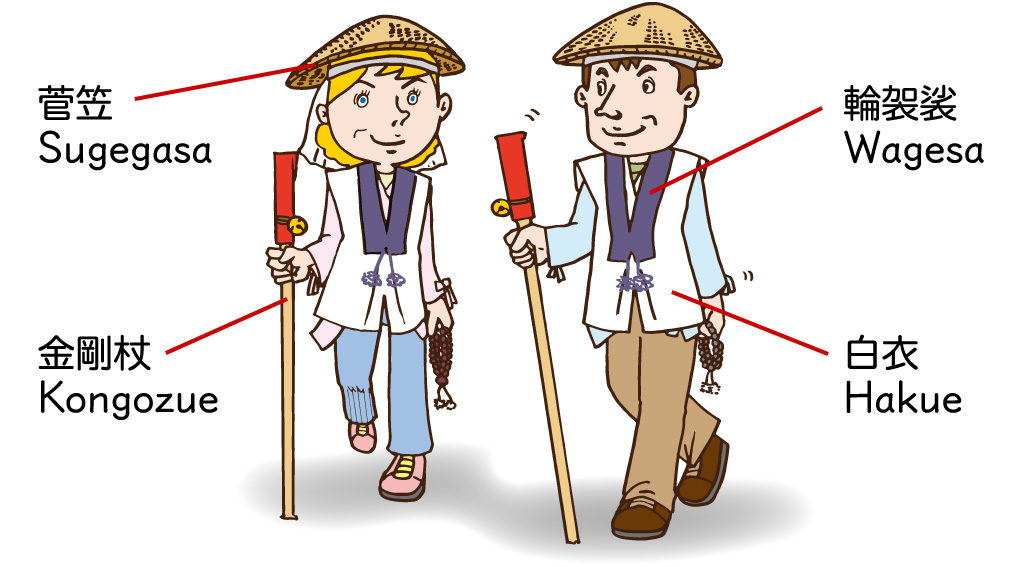 Traditionally, you wear white outfit, but you can wear as you like. As the trail has lot of slopes and steps, you'll be better off wearing easy to move cloths and easy to walk shoes. Your belongings are better to be packed in a rucksack or a shoulder bag so that your both hands are free. The water-proof ones are advisable for a sudden rain.
When you go in your casual clothing, it is advised to take three things: Wagesa, Hakue and Kongozue.
Wagesa: belt shaped strip of cloth. Simplified clerical robe.
Hakue: White robe to be worn over informal clothing.
Kongozue: The symbol of 'dougyouninin', which means Kobo Daishi (Kukai) is always with you on the pilgrimage even when you are alone. This stick is said to be the incarnation of Kobo Daishi (Kukai).
These items are available at internet shop and Fudasho temples, The #1 Ryouzenji Temple offers good variety.
The procedures for praying at each Fudasho temple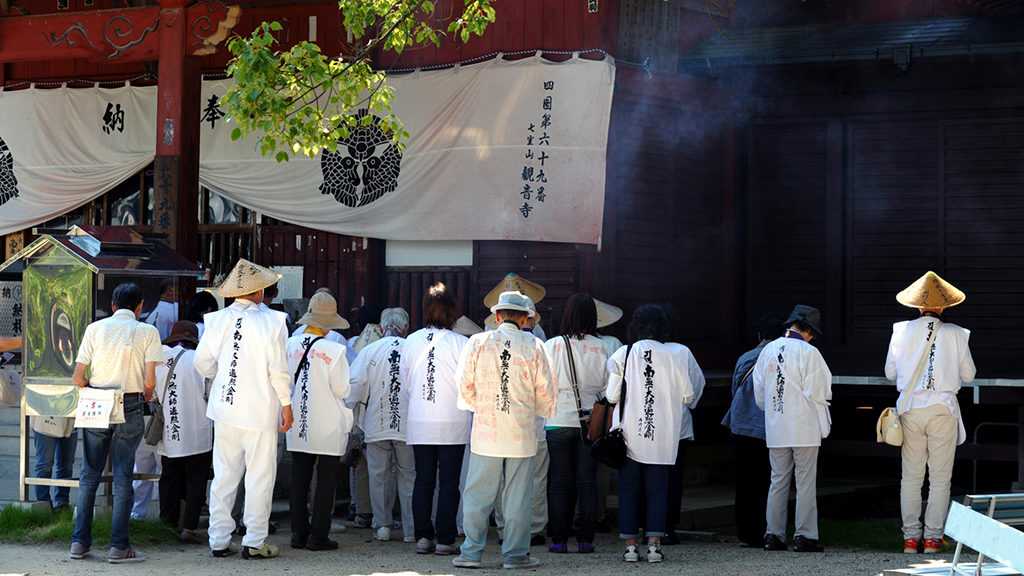 At the gate of the temple, join your hands together in prayer and bow.
Purify your hands and mouth at a water shanty.
Hit a bell once at the bell house. (Sometimes, hitting a bell is prohibited.)
At the Hondo (main temple), light a candle upright, light an incense stick, deposit an Osamefuda (a prayer card), leave offertory money, join your hands together in prayer, bow with a juzu (string of beads) in your hands, and chant a Buddhist sutra.
At the Daishido (a hall where the statute of enshrined Kobo Daishi is), repeat the same ritual at the main temple.
Receive a Goshuin (a seal of copied sutra submission) at the Noukyoujyo (a special office to receive a Goshuin) on the Noukyou notebook.
On leaving, bow at the temple gate with your hands joined together in prayer.
Thing to bring along
A lighter to light up a candle and an incense stick.
Two Osamefudas (a prayer card), one for Hondo and the other for Daishido.
An offering money
There's no set amount. Have some coins as there's no change.
Juzu (a string of beads) and a copy of Buddhist sutra
At the Hondo and Daishido, chant sutra with beads in your hands.
Noukyoucho
A notebook to receive a stamp of Goshuin to prove you have chanted the sutra.
Other thing you may want to prepare include a water canteen, a towel, the insurance card, and some household medicine. It's a good idea to bring an insect-repellent spray in summer. The Ziplock may become handy for an unexpected rain. There items are available via on-lone shops and at Fudasho temples.
https://www.seichijunrei-shikokuhenro.jp/
http://www.88shikokuhenro.jp/