Rules on How to Eat "Kushikatsu"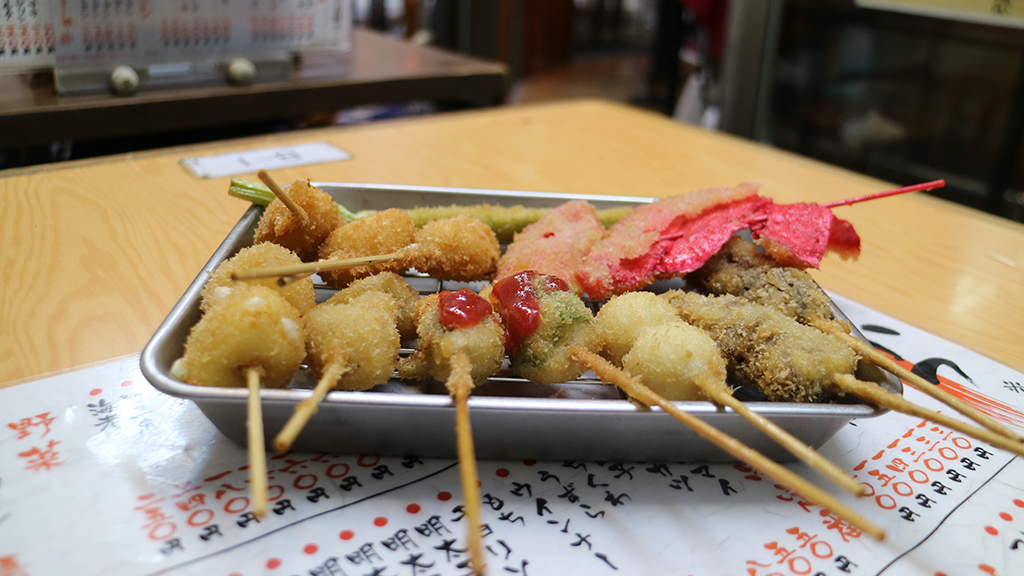 This post is also available in 日本語
"Kushikatsu", like Okonomiyaki and Takoyaki is famous food from Osaka. You can find many "kushikatsu" restaurants here and there in the streets of Osaka. The price is cheap and it can be eaten on a casual basis, but there are several things you need to be aware of in terms of how to eat it and the etiquette involved. On this occasion, we would like to explain to you the general etiquette and recommended restaurants in Osaka.
Three forms of etiquette you should be aware of
Typically, the rules when eating "Kushikatsu" will be explained within the restaurant. These are often written in English as well, so check these before ordering. Some general rules are as follows.
Prohibition on double-dipping in the sauce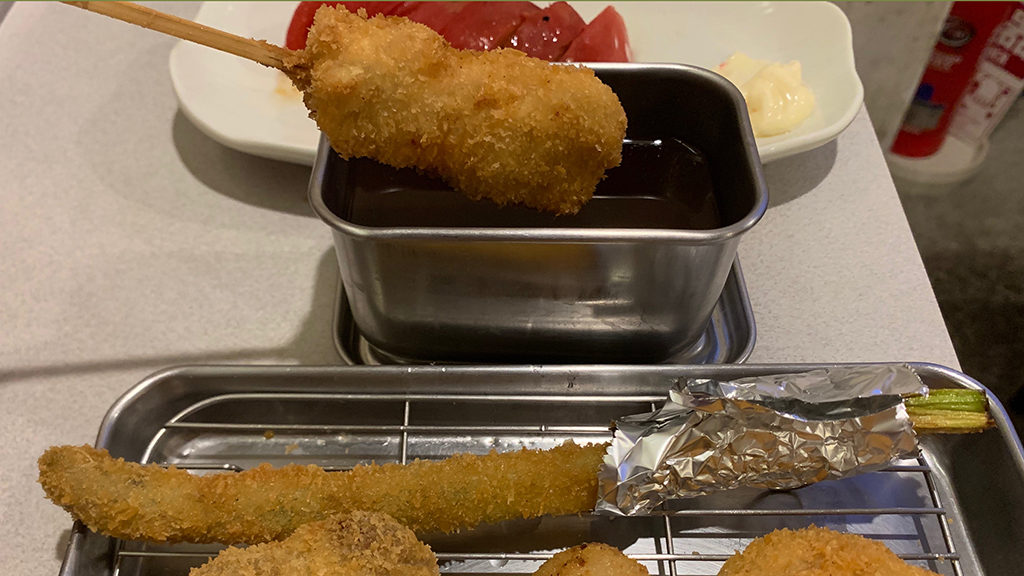 You eat "kushikatsu" by dipping it in sauce. There are restaurants where you will have your own sauce plate, but typically you will share sauce in a container with another customer. Dipping your "kushikatsu" in sauce before eating is not a problem, but dipping half-eaten "kushikatsu" in sauce is a problem from a hygiene point of view. For this reason, there is a rule that you must not dip your half-eaten "kushikatsu" back in the sauce. If you want to replenish the sauce on a half-eaten "kushikatsu", scoop up the sauce using cabbage like a spoon, and place it on the "kushikatsu".
Eat cabbage with your hand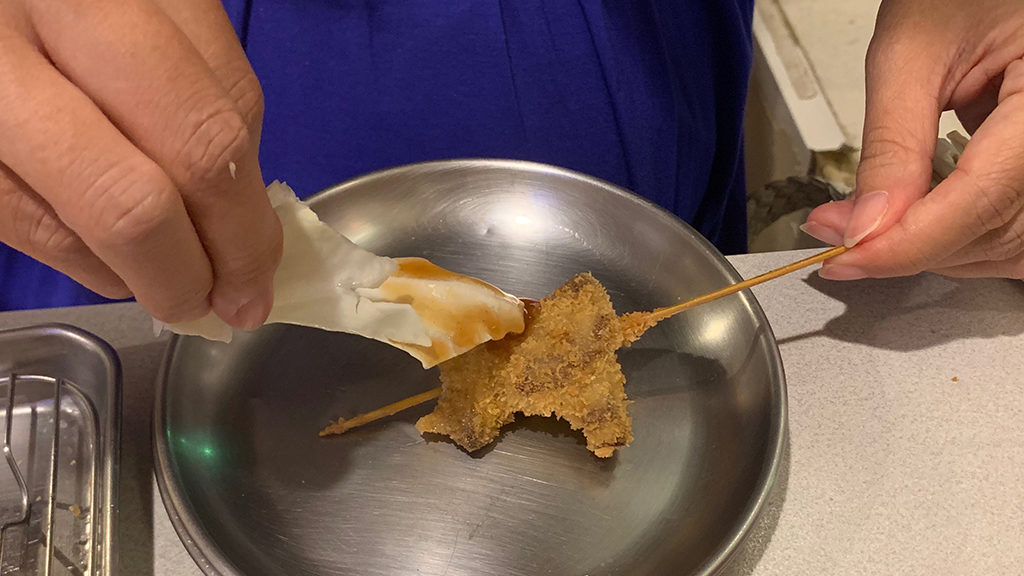 Typically, chopped cabbage is provided free of charge. You can use this for attaching sauce to your half-eaten kushikatsu or for eating as a side dish. If you use your chopsticks at this time, there will be a hygiene issue. When applying sauce to the cabbage, do not use your chopsticks but take the cabbage to the sauce with your hands. This is not really etiquette, but avoid just eating free cabbage. There are cases when there is a rule that "if you eat less those five "kushikatsu" per person or the bill is less than 800 yen before tax per person, a charge will be made for the cabbage".
Put the sticks in the "kushiire" after you have finished eating
Normally, there will be a cylindrical container known as a "kushiire" on the table. If there is no "kushiire" on the table, gather them together on a plate. Some restaurants charge based on the number of used sticks.
Recommended restaurants
The street from "Dobutsukoenmae" station on the Osaka Metro Midosuji line/Sakaisuji line to Tsutenkaku is known as the "Shinsekai". In Shinsekai, you can experience the feel of ancient olden Osaka. There are said to be 70-80 "kushikatsu" stores in Shinsekai.
Osaka Shinsekai Ganso Kushikatsu Daruma
This is a store founded in 1929, and is the most famous "kushikatsu" chain in Osaka. It has its main branch in Shinsekai, and 14 branches in the business district of Osaka, as well as branches in Tokyo Ginza and the Philippines. It also has a branch within the Shinkansen area of Shin-Osaka station, and this is an area you can feel at home visiting casually. The outer layer is crispy and not oily, so this would be recommended for those who are not so keen on fried food. There an extremely large number of menu items, so if you get stuck, you can always choose a set menu. This is a popular store with long lines, so make sure you check in advance.
https://www.kushikatu-daruma.com/
Yokozuna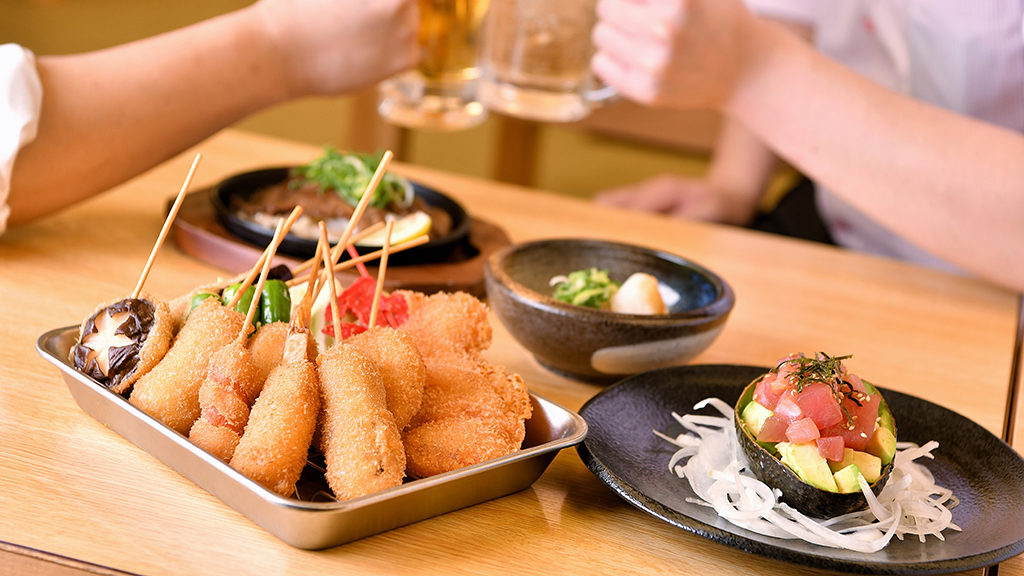 Yokozuna is a famous "kushikatsu" chain. In addition to its main store in Shinsekai, it has around 10 stores in the Osaka business district. The outer layer of the "kushikatsu" is plump, and you eat it by dipping it in a somewhat sweet sauce. Additionally, the name of the store is "Yokozuna", which is the highest rank in Sumo wrestling, and the menu items with a huge volume not belying that name are really popular. There are large plates such as fried Takoyaki for 8 people and fried chicken for 10 people. You can also eat a hearty "Chanko-nabe" (traditional stew eaten daily by the wrestlers) in a mortar. There is "zashiki"-style seating, and there is an "eat-as-much-as-you-like" course and banquet course. There is also an English menu available
https://www.4527.jp/