[Kanto] Best places to experience "Nagashi-Somen"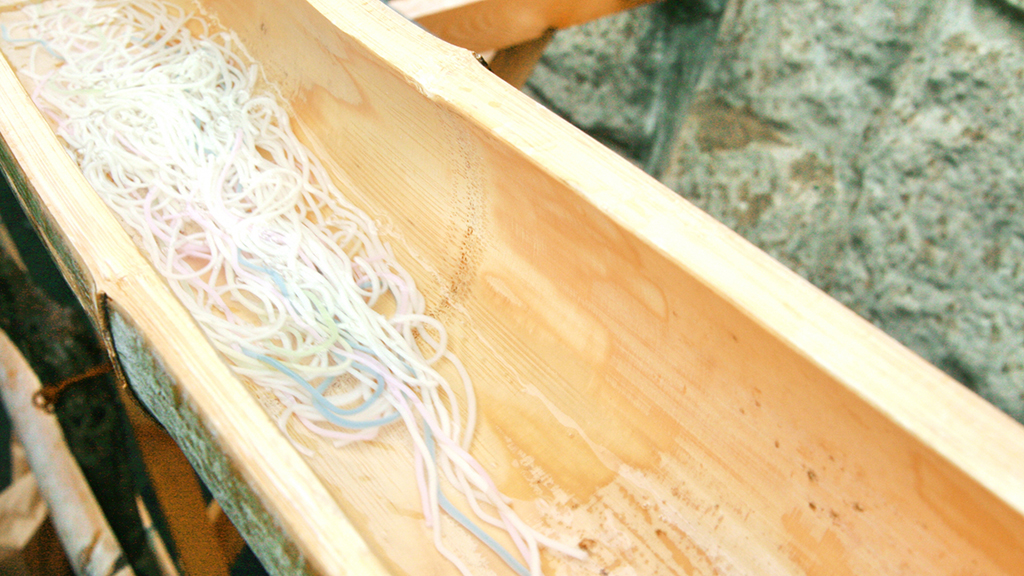 This post is also available in 日本語
Do you know "somen"? Somen (Somen is Japanese very thin noodle made of wheat flour) is an essential for Japanese summer. You can eat the cold somen that goes down the throat easily even the heat takes your appetite away.
"Nagashi somen" makes the somen even more refreshing and enjoyable. The original way of enjoying nagashi somen is by using half-cut bamboo to flow down the somen with water, catch them using chopstick, dip it in tsuyu (noodle soup) and eat it.
You can purchase nagashi somen kit on internet or at toy store and enjoy it on your own, but there are restaurants that has nagashi somen on the menu as well. Why don't you try it with your family or with your friends?
[Chofu, Tokyo] Funayado
"Funayado" is located at 5-minute walk from Keio line, Shibasaki station. It has an old-fashioned house style appearance and uses tatami mat and built-in kotatsu for the interior so that you can feel the Japanese atmosphere. Nagashi somen comes with tempura and chilled tomato. Nagashi somen is limited menu. It will only be sold on the weekend of July, August and September. Reservations fill up very quickly. I recommend you to make a reservation as soon as possible if you are interested. (Reservation for 2019 is finished already. Please contact for waiting list.)
Funayado Nagashi somen (Chofu, Tokyo)
Address: Kikunodai 2-4, Chofu, Tokyo
Nagashi somen: Saturdays, Sundays and Holidays of July 6th – September 29th
Hours: 11:00 – 16:30
Price: adult 1,600 yen, children (4 years old – Grade 6 elementary school students) 900 yen
*Reservation-only
http://www.maingreen.jp/funayado/002.htm
[Chichibu, Saitama] Nagatoro ryokan "Hana no Omotenashi Choseikan"
"Choseikan" is located at 3 minute walk from Nagatoro station. It is a long-established inn that has over 100 years of history. You can experience the real nagashi somen, with Nagatoro's magnificent nature landscape. You can enjoy uncompromising luxurious "nagashi somen" with thick somen that local noodle factory made, delicious water from Okuchichibu mountains, homemade tsuyu and handmade bamboo lane. Outside guests are welcome to use the restaurant as well. Nagatoro is famous for river boat ride and rafting, so you could enjoy a whole day together with outdoor leisure.
Nagashi somen at Choseikan
Address: Nagatoro 449, Chichibugun Nagatoromachi, Saitama
Nagashi somen:
July 1st – Sept 23rd Everyday
Sept 24th – October 14th Saturdays, Sundays and Holidays
Hours: 11:00 – Last person checked in finishes
Price: adult (Elementary school students and above) 1,200 yen, children (3-6 years old) 600 yen, children under 2 years old can enter for free
*No reservations. Check in at local reception on the day from 10:30 – 15:00
https://choseikan.com/
[Kamakura, Kanagawa] Chaya Kado
"Chaya Kado" is located at 10 minute walk from JR Yokosuka line "Kita Kamakura station". There is "Nagashi somen" area in the courtyard. The courtyard is surrounded in greens, and has tasteful ambience. Having "nagashi somen" there is exceptional. There is no time limit, so you can enjoy nagashi somen all you want. Why not stop by when you visit Kamakura for sightseeing?
Chaya Kado
Address: Yamanouchi1518, Kamakura, Kanagawa
Nagashi somen: Around April – end of October every year
Hours: 10:00 – 17:00 (last order 16:30) No fixed holidays
Price: Tororo & Tempura set menu 2,180 yen
*No pre-bookings
[Daigomachi, Ibaraki] Tsukimachi no taki Momiji-en
The highlight of this place is definitely the "Sora tobu nagashi somen® (flying nagashi somen)". Obtained patent for this trick to make somen slide down in transparent cylinder like a water slide to the customers. Fruits and desserts flow down sometimes too! There is Tsukimachi no taki waterfall nearby. The waterfall is also known as "Kuguri taki", and you can enter the behind the waterfall. It will be nice place to visit to cool down in the hot summer.
Momiji-en
Address: Kawayama1369-1, Kujigun Daigomachi, Ibaraki
Nagashi somen: May – Middle of September No holidays from May through out August, Closed on Wednesdays of September
Hours: 10:30 – 19:00
Price: adult 1,000 yen, child (under school age) 700 yen
*No pre-bookings