World-famous Ramen shop "Ippudo" releases Black ramen!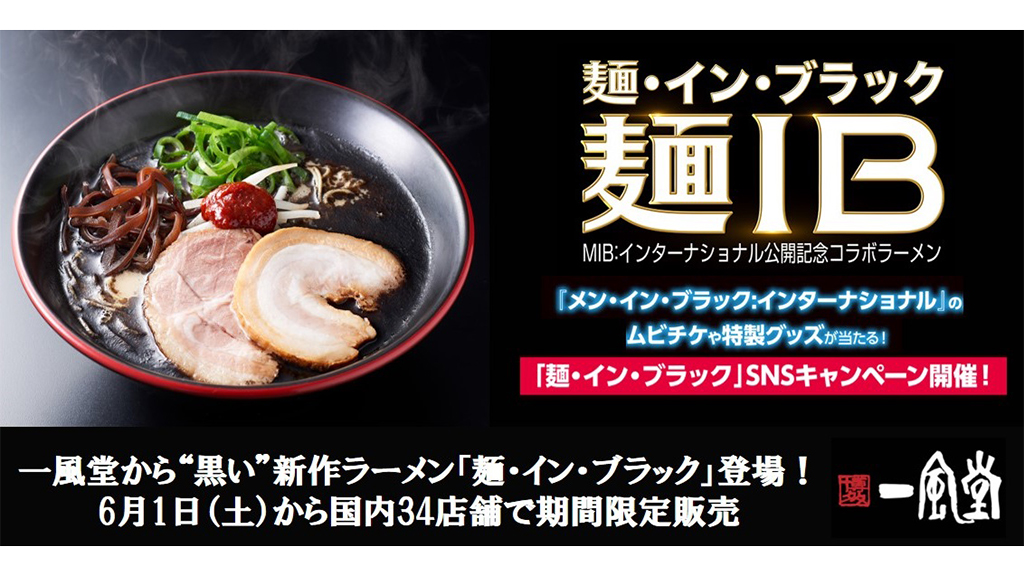 This post is also available in 日本語
Do you know of a ramen shop "Ippudo" that people come all the way to Japan to eat them?
It's very popular ramen shop that has branches in USA, Singapore, Hong Kong, Australia, Taiwan, China, Malaysia, Thailand, Philippines, Indonesia, Myanmar, Vietnam, UK, and France.
uch ramen shop is releasing a limited time only product. It's called "Men (noodle in Japanese) In Black"!!
It is a ramen created in collaboration with the movie "Men in Black: International" which will be released simultaneously in USA. The ramen will be sold for limited time only starting from June 1st (Saturday) until June 31st (Sunday) at 34 stores in Japan.
What does it taste like?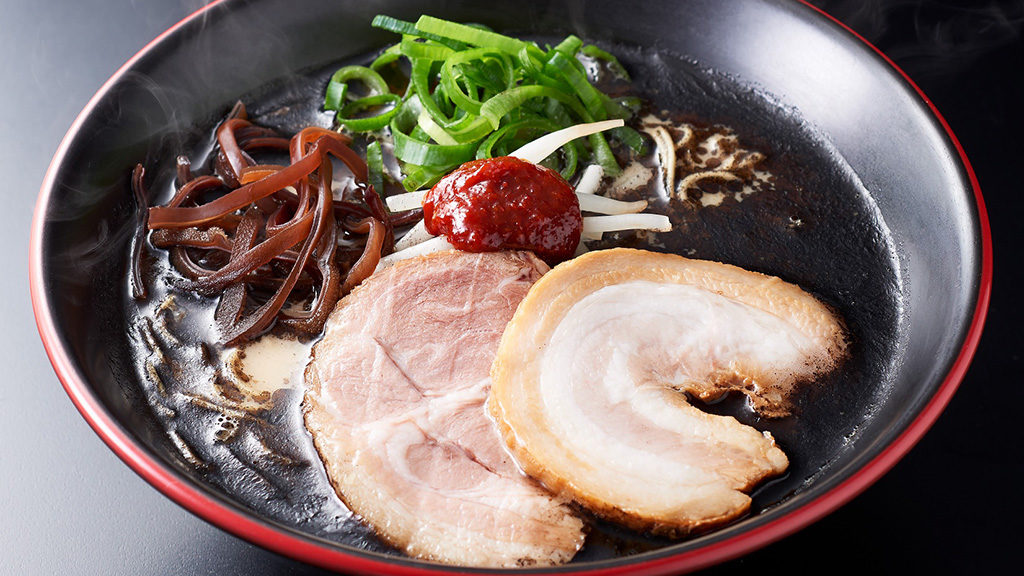 Original scented oil that uses burnt garlic makes the surface of the soup black, and it also uses plenty of black pepper so that noodles are coated in "black scented oil" and "black pepper". It is a "black" noodle as the name represents. In addition, by providing it in a black bowl and making it look as black as possible, it is conceived to be an agent of the top secret agency "Men in Black" (MIB), who is dressed in a black suit and sunglasses. Ippudo's unique silky mellow tonkotsu (pork bone) soup, the stimulus of black pepper and the aroma of garlic act as a good accent, and by dissolving the topping "spicy miso", it is even more pungently and addictive.
Please try "Men in Black" that you can only eat now.
Product Details
[Product Name] Men in Black
[Price] 890 yen (Tax not included)
[Sale Period] June 1st,2019 (Saturday) – June 30th (Sunday)
*Sales may end earlier than planned.
[Stores]
Kyushu: Dazaifu Inter, Hakata Station
Kanto: Ebisu, Kichijoji, Gotanda east exit, Ueno Hirokoji, Shinjuku island tower, LUMINE Shinjuku, Komazawa park, Toyosu, Futako Tamagawa Rise S.C, Minatomirai Tokyu Square, Tama Plaza, LaLaport Tokyo-Bay, Chiba, Takasaki, Kawagoe Inter, Omiya, 1/2PPUDO Shibuya Hikarie*, 1/2PPUDO LUMINE Tachikawa*
Kansai: Umeda, Nishikikoji, Kobe Motomachi, Kyoto Porta
Chugkou, Shikoku: Hiroshima Fukuromachi, ekie Hiroshima, Matsuyama
Tokai: Nagoya Sakae Blossa
Koshinetsu, Hokuriku: Niigata, Matsumoto, Suwa Inter
Tohoku: Sendai Aoba street, Sendai east exit
Hokkaido: Sapporo Tanukikoji
* It will be sold in different sizing at 1/2 PPUDO Shibuya Hikarie and 1/2 PPUDO Lumine Tachikawa. It will be served in smaller size, and the price will be different than the other branches.
Set menu: 500 yen (tax not included)
Ramen only: 700 yen (tax not included)