Average temperature and rainfall in Japan (monthly graph)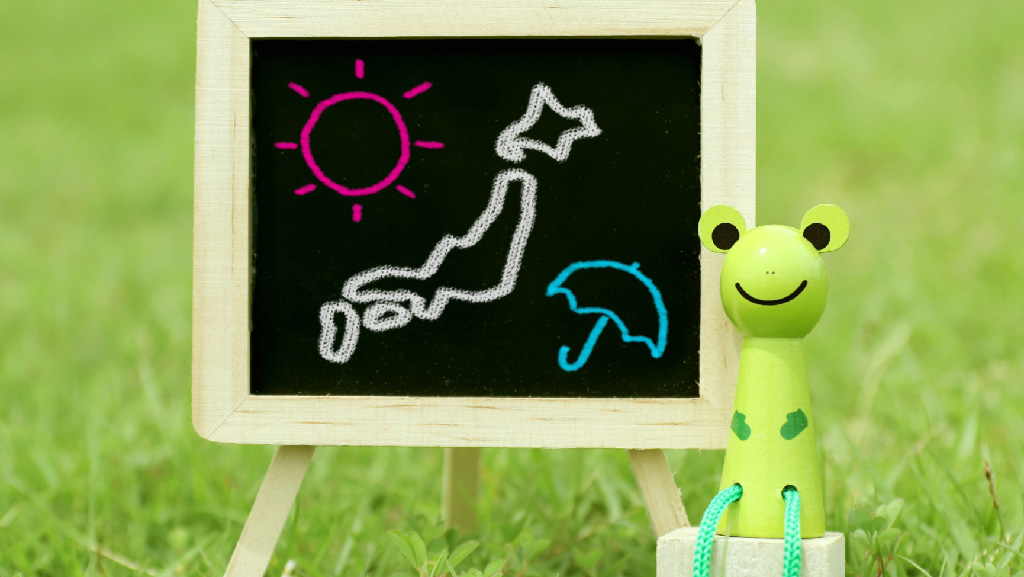 This post is also available in 日本語
There are significant temperature differences in spring, summer, autumn, and winter in Japan, so clothing for each respective season is required. Japan is long from North to South, and so even during the same season, the temperature can be completely different between Hokkaido and Okinawa. On this occasion, we shall use Tokyo as an example, and look at the features of and clothing for each season.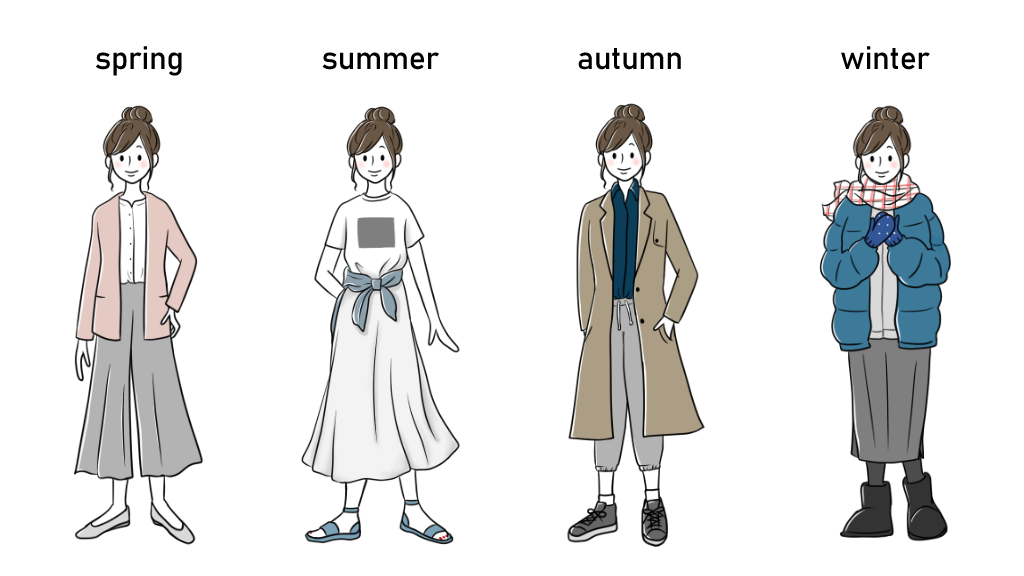 Spring features and clothing
Spring in Japan consists of the months of March, April, and May. The temperature is beginning to rise and the coldness alleviated. Morning and night feel a little chilly, but it is warm in the daytime and a comfortable temperature. Wear multiple layers so it is easy to adjust the temperature.
March
Despite being Spring, it is still very cold outside. Wear warm clothes during this month, such as knitwear. You will need clothes to keep off the cold, such as coats and scarves. As this is the beginning of the hay fever seen, many people wear masks.
April
As the temperature is beginning to rise, during the daytime wear a long-sleeve top with a light outer wear, such as a trench coat or a blouson.
May
This is a comparatively gentle temperature, and even for spring it is a comparatively comfortable period. There are days when all you need to wear is a long-sleeved top.
Summer features and clothing
The Japanese summer is June, July, and August. The rays of the sun become stronger and the temperature increases, so there is an increase in outdoor leisure activities, such as going to the sea or the pool. In recent years, sunstroke due to intense heat has become a problem. Make sure that you take measures against sunstroke. As you will be using an air conditioner, there will be extreme temperature differences between indoors and outdoors. It may be good to prepare some light outer wear for use indoors.
June
This is the start of the "rainy season" where there are many cloudy or rainy days, and the temperature is high. Always carry a portable umbrella around with you. As it is very humid, it is good to have a coat over a half-sleeved top.
July
The weather becomes seriously hot during this period. Many people wear clothes that expose their skin, such as half-sleeved or no-sleeved tops. As it is necessary to take measures against sunstroke, you should wear clothes with good ventilation.
August
The temperature is at its highest during this time. As it is humid from the morning, you should choose clothes with good ventilation. Wear a hat if you are walking outside. You need to take measures against the heat, such as walking in the shade.
Autumn features and clothing
Autumn in Japan is between the months of September, October, and November. As the heat of summer diminishes, and you begin to feel the freshness of the breeze, this, somewhat like spring, is a comfortable month. Whereas the heat remains during the daytime, morning and evening feel cool on the skin, and so you should wear multiple layers to adjust the temperature.
September
As the heat lingers, you can spend the day in short sleeves. There are many typhoons, so take care when venturing out.
October
Gradually, the temperature starts to fall and you will need to prepare long-sleeve tops and light outer wear. As there are many typhoons, you will need to pay attention to the weather forecast.
November
You feel as though winter is approaching. The number of days feeling cold on your skin increase, and you should wear multiple layers when going out, such as jackets and sweaters.
Winter features and clothing
Winter in Japan is the months of December, January, and February. This is the season with the lowest temperature throughout the year, and it sometimes snows. Colds and influenza can easily spread, and as it is easy to become ill during this period, it is necessary to take measures against the cold. As people use heaters, the air can become very dry. Be sure to use a humidifier to avoid dryness.
December
Wear a thick coat or down jacket to prevent being defeated by the cold.
January
There are times when the temperature falls below zero. Be sure to wear high-functionality inner wear with heat-generation and heat-prevention functions! Make sure you prepare items that will protect you against the cold, such as scarves, gloves, and hats.
February
As in January, there are many extremely cold days. Be sure to continue taking measures against the cold.
Average temperature and precipitation levels for each month seen by region
As we discussed at the start, Japan is a country that is long from North to South. Even in the same season, there is a great difference in temperatures between Okinawa and Hokkaido. We have summarized the average temperature and average precipitation levels for each month, by region, so please use this as reference.