Is it cute? Is it strange? Japanese women and parasols
This post is also available in 日本語
Not only for rainy days, but also used in hot and sunny days?
Pretty soon, we will be facing another seasonal change where the days get sunnier and hotter, and in Japan we often see women walking with a parasol. The parasol used on a sunny day is called a "Higasa", and young women and also men have been using it more frequently.
The parasol originated from Europe, but now it seems only Japan has customs to use parasols, which seems to be a mysterious sight from a foreigner's perspective.
The purpose of placing a parasol is mainly from UV ray protection. In addition to preventing sunburn, it is used as a measure against heat stroke in the summer. Recently, there has been many different designs to the parasols as there are various functions.
Let's discuss and introduce the Japanese parasol and why people here use it.
Why walk with a parasol?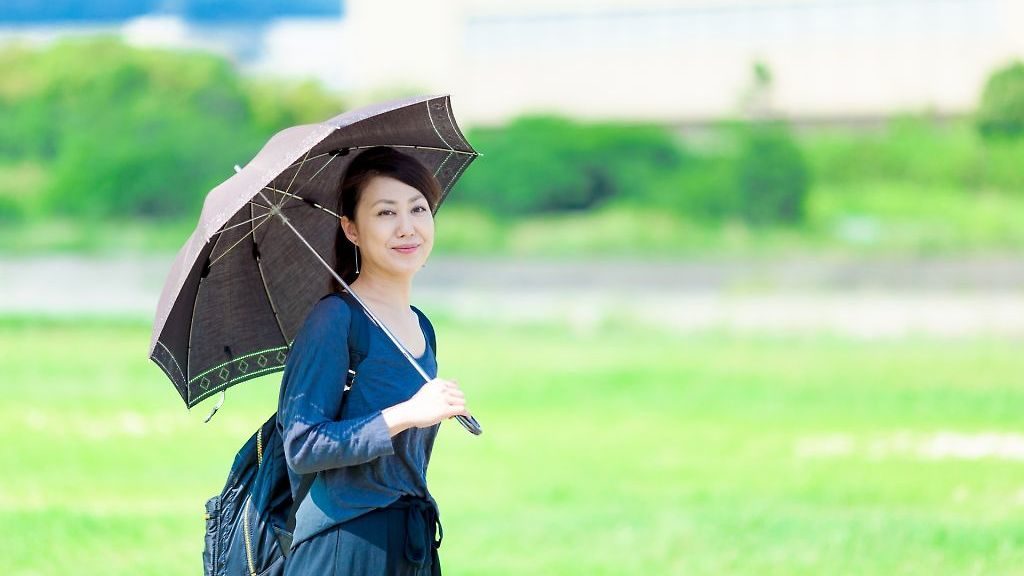 To avoid UV rays
Japan is a country with four seasons and for the seasons of spring and summer is when the sun is out and strong. It is the best time of the year as it feels great outside but since ultraviolet rays are becoming a bigger problem year by year, there are many adverse health and beauty effects that comes from it.
Therefore, the parasol is a very popular item to carry around when preventing UV rays. People use hats when exercising and they use parasols when going out for a walk. Depending on how bright and hot it is outside, people will change through fashion.
As the proverb goes "pale skin covers the seven flaws". Having pale skin is considered as a representative of beauty in Japan from the ancient times. However, there was tanned skin boom in between the pale skin boom, and getting tanned at the beach and the tanning salon were popular among young women. The trend called "ganguro", that young women got tanned skins and wore flashy makeup, become famous around the world.
And recently, the pale skin boom comes around again. Pale skins helps not only beauty effects but as health effects in general. This spanned from young people to elderly people and from female to male. Regardless of who they are, people are beginning to focus on preventing UV rays into our life.
Prevention of heat stroke
Due to global warming, the heat from the summer and sunlight are getting stronger. In recent years, fatal accidents from heat stroke in summer season have been reported a lot. Therefore, raising awareness about prevention of heat stroke is of big importance.
It is pointed out that not being exposed directly by sunlight is easy way to prevent you from getting heat stroke. However, it is sometimes difficult to find shadow while walking in cities, parks, and shores. When you are exposed directly by sunlight for a long time in those places, the risk of getting heat stroke increases.
The way of putting up an umbrella is re-evaluated to protect us from threat like that.
What type of parasols do they have?
They have light shielding and UV cutting function!
Parasols have UV protection and light-shielding function to protect our bodies from getting exposed by sunlight. Parasols cover a wider area more than hats do. Consequently, thay have a great effect to protect us from UV rays.
Sunshade folding umbrellas are useful
Main fabrics of parasol nowadays are polyester and nylon that have water repellency. Sunshade folding umbrellas are popular because people can use them in both sunny and rainy days. If you take them with you every day, it useful when the time of sudden rain.
The design of parasols
A decade ago, main designs of parasols are plain and have patterns that elderly women would like. However, parasols nowadays have wide range of colors, shapes, and fabrics because of the currently-going parasol booms.
They have pastel colors such as white and pink that make soft and feminine impression. They also have drastic design such as stripes and polka dots, and unique design such as dome shaped ones that cover a whole body. Of course, they have parasols for men, and parasols with special processing that make temperature cooler.
Would you like to use parasols that are Japanese summer fashion items?
What do you think? How do you see Japanese women putting up parasols wearing hats with huge brims to shut sunlight and arm covers that hide from the arms to the back of hands?
Since Japan has recently been hit by intense heat wave, products that prevent us from getting heat stroke and exposed by Ultraviolet, are very popular such as parasols. Because of the fact that they cover skins, it might seem a lot hotter wearing them. However, they have function to make temperature cooler and they are more useful and comfortable products than you would expect them to be.
Are parasols cute, strange, sultry, or comfortable?
If you buy a sunshade folding type umbrella, you can use it for rainy day in case you do not like it as a parasol.
How would you like to try to use a parasol for a day?