The History and Features of "Kokeshi" (limbless wooden doll) Painting Experience Spot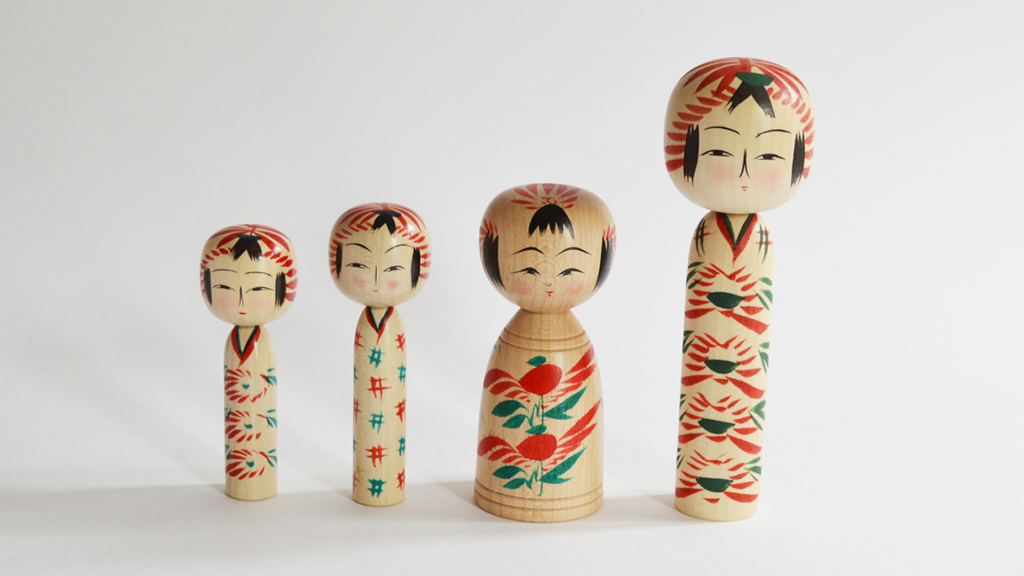 This post is also available in 日本語
"Kokeshi" is a wooden doll with a spherical head and a cylindrical frame. It is normally drawn by girls. From long ago in Japan, there have been a wide variety of wooden toys, and the current "Kokeshi" was said to have started when it was made as a souvenir in hot spring sites in the Tohoku region in the Edo era. At the time, it was a children's toy, but recently, it has gained in popularity as a craft appreciated by adults. There are also stores where you can experience painting them.
"traditional Kokeshi" and "new type Kokeshi"
"Kokeshi" include the "traditional Kokeshi", which is a tradition passed on since the Edo era, and the "new type Kokeshi", which have developed based on this.
Traditional "Kokeshi"
Traditional "Kokeshi" was created in the Tohoku region. The craftsmen, called "Kojin", carried out all processes on their own, from processing the pulpwood to the finishing. This tradition was only carried on from master to apprentice, so the method of creation and patterns differ depending on the region of production, these can be classified into 11 systems. Among these, there are five systems in Miyagi Prefecture, and these are designated as national traditional crafts.
Naruko
Producing area: Naruko hot spring
Naruko Kokeshi dolls are characterized by the squeaky sound that is made when the head is turned. The feature attributes to this unique technique called "Kubi-ire" (fitting the head in the body). A chrysanthemum or maple is drawn on the trunk.
Toggata
Producing area: Toggata hot spring
This has characteristic sloping shoulders and slit eyes. The head is called "Tegara", and this has a red radial hair ornament drawn on it.
Sakunami
Producing area: Sakunami hot spring
The trunk is made delicately so that a child can grip it easily. A chrysanthemum that looks like a crab is drawn on it.
Yajiro
Producing area: Kamasaki hot spring, Ohara hot spring etc.
The waist is constricted and there is a line drawn on the head like a beret. There is a rich variation of patterns.
Hijiori
Producing area: Sendai City, Miyagi / Hijiori hot spring, Yamagata
This combines the features of both the Naruko type and Toggata type. The trunk is thick and may be painted in yellow.
New type "Kokeshi"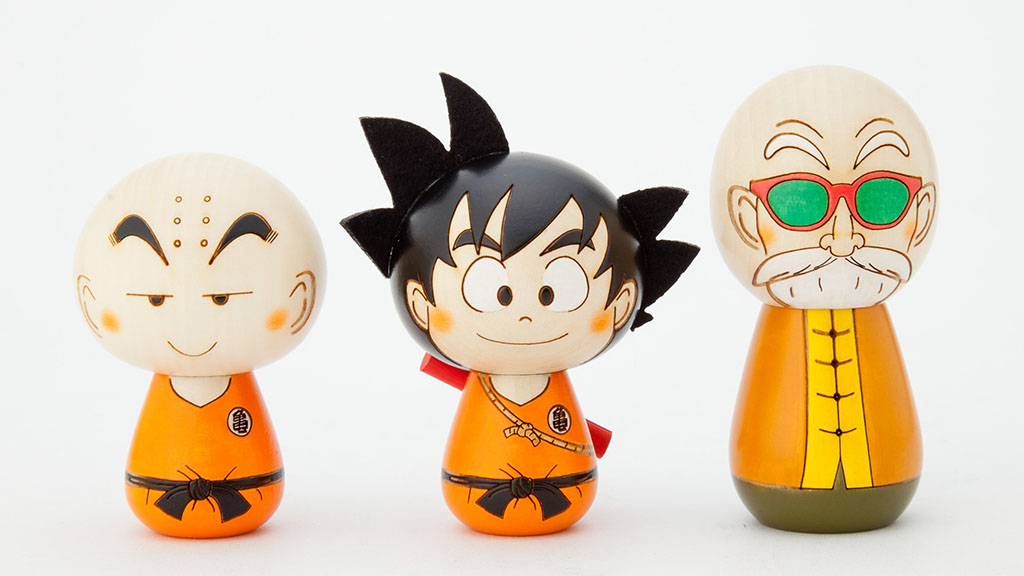 The new type of Kokeshi is also referred to as the "Sosaku (creative) Kokeshi" and "Kindai (modern) Kokeshii". These are expressed freely without concern for traditional colors and shapes, and often use new techniques. These include those with "manga" comic and animation characters as motifs. Approximately 60-70% of "Sosaku Kokeshi" are produced in Gunma Prefecture.
Painting experience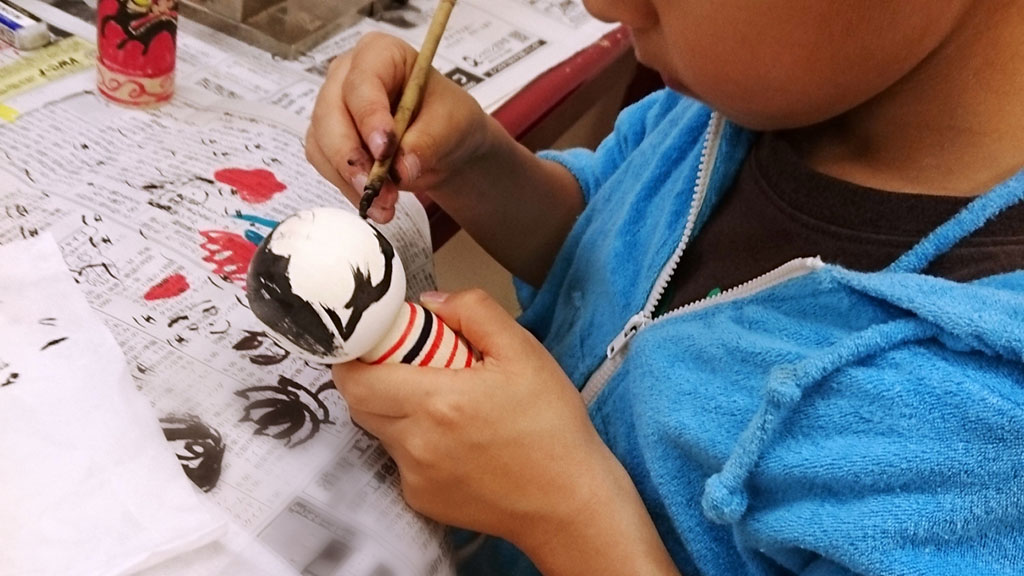 There are stores in "Kokeshi" producing areas where you can try painting the "Kokeshi".
[Naruko hot spring, Miyagi] Sakurai Kokeshi store
This is a "Naruko Kokeshi" store that has continued since the Edo era. In addition to manufacturing and selling traditional Kokeshi, they also offer a painting workshop. In case your group has 5 or more people, it is necessary to book by telephone three days in advance. Reservations are generally not required for groups of 5 or less, but it is probably a good idea to book on weekends or national holidays.
[Painting experience]
1,500 yen/person (inclusive of tax)– approximately 30 minutes
Any of "Naruko Kokeshi", "Pen holder Kokeshi", or "Letter Kokeshi"
Open hours: 8:00~19:00
Closed days: Irregular holidays
TEL: 0229-87-3575
26 Narukonsen yumoto, Osaki City, Miyagi
Get off at Naruko Onsen Station on JR Rikuu East Line, and walk 5 minutes
https://en.sakuraikokeshiten.com/
[Ikaho, Gunma] Usaburo Kokeshi
This is a "Sosaku Kokeshi" store that is constantly thinking up new forms and patterns. The painting experience can accommodate up to 70 people. (Booking is required in case of 15 or more people) Booking is not required for 14 or less people, but please note that the reception time is until 15:00.
[Painting experience classroom]
800yen course (inclusive of tax) 30-60 minutes
Strap
1,200yen course (inclusive of tax) 60-90 minutes
Any of a "Daruma"-type Kokeshi/toothpick holders/ pen stand (small)
1,800yen course (inclusive of tax) 90-120 minutes
Any of round head Kokeshi/pen stand (large)
* Required time includes a tour and shopping
* Booking is required in case of 15 or more people
Open hours: 8:30~15:00
Closed days: 12/29~1/4
TEL: 0279-54-6766
1591 Nagaoka, Shintomura, Kitagunmagun, Gunma
10 minutes in a taxi from JR Joetsu Line, Yagihara Station
http://www.usaburo.com/en/index.html