What is Bon-odori? History and the 3 Major Dances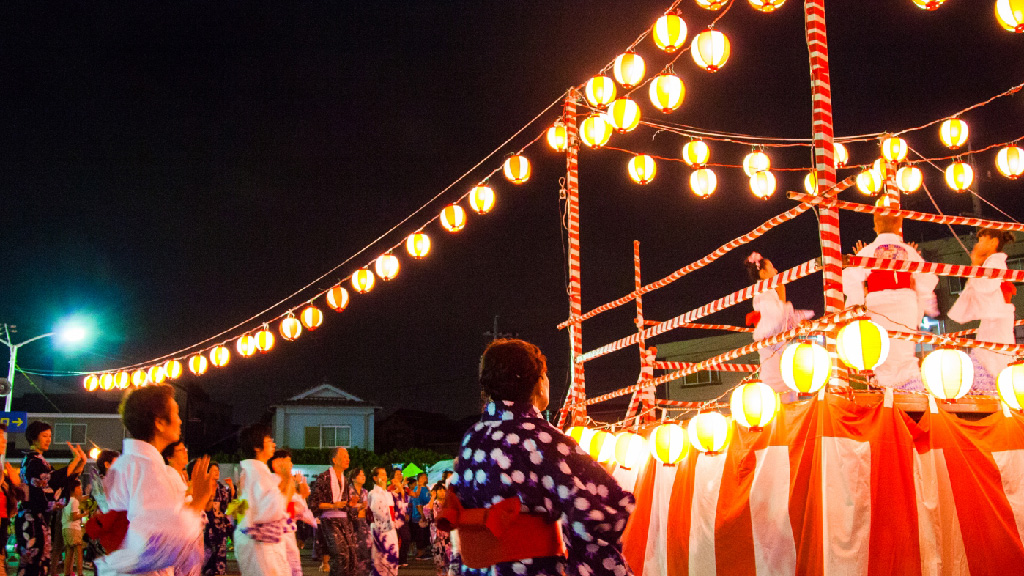 This post is also available in 日本語
As o-bon approaches, you can hear the sounds of people practicing bon-odori from parks and kindergartens. Bon-odori is an event in which a memorial service is held for the spirits of ancestors and the deceased who have come back for o-bon. Across the whole of Japan, bon-odori of various scales are held. On this occasion, I will give an introduction to bon-odori.
What is bon-odori?
In addition to providing a memorial service for spirits, this is an opportunity to increase regional interaction, and it is a summer festival in which anyone can contribute from children to the elderly. In parks and school grounds, a "Yagura" (central raised platform) is placed, and people form a ring around this and dance in time to the music. In the past, people danced along with flutes and "taiko" (drums), but nowadays people usually dance in time to recorded music. On the assumption is that people will dance wearing a "yukata", so many of the dance moves are gentle and simple, meaning that even people participating for the first time can dance. Depending on the region, the way of dancing may differ, and you can check how to dance on Youtube etc.
The music played at bon-odori is not fixed. "Minyo" (folk songs), such as "Tankobushi", and songs written for bon-odori, like "Tokyo Ondo", are often used. To give children a sense of familiarity with it, animation songs are often used, such as "Doraemon ondo", "Anpanman ondo", or "Pokemon ondo". Songs that are currently popular sometimes also be used.
The History of Bon-odori
In the Heian period, the virtuous Buddhist priest Kuya began odori-nenbutsu (a dance with an invocation to the Buddha) for missionary purposes. Odori Nenbutsu is to recite Buddhist invocation and songs, dancing while beating a drum or ringing a bell. Following this, with the passing of the ages, it finally changed into its current form of "bon-odori".
The three great Bon-odori of Japan
Some Bon-odori are of a large scale and have become tourist events. Among these, some have a tradition and are large in scale, and are thus called "The three great bon-odori of Japan".
[Ugomachi, Akita] Nishimonai Bon-odori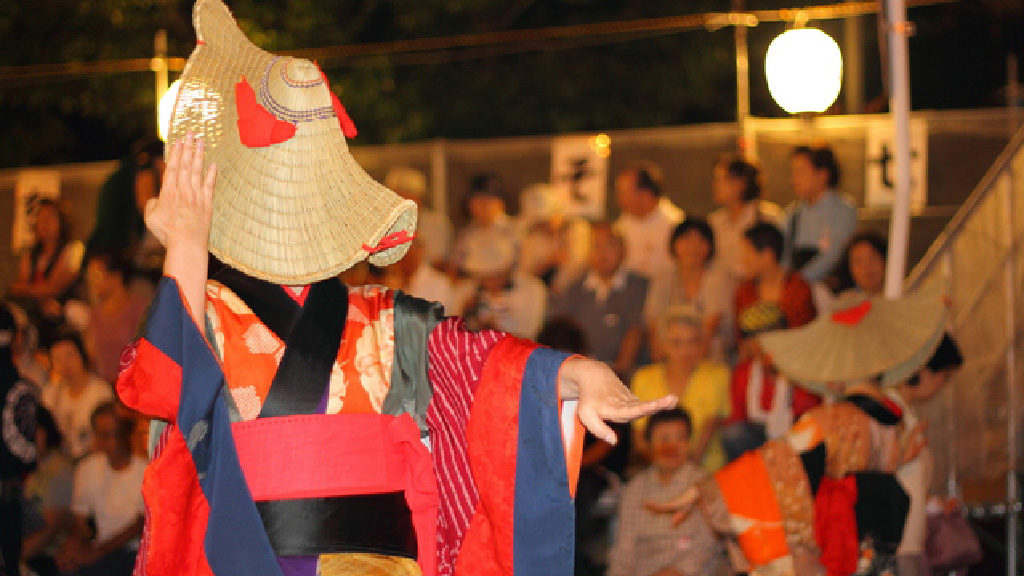 This has a history of 700 years or more and has been designated as an important intangible folk culture asset of Japan. It is characterized by wild "Ohayashi" (Japanese orchestra) and elegant fluid beautiful dancing. The dancer illuminated with the bonfire continuously dances with two varieties of dance alternately. Their faces are hidden with "Amigasa" and "Hikosazukin", and the scene of them dancing with the charming "Hanui" (costume made from small pieces of cloth) or indigo-dyed clothing, is said to be like "dancing as if it was a painting". If you want to relax while watching the dance, we recommend that you use the paid seating.
Location held: Homachi-dori, Ugomachi, Akita Prefecture
Dates held: August 16-18
https://kanko1.wixsite.com/mysite/bonodori
[Gujo City, Gifu] Gujo-odori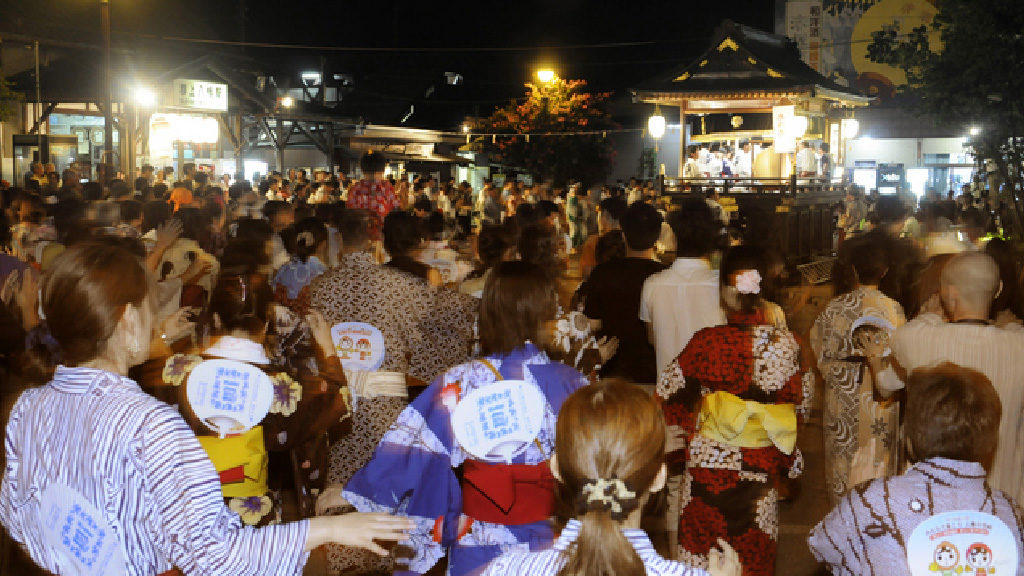 This has a history of 400 years or more and has been designated as an important intangible folk culture asset of Japan. Its most notable feature is that it is held for a total of 30 nights or more from the middle of July to the beginning of September. In particular, the "Tetsuya odori" is held from August 13th to 16th, and the dancing continues from 20:00 until the morning sun begins to rise above the surrounding mountains.
The Gujo-odori is a festival to enjoy yourself not just by watching but also dancing together. The audience dance in a ring with the local people. If you are going to participate in the Gujo-odori, we would recommend joining the "Tetsuya odori".
Location held: Hachimancho, Gujo City, Gifu Prefecture
Dates held: From mid-July to the beginning of September
http://www.gujohachiman.com/kanko/odori_e.html
[Tokushima City, Tokushima] Awa odori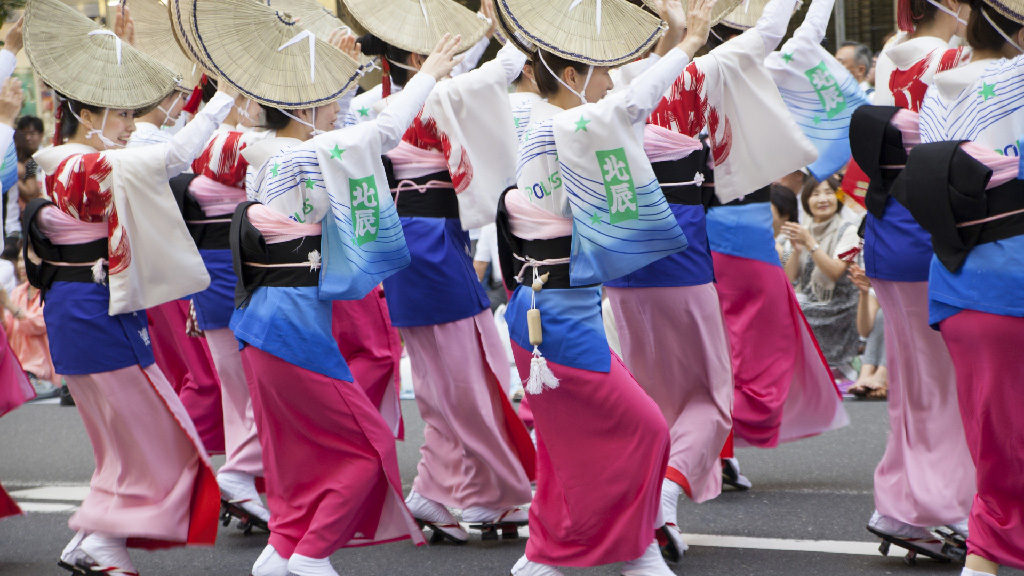 This has a history of 400 years or more and is probably the most famous bon-odori in Japan. It is said to be the largest scale in Japan in terms of numbers of dancers and spectators. There are four fee theaters within the city, and every night, with over 1,000 dancers, you can enjoy the "So-odori". In addition to this, there are three free theaters and the "Odori road" linking the theater, everywhere you can enjoy the Awa odori. In the "Odori hiroba", you can get lessons on Awa-odori, and take commemorative photos of dancers.
Location held: Near JR Tokushima station, Tokushima City, Tokushima Prefecture
Dates held: August 12th – 15th
https://www.awaodori.tokushima.jp/