Good places for cooling yourself by river in Kyoto 2019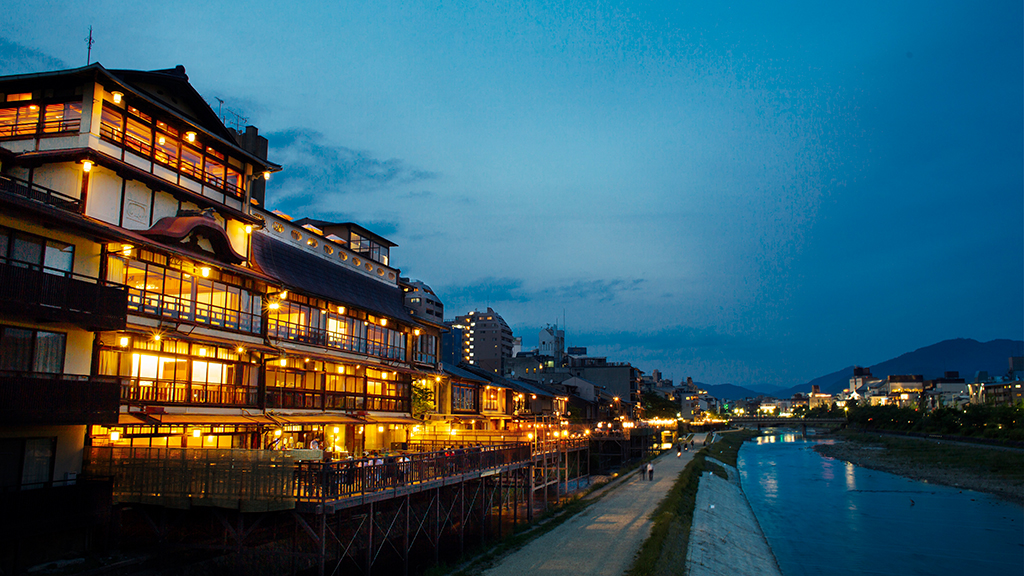 This post is also available in 日本語
In Kyoto, people tend to enjoy cooling themselves in places like riversides called Noryou doko or Kawa doko during the summertime. Restaurants provide food at riverbanks or river sides from the beginning of summer until the summer. Those places are called Noryo doko in Kamogawa area, whereas Kawa doko is more well-known in Takao and Kibune.
Why don't you enjoy your summer at Noryo doko or Kawa doko this summer? You will find good places about Noryo doko here.
What is Noryo doko or Kawa doko?
They are like seasonal events, in particular for summertime only, which is held from May to September every year. Along the sound of a stream, you can enjoy the pleasant breeze with Kyoto traditional course menu including freshwater fish such as hamo and ayu. Please make a reservation in advance in case that there may be different menus and hours open for restaurants.
Nouryo doko by Kamo River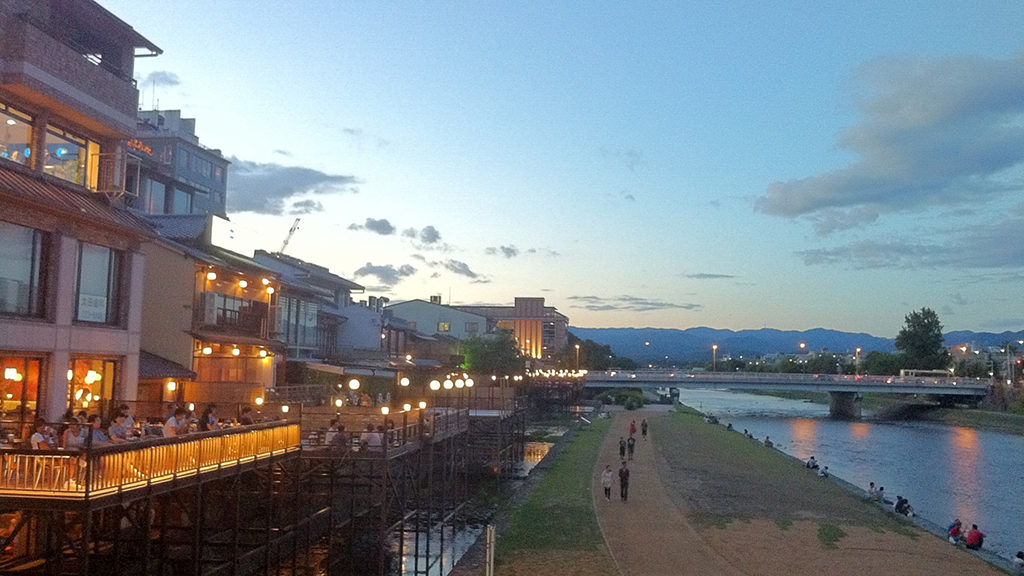 There are several restaurants downtown in Kyoto City. The main feature of the area is that many restaurants have balconies, which are sticking out to the riverside. There are a wide variety of restaurants such as Japanese, western style and international ones. Many of them are easy to walk-in and there is a Noryo doko for Starbucks. You may want to try Noryo doku in Kamo River since it is easy to access, if you have never tried Kawa doko style restaurants. You can also take a walk along the Kamo river with the wonderful view of Noryo doko.
https://yuka-kyoto.com/
Kawadoko in Takao and Kifune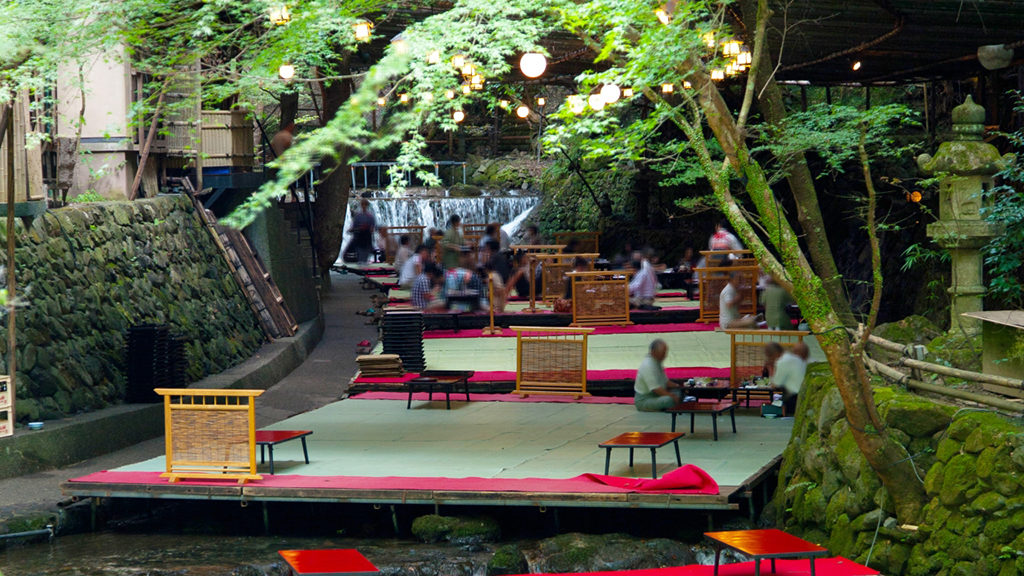 Both of them are located slightly away from the downtown towards Northside, which is surrounded by nature. Takao is 3-5 degree Celsius cooler than Kyoto city, and is much better to enjoy"Ao Momiji (green maple leaves)" at Noryo. Kifune, on the other hand, it is 10 degree Celsius cooler than Kyoto City. It is co close to the waterfront. You many need to layer some clothes to stay warm.
Restaurants we recommend
Japanese cuisine Roko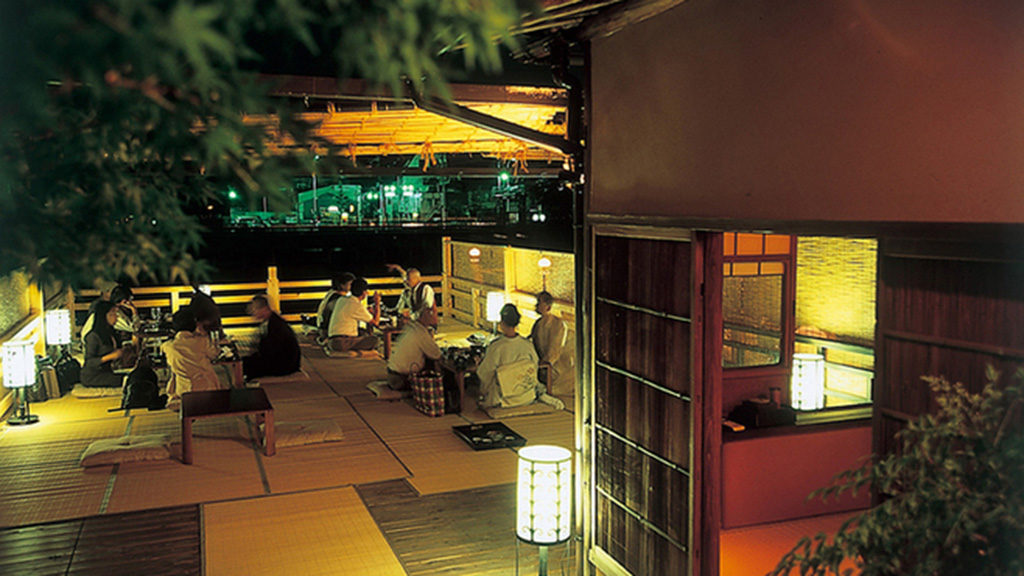 It has been opened for more than 100 years. It has been renovated using the traditional Kyoto style houses. You can enjoy seasonally best Kyoto style dishes with a reasonable price. The restaurant is open for second or third divided time frames, so you need to check online prior to your visit. There are some inside seats for rain.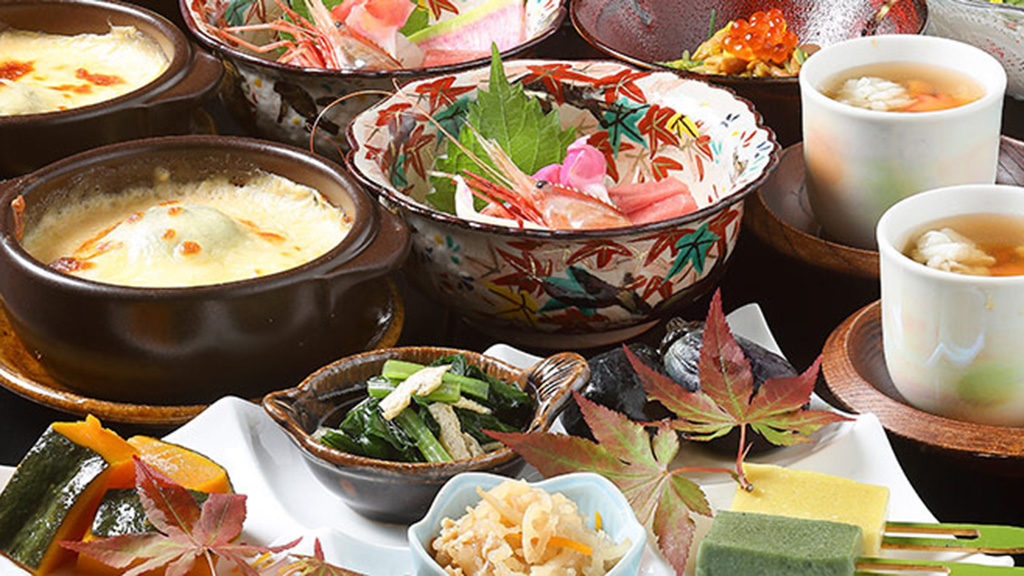 Address: 491-6 Kamikoriki cho, Nakagyo-ku, Kyoto City, Kyoto
Open: 17:30 to 22:00 (Last order: 20:30)
Price: 6,215 yen~ for night hour
Closed: Irregular
https://tabelog.com/kyoto/A2601/A260202/26004266/
Ponto-Cho Robin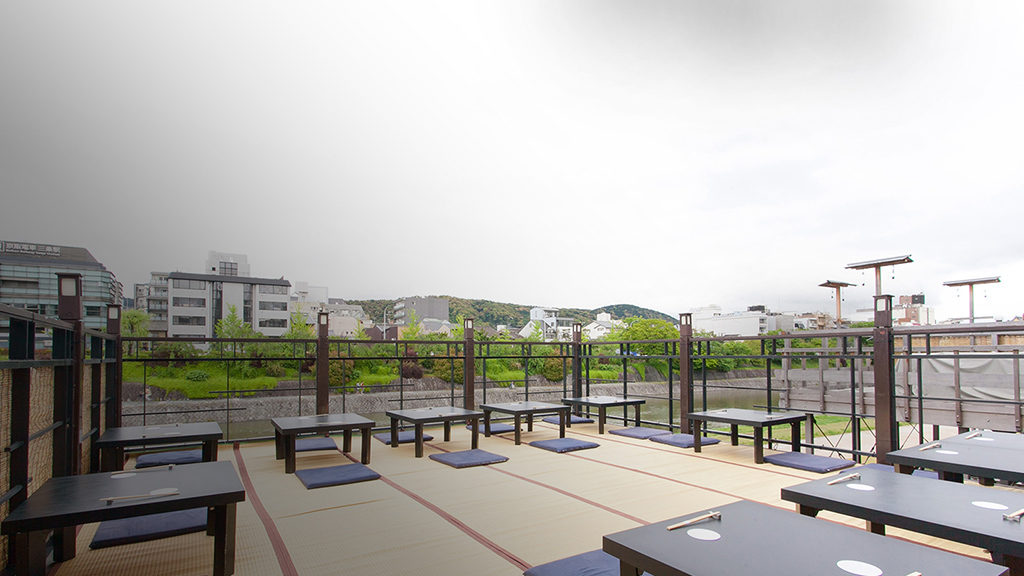 This restaurant is located in the back street of Ponto cho, which remains the atmosphere of old days in Kyoto. This restaurant provides delicious food and Noryo, which was renovated using the traditional old houses with the age of 150 years in Kyoto. There is limited lunch special offered only for weekends until September with the two timeframes, from 11:30 to 13:00 and 13:10 to 14:40. Menu in English is also available. There are inside seats in case of raining.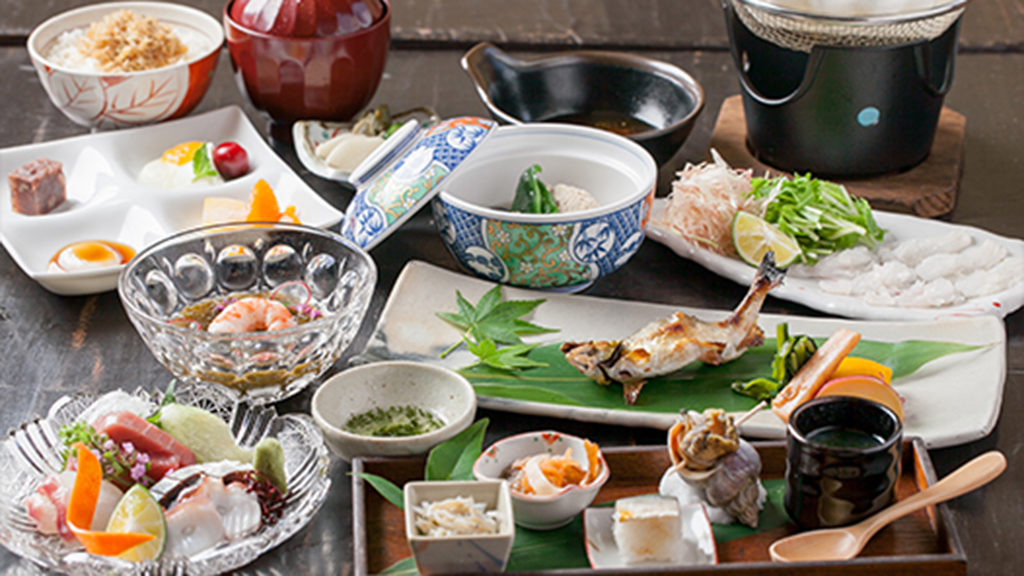 Address: 137-4 Wakamatsu-cho (Oku-kita No. 2) , Pontocho Street, Nakagyo-ku, Kyoto City, Kyoto
Open: 4,598 yen~ for lunch and 8,060 yen~ for dinner
Closed: Open daily
https://www.robin-kyoto.com/english.html
LE UN Funatsuru Kyoto Kamogawa Resort
This restaurant has been opened for 150 years and renovated with a French dinning remaining the ancient atmosphere. You can enjoy French cuisine with the most number of seats as Kawa doko by Kamo river. Lunch menu is September only. There are inside seats in case of raining.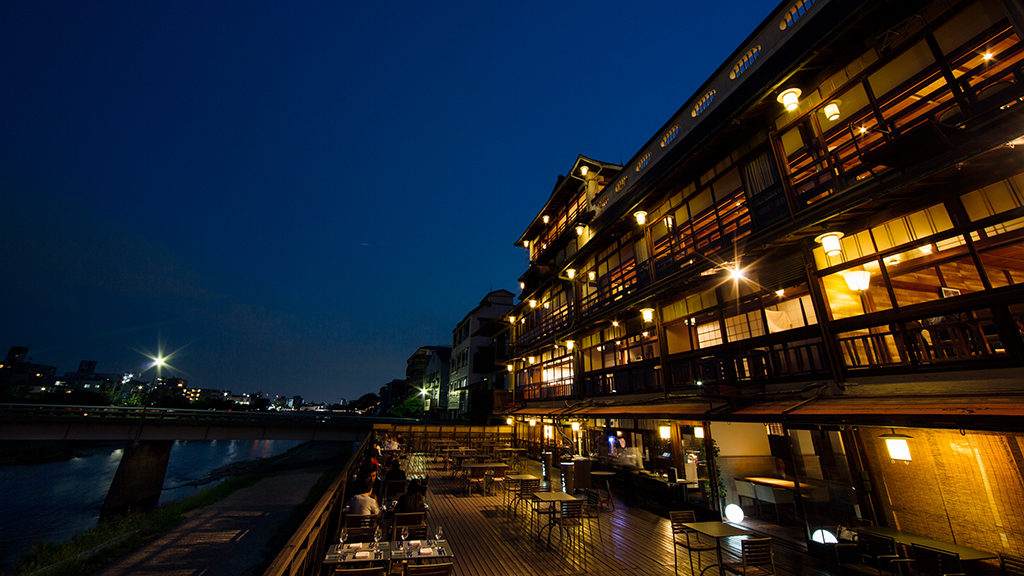 Address: 180 Minoya cho, Matsubara Agaru, Kiyamachi Dori, Shimogyo-ku, Kyoto City, Kyoto
Open: 11:30 to 15:30 for lunch (Last order: 14:00), 17:30 to 23:00 for dinner (Last order: 21:00)
Price: 4,130 yen~ for lunch and 10,030 yen~ for dinner
Closed: Tuesdays
https://www.funatsuru.com/restaurant/
Momiji-ya in Kyoto-Takao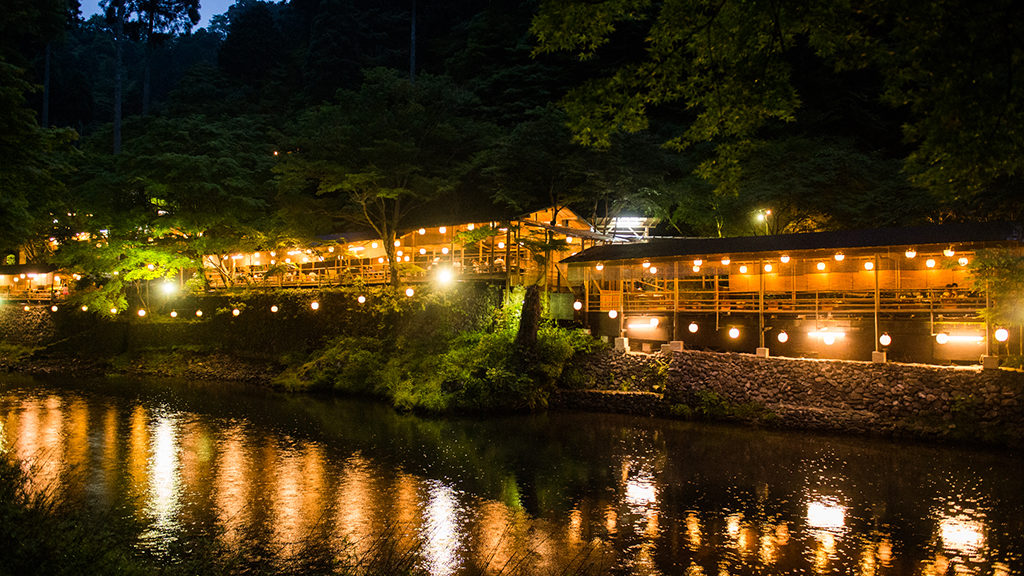 This restaurant has Kawa doko longer than 100 years. You can enjoy Kyoto dishes with nice view of "Ao Momiji (green maple leaves)" in the nature. There is a roof above so there is no need to worry for rain. At nighttime at Kawa doko, apparentice "Maiko" will visit Kawa doko, therefore, there is a plan to take pictures with Maiko.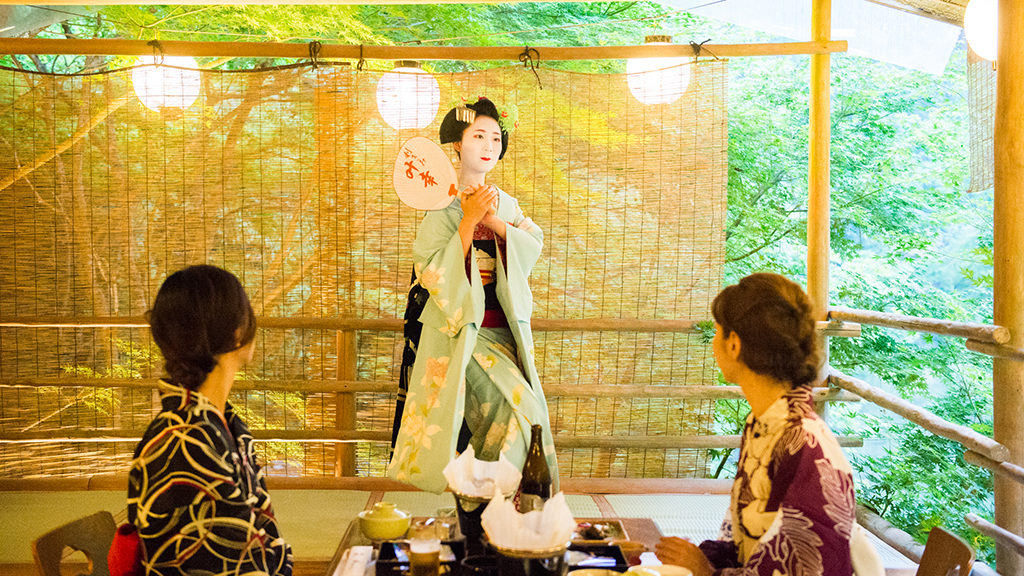 Address: Takao Umegahata, Ukyo-ku, Kyoto City, Kyoto
Open: 11:00 to 15:00 for lunch (last order: 14:00), 18:00 to 20:30 for dinner (last order: 19:00)
Price: 5,000 yen~ for lunch and 13,500 yen~ for dinner
Closed: Open daily
https://www.momijiya.jp/en/