Where is Tokiwa-so? Walk-Around Map for Those Who Love Manga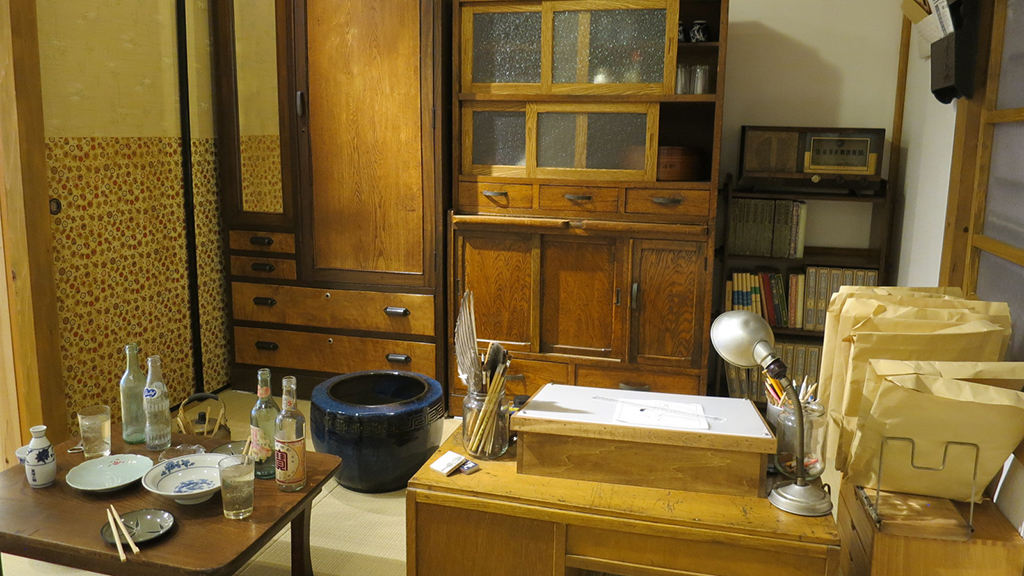 This post is also available in 日本語
"Tokiwa-so" is famous as a place that all great manga artists who led the later manga industry, including Tezuka Osamu lived. It was dismantled in Showa 57 (1982), but the ruins of it is still known as "Manga Mecca".
About Tokiwa-so
Tokiwa-so is an apartment which located at the current Minaminagasaki 3, Toshima-ku, Tokyo. The manga artists and assistants gathered when the publishing company moved manga artists who contributed serialized mangas in their magazines.
The portray of how life was at Tokiwa-so has been transformed into a work of various manga, anime, drama, movie, and documentary. It is an essential place to understand the history of manga.
I would like to introduce part of the Tokiwa-so resident
Tezuka Osamu
First to move in as a Manga artist.
Representative work: Astro Boy (Tetsuwan Atom), Phoenix (Hi no tori),
Jungle Emperor (Janguru Taitei)
Terada Hiroo
Central figure of all the Manga artists at Tokiwa-so
Fujiko F Fujio
Representative work: Perman, Doraemon
Fujiko Fujio A
Representative work: Ninja Hattori-kun, Kaibutsu-kun
Suzuki Shinichi
Animator (Active mainly in TV animation)
It is said that he is the model of the character "Koike san" that appears in various manga of Fujiko, F, Fujio and Fujio Fujiko A
Ishinomori Shotaro
Representative work: Cyborg 009, Kamen Rider
Akatsuka Fujio
Representative work: Osomatsu-kun, Himitsu no Akko-chan, Tensai Bakabon
Inherited passion for "Tokiwa-so"
There are some initiatives such as "Shiunso utilizing project" supported by Toshima ward and local groups, "Tokiwa-so project" by NPO Organization NEWVERY that runs low budget shared house to support the young generation who dream to be Manga artists. "Tokiwa-so project" has interesting plans where you can get advice regularly from Kaitani Shinobu, the author of "LIAR GAME".
In addition, near the ruins of the Tokiwa-so, a "(tentative name) Manga Mecca Toshima Museum" is under construction, which has restored the appearance and the rooms of the manga artist. It is scheduled to be opened on March 22, 2020.
"Tokiwa-so" walking around map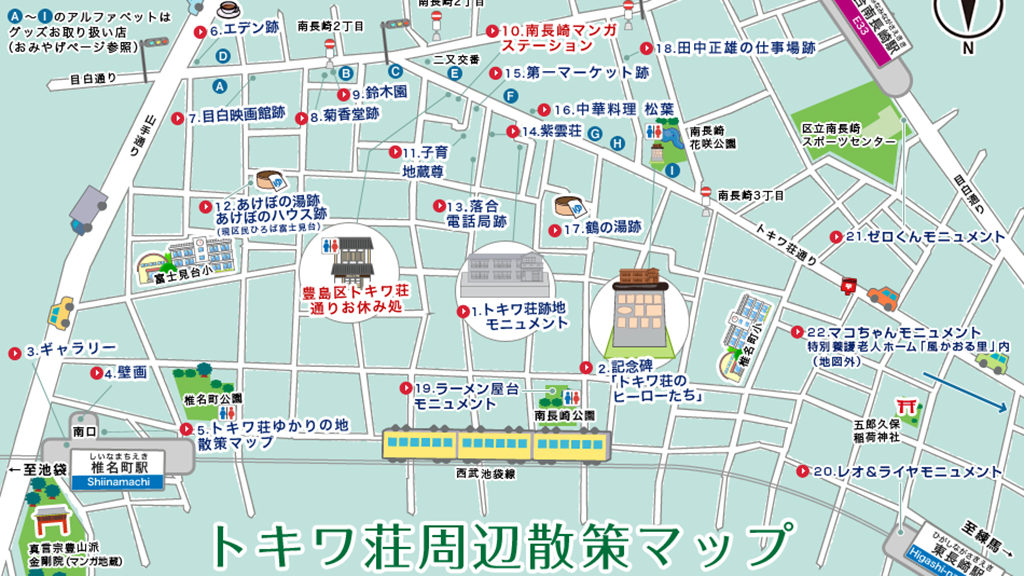 Areas around "Minaminagasaki" where Tokiwa-so was is known as "Manga Mecca", and "Walking around map" is distributed from Toshima ward. I would like to introduce some of the famous places.
[Yukari Map]
https://www.city.toshima.lg.jp/132/bunka/kanko/006993/documents/tokiwaso_eigo_ura.jpg
Monument of "Site of Tokiwa-so"

There is a building built on the site of Tokiwa-so, but there is monument of "Site of Tokiwa-so". There are monuments of Tedzuka Osamu, Terada Hiroo, Suzuki Shinichi, Moriyasu Naoya, Mizuno Hideko, Fujiko Fujio A, Ishinomori Shoutarou, and Akatsuka Fujiko in the city.
Monument to the "Heroes of Tokiwa-so"

There are portrait painting and autographs of 10 manga artists who lived in Tokiwa-so on the pedestal, and there is bronze model of Tokiwa-so on the top.
Gallery, Information board, and Mural at South Exit of Shiinamachi Sta.

Illustrations by manga artists who have connevtion to Toshima ward is displayed. Train melody is "Ore wa Kaibutsukun da" so you can enjoy it even at the platforms.
Toshima Ku Tokiwaso-dori Oyasumidokoro

You can browse the books related to Tokiwa-so,and works by the manga artists who lived there on the first floor. Goods are being sold, and events are held as well.
On the second floor, exhibits such as replica of Terada Hiroo's room is being displayed.
2-3-3, Minaminagasaki Toshima-ku, Tokyo
April – September: 10:00 – 18:00 (Last entry 17:30)
October – March: 10:00 – 17:00 (Last entry 16:30)
Closed on Mondays (If it falls on holiday, then the Tuesday after is also closed)
http://www.toshima-mirai.jp/tokiwaso/
Ramen restaurant "Matsuba"

It is a famous shop that appears in the works of manga artists who lived in Tokiwa-so, as well as manga, movies and dramas related to Tokiwa-so. A lot of Manga artist's autographs are displayed in the restaurant.
Reference:
https://www.city.toshima.lg.jp/artculture_en/brand/tokiwaso/index.html