Largest ever! Ten thousand goldfishes swim at "Art aquarium 2019"
This post is also available in 日本語
Season of everybody's Favorite summer event "Art aquarium" is here!
The art aquarium, which has mobilized a total of 9.45 million people in the past nine years, is a world-class aquatic art exhibition of Japan. Goldfish collaborates with the latest stage effect technology such as light and sound, and it leads to a mysterious and beautiful world. How would you like to experience the unusual and refreshing world as if you were lost in the flower town (Hanamachi) in the Edo period?
Japanese artwork evolves into modern style
ECO EDO Nihonbashi Art aquarium 2018 -Cool air of Edo/ Goldfish- & Night aquarium
It has been held at Nihonbashi Mitsui Hall ever since it first started in 2011, but this will be the last year to be held there. A symbol of "Art aquarium", 3 works of the popular huge fish bowl series, "Oiran", "Ooku", "Cho-Oiran", and magnificent 4m square lotus motif artwork "Lotusrium" will be displayed at the same venue for the first time. Total of ten thousand goldfishes colors the artwork. Number of the artwork, and the goldfishes are the largest ever.
In addition, a new stage effect with combination of light and sound allows you to be immersed in the world view of the work or fantasy space, which is perfect for the grand finale.
It will turn into "night aquarium" from 19:00, and you could enjoy Japanese traditional performance art such as "Kyomai" performed by "Maiko" and "Geiko" of Gion, and splendid Oiran dance performed by taishu engeki.
[Tokyo Venue] ECO EDO Nihonbashi Art aquarium 2019 -Cool air of Edo/ Goldfish- & Night aquarium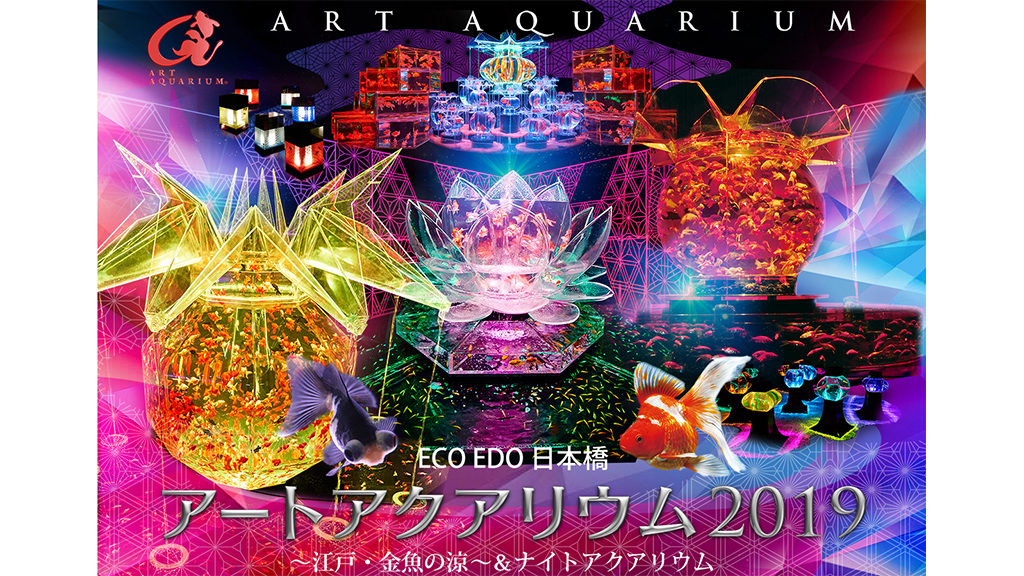 Event dates: July 5th 2019 (Friday) – September 23rd (Monday / holiday)
Hours of the event:
Sunday – Friday 11:00-22:30 (last admission 22:00)
Saturday, Day before holiday 11:00-23:30 (last admission 23:00)
Art aquarium 11:00-19:00
Night aquarium 19:00-22:30/23:30
*You could enjoy drink at the venue after 19:00 (additional charge/alcohol drinks available) It's not mandatory to order a drink. No outside drinks are allowed.
*No entrance fee fluctuation nor replacement when you convert to Night aquarium from 19:00
*DJ performance from 21:00 on Saturdays and days before holidays
*No entry of minors are allowed after 22:00
*There are dates when you won't be able to enter
Venue: Nihonbashi Mitsui hall
5F, COREDO Muromachi 1 [The entrance is on 4F], 2-2-1 Nihonbashi Muromachi, Chuou-ku, Tokyo
Admission fee (tax included):
General (junior high school student and above): 1,000 yen
at the door (900yen advance ticket)
Children (4 years old – elementary school) 600 yen at the door (500yen advance ticket)
Children under 3: Free
*Please note that all elementary school children and under must be accompanied by a parent or guardian
*Advance ticket available until July 4th
Details: "Art aquarium" Official website (http://artaquarium.jp/en/)
[Kumamoto Venue] 30th Anniversary of Kumamoto Asahi Broadcasting Corporation Opening anniversary of Kumamoto castle hall
Art aquarium castle -Kumamoto/ Goldfish amusement- & Night aquarium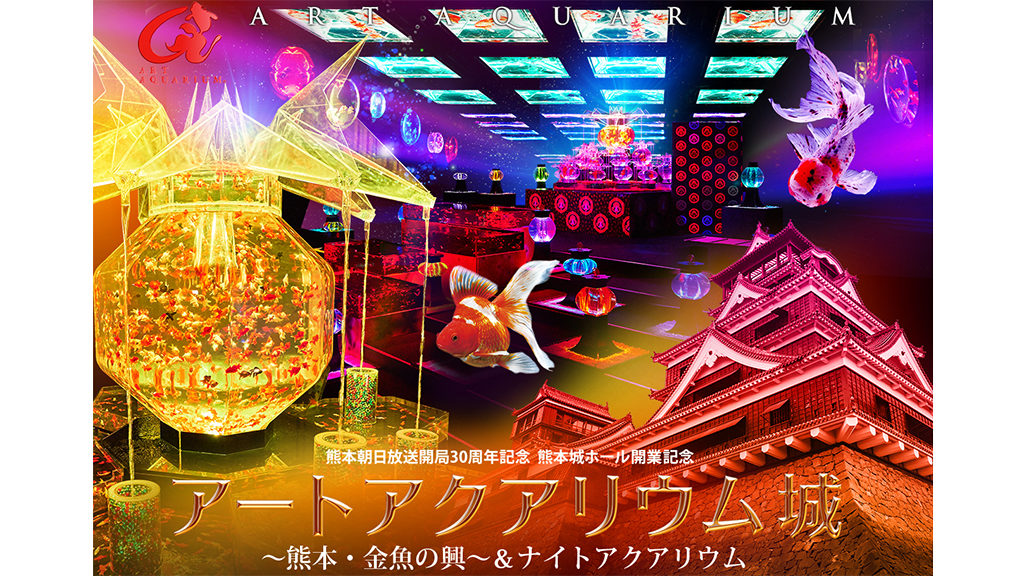 Event dates: November 2nd 2019 (Saturday) – January 13th 2020 (Monday/ holiday)
*Closed on December 31st
Hours of the event:
Monday – Thursday 11:00-20:00 (last admission 19:30)
Friday 11:00-22:00 (last admission 21:30)
Saturday 10:00-20:00 (last admission 21:30)
Sunday/ holiday: 10:00-20:00 (last admission 19:30)
*Last day of the event (Jan 13th Monday/holiday) 10:00-17:00 (last admission 16:30)
*You could enjoy drink at the venue after 19:00 (additional charge/alcohol drinks available) It's not mandatory to order a drink. No outside drinks are allowed.
*No entrance fee fluctuation nor replacement when you convert to Night aquarium from 19:00
*Night aquarium hours are included in the hours above. Details will be released later.
Venue: Kumamoto castle hall Exhibition hall
2-17, Sakuramachi, Chuo-ku, Kumamoto-city, Kumamoto
Admission fee (tax included):
General (High school student and above: Day ticket) 1,200yen (1,100yen advance ticket)
Children (Below junior high school student) 800 yen at the door (700yen advance ticket)
*Children under 3: Free
*Please note that all elementary school children and under must be accompanied by a parent or Guardian
*Advance ticket available from October 1st (Tuesday)
Detail: "Art aquarium" Official website (http://artaquarium.jp/en/)