Importance of time in Japan, What happens when you are late because of a delayed train?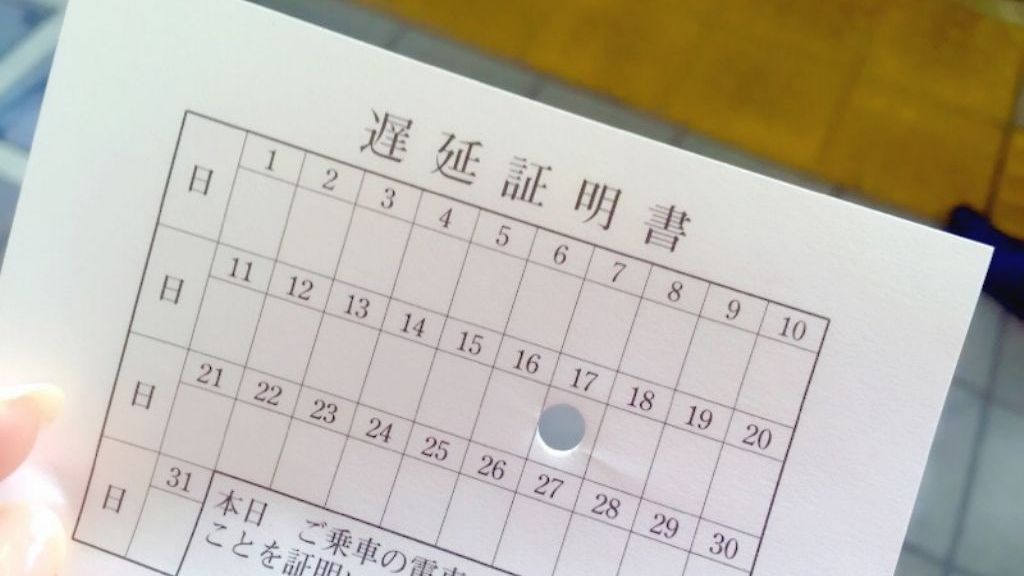 This post is also available in 日本語
It is often said that "Japanese train is always accurate." In 2017, the Tsukuba Express apologized for the early departure of only 20 seconds rather than being delayed. This was a big topic all around the world and Even among Japanese people. The world was surprised to know that the train stops and moves within seconds.
Indeed, in Japan, we act on the premise that the train will come just as according to the time table. In fact, a delay of fewer than 10 minutes is not uncommon. Especially in commuting time zones of big cities, there is a possibility that small delay may occur due to overrunning time, due to rush hour riding, and opening and reopening of doors.
In Japan, if you are late for work for just even a few minutes, it is often assessed that "people who are often late mean that they are people who are bad at working". Since the train can be delayed at any time, it is vital for you to ride trains a few minutes earlier than usual. It is important to communicate with the company as soon as possible.
In general it is "Contact by Phone"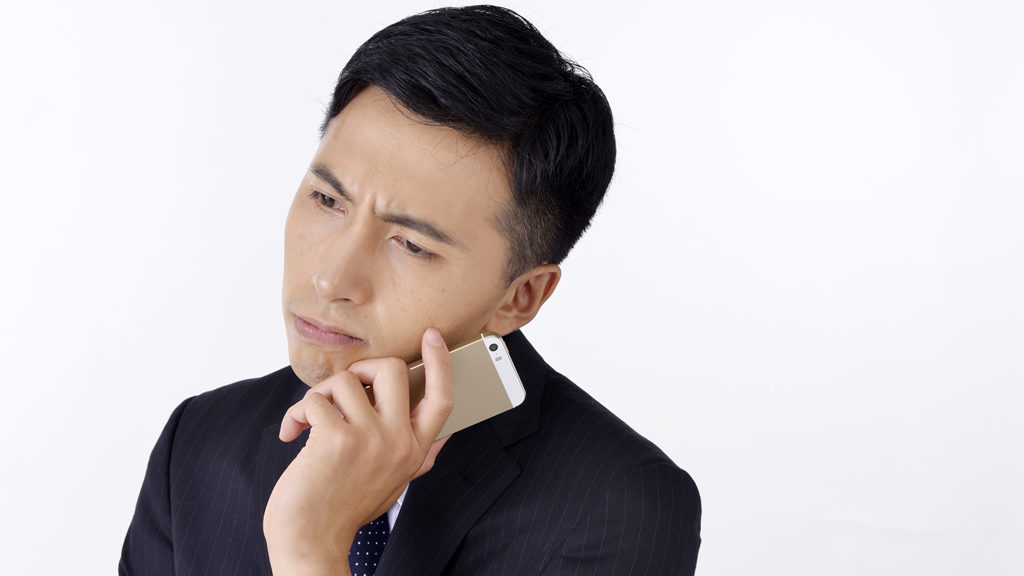 Confirm the situation and predict your arrival
When you are at a platform or at a ticket gate, acknowledge the situation through the announcement or bulletin and predict the time of arrival. It is best to ask the station staff.
How long will it be delayed for?
In the case of instances of delay for a long time, there are there different train transfers or other means of transportation?
If there is a transfer, how to use it
Communicate the reason for late arrival along with your current location and arrival time
If you find that you will be late, make sure to contact the company by "phone" right away. "The train is delayed and I will be late by OO minutes. I am currently at OO station." is a good way of telling your situation.
When train delay for a long time and it is not concrete how many minutes you will be late, It is best to say "I am currently at OO station and I will be late due to a delayed train. I do not know when the train will start moving but I will contact you as soon as I know the arrival time."
Even in these situations where you missed the announcement or you don't know what is happening with the situation, it is recommended to say "The train has stopped and it is still not moving. I am currently between OO station and OO station and will be late. I will contact you as soon as I get more information on the situation."
In general it is "contacting by phone", however, there are cases when the phone will not reach. In addition, there are times when you can not make a phone call, especially when inside trains. In such cases, it is best to contact the company via e-mail or text messaging but it is best to add reasons at the beginning of your email or text such as; "I tried calling but it did not connect so I am reaching you by mail" and "I am inside the train and cannot call you through the phone so I am contacting you on LINE."
In preparation for such situations, if you inquire in advance the contact information and contact method during an emergency like these with your company , it will keep your mind at peace and things shall go smoothly.
Delay Certificate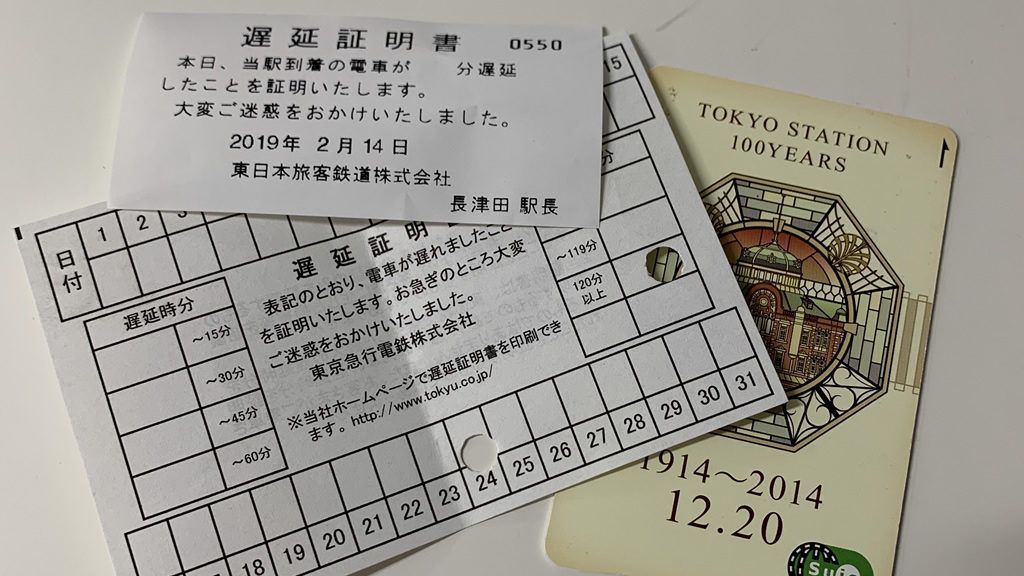 Depending on the railway company and time slot, "Delay certificate" will be issued if the train generally delays for more than 5 minutes. Although there is no legal effect, there are cases where it is not treated as late by some companies due to the submission of the delay certificate. Make sure to investigate work rules in advance.
How to receive delay certificates
If a train is delayed for a long period of time it seems that delay certificate is often distributed by ticket examination officer etc.
If you do not get it, you can request at the ticket gate or ticket window.
When you are in a hurry, some railroad companies have a website where you can input the time through the internet. However, since anyone can be able to write their own time, it may not be accepted in some cases so be careful.
"I am sorry" not "It can't be helped"
Perhaps the train was delayed because it is not your fault, so you may think "I can't help it, it is not my fault", but late is late. It causes trouble to people around you, so, greeting with "I am sorry" would be nice.
Let's add a word "I am sorry" when contacting late. Especially when you contact by email, this is important.
Reference
* 1 Tsukuba Express [Apology] About early departure of ordinary train at Minami-Nagareyama station (Japanese only)
https://www.mir.co.jp/assets_rti/pdf/2017.11.14.pdf
* 2 About visualization of delays of the Ministry of Land, Infrastructure, Transport and Tourism (Japanese only)
http://www.mlit.go.jp/report/press/tetsudo02_hh_000094.html