Japanese Bathing Culture, how to Take Hot Springs Bath Correctly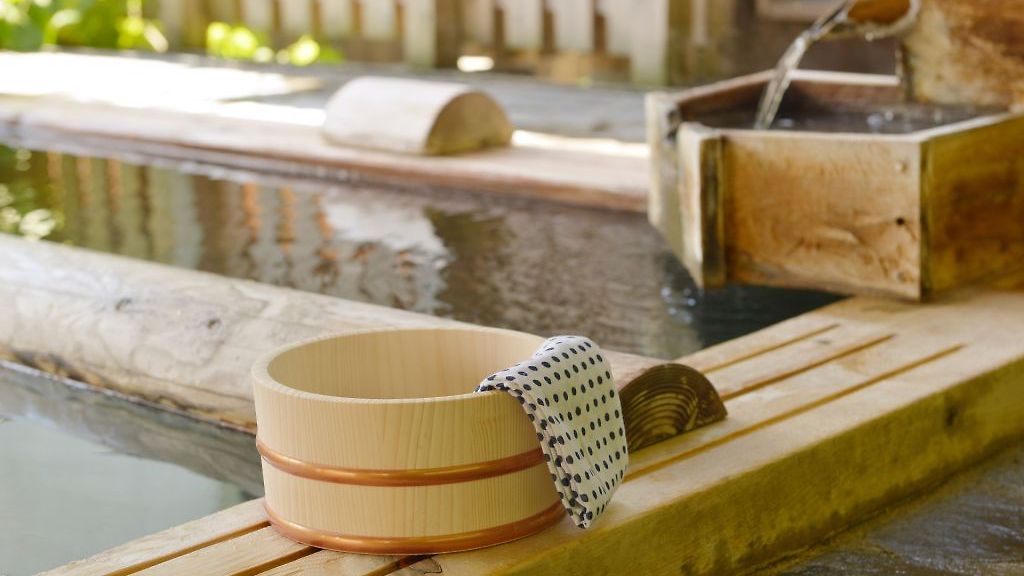 This post is also available in 日本語
Recently, hot springs have been very popular among foreigners.
Hot springs towns, hotels at hot springs and its Japanese atmosphere seem very attractive to the foreigners.
But, foreigners who do not have traditions of taking a Hot Spring often say "They want to take hot springs but they do not know how to take it."
Here, we have summarized all the essentials notes and manners for taking a hot springs bath properly.
What are Hot springs? Are all big bathes called hot springs?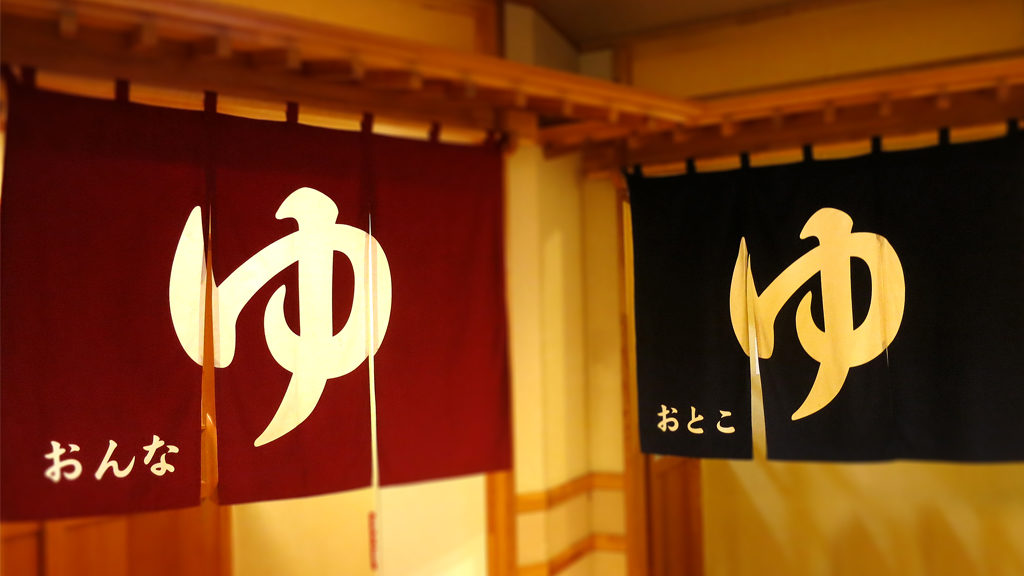 What are Hot springs?
Many visitors think that hot springs is a facility where there is a large public bath and many people can take it together. But, it is not true.
Hot Springs are warm water, existing naturally in the ground generally heated because of geothermal activity.
The bath that matches with one of two conditions mentioned below can be called Hot springs.
Temperature is over 25 degree.
At least, 1 out of 20 kinds of designated substances such as free carbon dioxide, lithium ion, hydrogen ion, fluorine ion must be contained in the water in more than regulated amount.
All bathes that use spring water called hot springs could be hot springs no matter how big bathtub is.
Why are hot springs popular among foreigners?
Hot springs not only make body warm, but also active ingredients in water can be absorbed by the skin depending on the quality of Hot springs. For that reason, the treatment called hot spring cure has been used since before.
Also, The Hot springs hotel, open-air bath, beautiful nature around hot springs and extraordinary trip make people feel relaxed.
Not Only health benefits but there are many more reasons that make hot springs popular among foreigner.
For foreigners, Hot springs and Hot springs hotel have been the place where they can feel a typical Japanese atmosphere.
In hot springs, the culture of many people taking bath on big bathtub together is popular. Moreover, they can experience Japanese culture such as Tatami room and Yukata after taking a bath.
Also, the locations of many hot springs towns are surrounded by nature, traditional Japanese houses, where foreigners can feel traditional Japanese culture. For these reasons, hot springs have been popular among foreigners.
The best way to take hot springs
Many foreigners tend to have trouble with the way of taking hot springs The reason is that many countries do not have custom to soak in a bath.
For those kinds of people, we will introduce the best way to take hot springs.
Wash a body and hair
Hot springs are separated between a washing place and a bathtub. Before you soak in a bath, you should wash your body and hair in the washing place. This is to avoid getting hot water in the bathtub dirty.
Pouring hot water on yourself "Kaburi-Yu"
You must pour hot water on yourself before getting into a bathtub even you already washed your body at a bath in your room.
Pouring hot water is not only to clean your body. But also to avoid increasing blood pressure. Your body must get used to the hot water.
At first, you should pour hot water toes far from the heat.
After that, knee, thigh, stomach, arms, shoulders should be poured from the bottom gradually
Half body bath
You get into a bath slowly, at first; you should enjoy half body bath.
This is the way to soak up to above hip. This way is to decrease a burden on the heart.
(If you have a heart problem, you better to take only half body bath.)
Full bath
After half body bath, you slowly soak up to shoulders.
You should not take for longer. If you become slightly sweaty, it is time to get out of a bath.
Pouring hot water on yourself "Agari-Yu / Kakari-Yu"
Even in some hot springs, you better to get out of a bath with leaving active ingredient on skin. However, if you take hot springs that is stimulating strong spring quality, you should lightly wash hot water on your body away by showers or pouring hot water.
Manner & notes you should remember in Hot Springs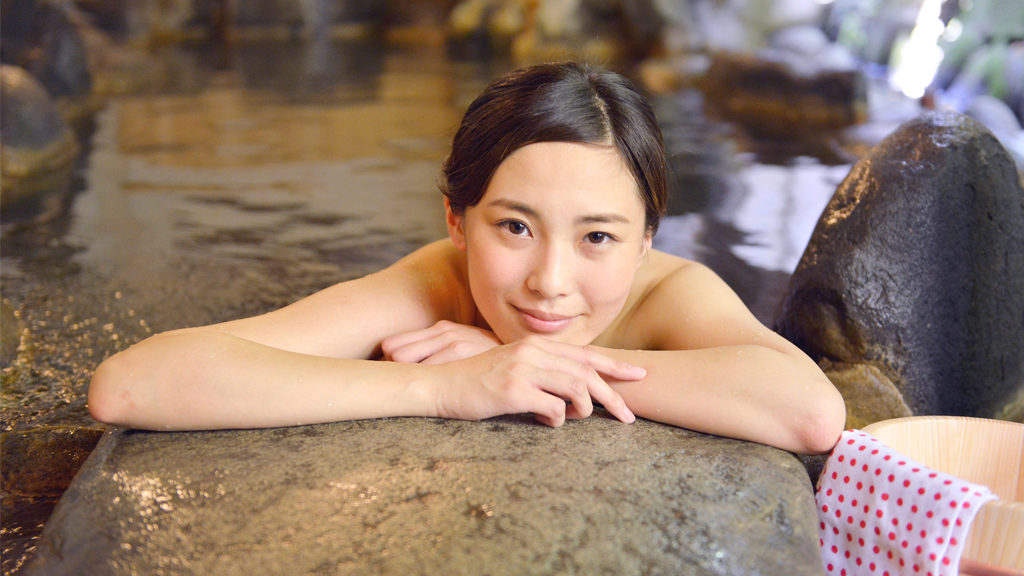 You must keep your manners and follow the rules in hot springs. Because hot springs are the place where many people meet together and keep everybody taking hot springs comfortably.
And, it is generally said that hot springs are good for the health. But, depending on how you take it, it can be the cause of dizziness and dehydration.
Follow these rules in order to enjoy hot springs.
Avoid taking hot springs right before and right after eating.
Do not take hot springs after drinking alcohol.
After exercising hard, you better to take a rest for a while and take hot springs.
Hot springs are not swimming pools. Putting swimsuit on has been prohibited.
Even if you feel that hot water in hot springs is too hot, you must not put cold water into hot spring to cool down.
Towels must not be soaked into hot springs.
If you have long hair, you should tie hair up on the head to avoid getting hair soaked.
Putting cold towel on a head would prevent you to being dizziness.
If taking an open-air bath, you should put a towel soaked on hot water on a head to avoid getting only your head cold.
In order to avoid being dizziness, you would be recommended to take a bath few times at once. You should not take a bath for longer, you better to take a bath for few minutes, and then get out and take a rest for a while, then take a bath again. You should repeat this pattern few times.
You must dry yourself up to avoid wetting floor of dressing room.
Don't forget to keep yourself hydrated after getting out of a bath.
You should take a rest for 30 minutes ~ 1 hour after getting out a bath.
In order to avoid being dizziness, you better not to take hot springs more than 3 times a day.
What is the Tattoo problem?
Hot springs in Japan basically have not allowed people who have a tattoo to take a bath.
However, recently, people who have a tattoo for fashion have been increasing. So the rule of "people who have a tattoo cannot take a bath" has been reconsidered.
Depend on hot springs hotels; even they said that a tattoo is not allowed ostensibly, if foreigners contact with them, some of them would accept it.
Moreover, even you cannot take a large public bath, private open-air bath of private room or reserved hot springs could be used.
You better to contact with hotels.
You should use Yukata of hot springs hotel!

For foreigners, to wear Yukata in hot springs hotel is tone of the pleasure thing.
If wearing Yukata on underwear and going to a large public bath, it will be easier to take off and put on in dressing room. You should try Yukata to enjoy hot springs mood more.
How to put Yukata on is not as hard as Kimono.
When you wear Yukata, you should set the seam of the back on your backbone.
After that, you tie the hem on right hand side up to your body, after that, you cover the hem on left hand side on the hem on right hand side.
You would wear Yukata only in hotel so that you do not have to worry about detail thing. You would be fine as long as front part of Yukata does not open.
It is fine to tie band in a bowknot.
The advice for beginner foreigners.
At the beginning, many foreigners tend to be confused. However, they visit hot springs few times; many of them really get to love it.
People who feel embarrassed to take a bath in public should try to select hotels that have a private open-air bath in a room or in a reserved hot spring.
Even beginners or non-beginners certainly go to hot springs.
You should take a big bath slowly and have delicious meals. And enjoy the source of vitality, Hot Springs.