A must visit for those who love Hello Kitty! A Hello Kitty themed traditional tea house in Enoshima.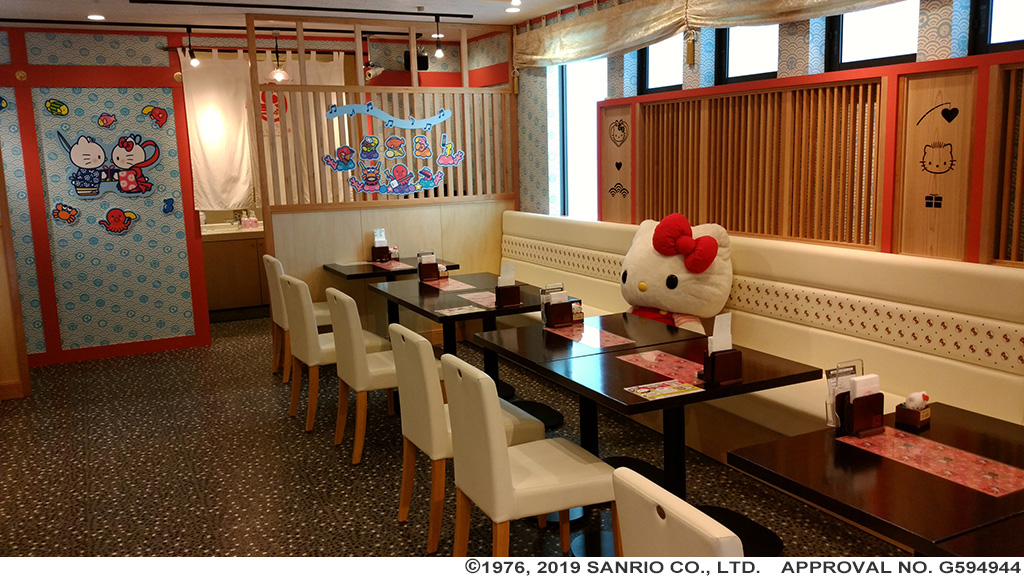 この投稿は 日本語 でもお読みいただけます
This year, the world renowned Hello Kitty brand celebrated its 45th year anniversary. Although the brand spans many industries, I wonder if you've ever heard of the Enoshima Hello Kitty Tea-house. It's a popular traditional tea-house, located in Enoshima Island, Kanagawa Prefecture. Enjoy eating out surrounded by Hello Kitty branded items and browse their line up of limited edition goods on display.
In this post, I'd like to introduce in more detail this Tea house thats perfect for those lovers of Hello Kitty!
"Otohime Kitty & Urashimatarou Daniel"
Before we begin, I wonder if you're familiar with the tale of Urashima-tarou? Although the story has been changing slowly over the years, it's a fairytale thats been loved by the Japanese across the ages. Let's take a quick look of the outline of the plot.
One day, Urashima Tarou saves a turtle from being bullied. Years pass, and the turtle, who had significantly grown in size, took Tarou to the Palace of the Dragon King in the middle of the ocean as thanks for his help. At the palace, he was taken care of by the beautiful princess Otohime, and spent day to day enjoying himself eating delicious food and watching the fish dance around. However, he gradually got homesick and returned home, taking with him a small treasure box given by the princess. When he arrived, he came to realize that a long time had passed, as the landscape was different and everyone he knew had died. He had enjoyed his time so much at the palace that it appeared that he had lost track of time completely. At this point, he then opened the small treasure box, which billowed out white smoke and turned him into an old man.
So what's this got to do with Hello Kitty? Well, the Hello Kitty Tea-House is a collaboration project between the story of Urashima Tarou and the Hello Kitty brand.
Enoshima Island, it's history surrounded by tales of dragons. The store itself resembling the Dragon Palace. Kitty as the beautiful Otohime, dressed in a divine robe, her hair done up and sporting a Japanese fan. Daniel as Urashima Tarou, shouldering an old fishing rod, clutching a small treasure box and riding a giant turtle. Just like in the story, it really is a place where you can lose track of time due to the amount of fun to be had.
Where is this Hello Kitty Tea-house then?
The store is located in Benzaiten Nakamise-dori, an old style shopping street on Enoshima island, popular which many tourists and of course the Japanese people themselves.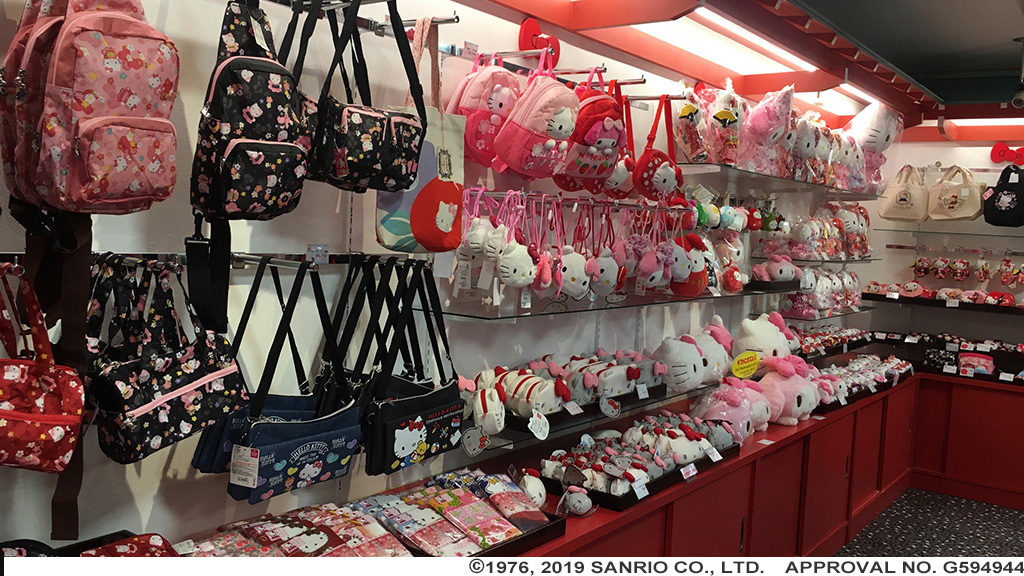 The first floor has a collection of traditional Japanese styled items and goods unique to the Enoshima store. Hello Kitty themed Furoshiki (Wrapping cloth), Kutani (a kind of porcelain), Edo Kiriko (Glass ware) and other such uniquely Japanese items are also on display.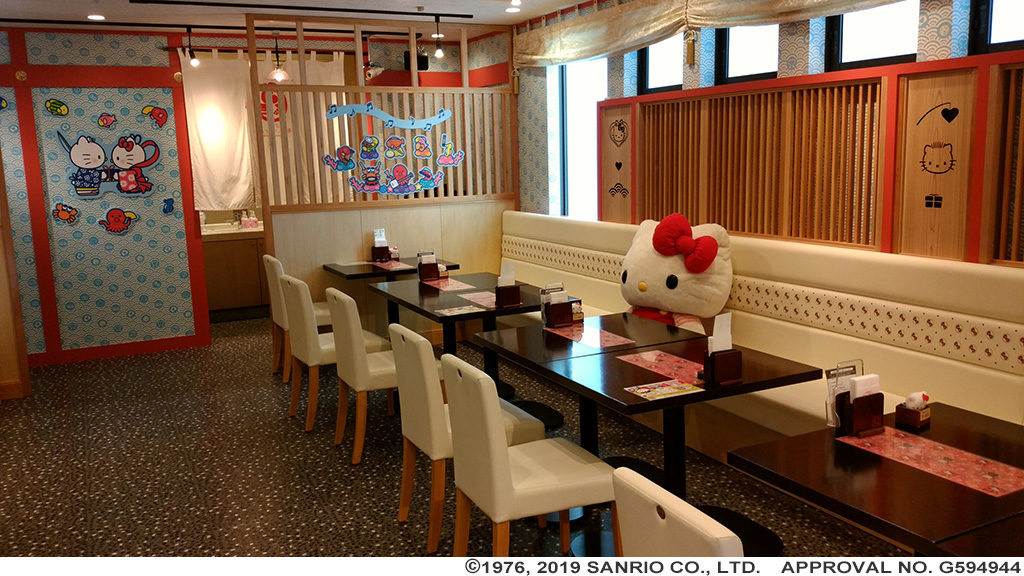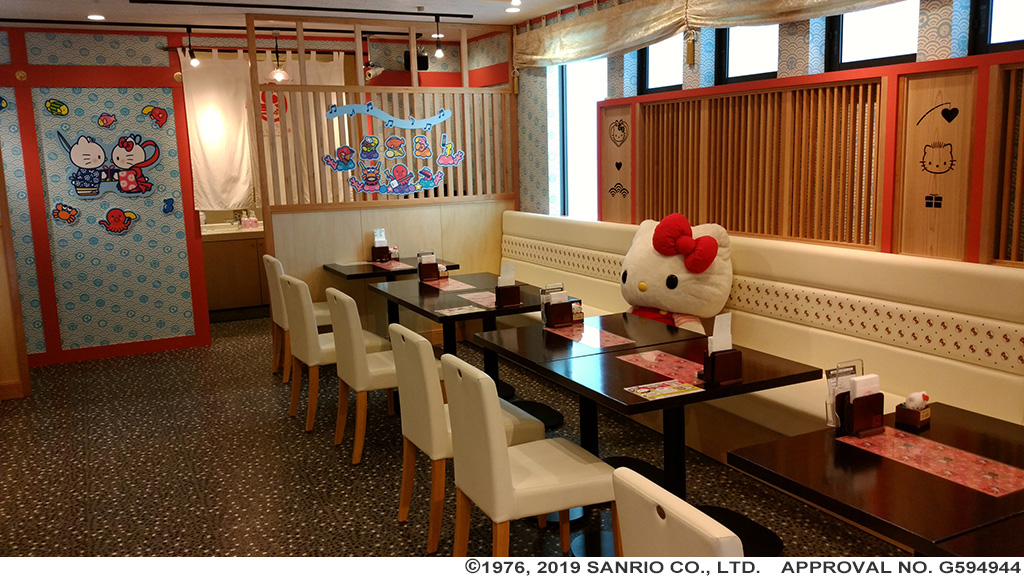 The second floor houses an old style cafe, with a big Kitty doll welcoming you in at the entrance. You can take pictures together at the tables, and rent a Hello Kitty headband. It really is quite an immersive experience. It's also a great opportunity to get some pictures for your instagram.
Not only cute but talented! Introducing the Menu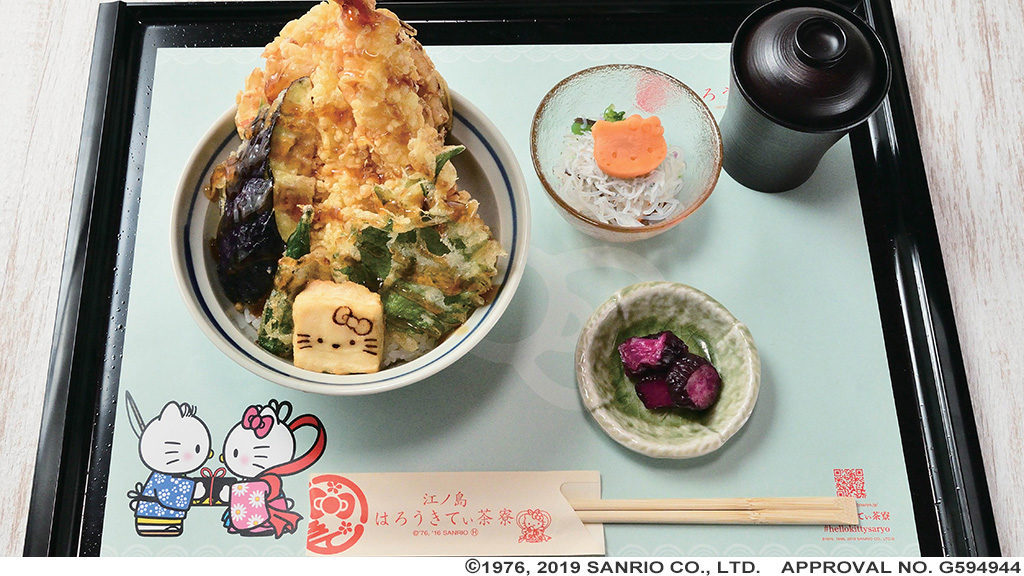 On the 25rd of March, the store menu got a renewal, with the introduction of the "Large lobster tempura rice-bowl", containing delicious crispy fried lobster. As a garnish, a cute piece of fried tofu with the Hello Kitty logo comes along with it too. There's also other food items such as the green tea soba noodle set, garnished with Inarizushi (egg roll sushi) and a multi-tiered lunch box that makes use of shirasu (whitebait), something Enoshima is famous for.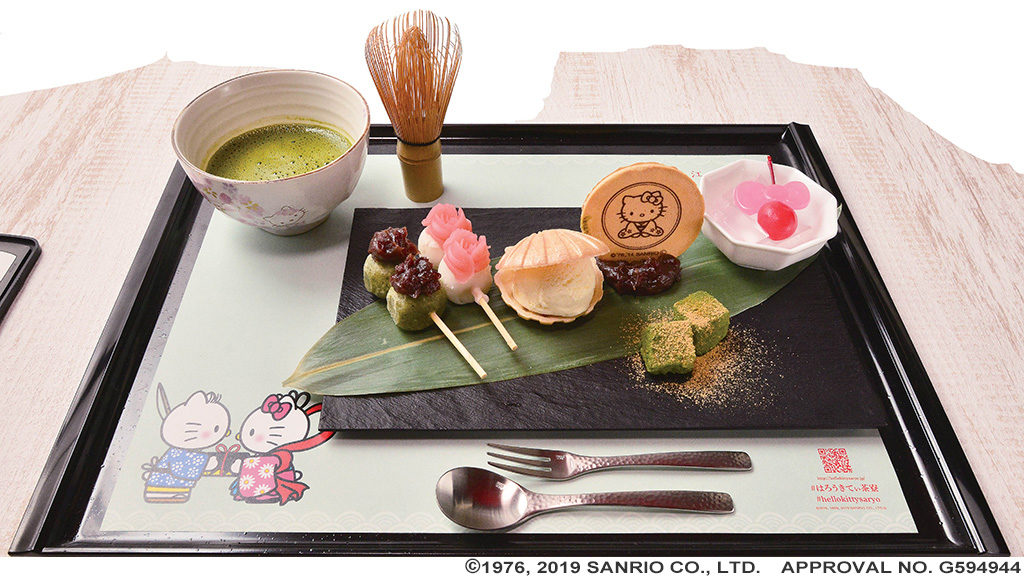 As for desert, there is the "Hello Kitty Tea-house surprise Dango platter", which you can order matcha to come alongside with as a set.
Next, we come to the staple item of the teahouse, the latte series of drinks that come with cute Kitty and Daniel marshmallows floating on top, available in hot or cold versions.
No matter what menu item you pick, you'll definitely end up finishing the whole thing and you'll be sure to find a Hello kitty design somewhere on your plate! With so many cute and delicious items available, you could almost hear yourself scream "I want to eat them all!"
For both first time visitors and those who have been before, I recommend you to go down and check out the new menu!
Make exploring Enoshima even more enjoyable! Introducing Take-outs
For those who have little time and want to wander through Enoshima while eating on the go, I recommend the take out option.
There's the Dorayaki (pancake) filled with matcha warabi-mochi (rice cake), green tea that uses the famous Kyoto Ujicha matcha and a rich matcha ice-cream made from high quality matcha, all of which are Hello Kitty themed.
A wander around Enoshima packed with Hello Kitty magic. Definitely something that would make it more enjoyable!
A cafe for dates or just to go to with some friends
For those who love Hello Kitty, are obsessed with cute things, are looking for a photogenic location or are looking for a date spot, I recommend highly the "Hello Kitty Tea-House" highly. Of course, even if you don't fit into any of those categories, you'll still have a great time there.
If you love the Hello Kitty brand and all things "cute", please make sure to visit.
Japanese Tea House Hello Kitty Saryo Enoshima

http://www.hellokittysaryo.jp/ (Available only in Japanese)
1-4-12 Enoshima Fujisawa City, 251-0036, Kanagawa Prefecture
Access: "Enoshima Station" on the Enoshima Electric Railway service or "Katase-Enoshima Station" on the Odakyu Line.
Goods shop: 0466-47-6769
Restaurant: 0466-47-6761
Open all year around, capacity of 40 seats, non smoking
No parking available
Business hours:
[Hours apply from March 6th till January 5th]
Restaurant: 10:30 – 17:30
(Last order for Lunch 16:30, for cafe 17:00)
Take-out/Goods shop: 10:00 – 18:00
[Hours apply from January 6th till March 5th]
Restaurant: 10:30 – 17:00
(Last order for Lunch 16:00, for cafe 16:30)
Take-out/Goods shop: 10:00~17:30